Braiding a cable
Wether we're going to make an un-balanced or balanced cable we're going to need 4 wires. So we'll need to cut those wires to the length we're aiming for and add 10%. So a 120 cm (aprox 4 ft) cable means four wires á 132 cm. In my case I've cut up 8 wires á  132 cm since I'll be doing a little special move. I like to cover 2 wires with nylon TechFlex. The best size for 24-26AWG wire is 3/32″ wide TechFlex. It can be a real pain to get  especially a long set of wires through all the sleeving. But I like the look and feel of it. Similar to Q-Cables and Toxic-Cables so called "French Silk". It ain't silk we're using, so it can be a bit microphonic. It's your choice since it's your cable. Do what you wish. Be warned the 4 x 2 x 24 AWG and sleeving yealds a quite hefty diameter. You'll be needing connectors that accept such a wide diameter.
Next comes the braiding. Before we start discussing braiding it might be a good precaution to add something so you can identify the wires  Either you know how to use a multimeter and you can skip it altogether, or you stick different colors of electrical tape on both ends of each wire to identify them later. Or a hefty array of permanent markers (presuming you're not using black insulated wire)
A quad-braid which will suit most needs (even if we want to use 8 wires) and it comes with a special technique. It can be a bit tricky to understand at first but once you understand each wires "role" that is UP, DOWN, LEFT, RIGHT it'll come naturally. Generally speaking you'll be making the same move in two dimensions. Horizontal (LEFT & RIGHT) and vertical (UP & DOWN). This is probably the most hideous image I've created the last few years, but I think it'll contain more information than popping 5-6 pictures. So bear with me. 🙂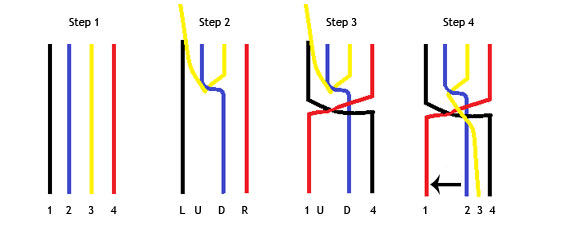 So we have four wire for starters. Well name them 1 2 3 4 for now. The first move is creating the UP and DOWN. So move the 2/Blue to the right over 3/Yellow and 3/Yellow to the left and up (away from you in 3D). We have now  created our basic 4 wires the LEFT, UP, DOWN, RIGHT. Take R/Red to the left over L/Black and move L/Black to the right. All of the latter mentioned happens above the D/Blue. Now take the U/Yellow and move it down over the whole shebang and keep it to the right, so it comes over  D/Blue and move the latter to the left. Well go figure, now we have a new setup of 1 2 3 4 but the earlier 1 and 4 has switched seats, the same for 2 and 3. We've created a 3D "knot". Don't pull it too tight. And by moving 2/Blue up away from us we're actually at step 2. L = Red, U = Blue, D = Yellow and R = Black. Now keep repeating it. As many times it'll be needed.
When you feel that you have about 25-30 cm's left of wire end the braiding process and start spinning two of the wires around each other. Fasten the three ends of the cable with something suitable. Some thin heatshrink tubing will do the trick the best. Don't worry about it being ugly.However, make sure that the braids are about equally tight. It's not uncommon the braids closer to you (the ones at the end of the process) are tighter than the first ones. But be sure to check that your two headphone ends are equally long. Note all the "be sure to…."? It's takes a couple of cables to learn by doing the beginners mistakes. As everything else in life, practice makes perfect. So maybe invest in some extra connectors and some cheap wire at first. Even if you're a cable-believer. You don't want to waste 99,9999999999% first harvest einsteinium-coated silver-wire. 😉
Soldering the ends
Let's start by stripping the wires at all ends. 0,5 cm or 1/5 inch will do just fine. You want to strip just as much as you will need to solder the connection. Strip too much and you risk creating shorts. A snipped nose plierss will come in handy so you won't "pull" the wire to strongly thus affecting our soft and flexible braid. So the pliersss in your left hand (unless you're a lefty) and the wire stripper in the right hand. And get to work.
Now that all the ends are stripped. We'll learn a technique that will come VERY handy in the future if you're going to extend your DIYing. Tinning wire. Basically what we'll be doing is heating up the stripped wire end with our soldering iron and trying to coat the wire with solder. Making it much easier to solder to a fixed metal object (e.g. a pin on a connector) without having to worry about adding solder later. So tin the wires. Some wires are quite happy to blend with the solder and others no so easy. But hopefully you'll get the hang of it.
So our wire is prepared now bring forth the connectors. Remember earlier when we discussed single-ended and balanced signals? Well in short. No matter what we choose to terminate with at the amp end, at the headphone end we'll be connecting the L+ to the positive end of the left headphone connector and L- to the negative. The right channel… well you get the picture. In my case with the Audez'e cable for my T50RP Paradox, since it's a 4-pin mini-XLR. Pin 2 & 3 are + and 1 & 4 – (or ground with a single-ended cable). So heat up the tinned end and when you think that the pin has made contact with the wire, try to hold them still while the solder cools down. If they solder together you might add some extra solder to increase the strength of the connection. Depending on how your headphone is wired you might need to connect 1 & 4 and 2 & 3 together, with either solder or a wire-bridge or something. Be creative.
So… Now we've soldered the connectors on the headphone end. Now it's time to move on to the amp end. Either you use your multimeter to identify the different wires or you did your homework and marked them prior to braiding. But if you want to start soldering the amp end you  better know which wire goes where. I recommend using 1/4″ TRS or 4-pin XLR if you're a novice. 1/8″ TRS can be quite tricky to work with and unintentional shorts can happen.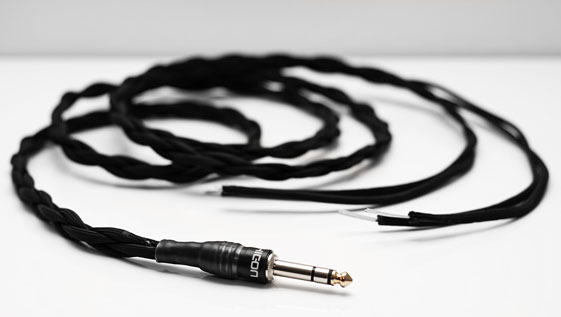 Either way. Solder. Oh… And be sure to get the barrel on the cable before soldering. You only make that mistake once. 😉 Once the cable is fully soldered. You might be thinking "let's add some heatshrink and we're done?". Not quite yet. Test it first. The best way to do that can be argued about. I usually use a O2-amp. I'm not that fond of it, in the case of total havok. Start with one side at a time. If it's cool, then try both at the same time. If you shorted something you'll hear it. In that case, go back, desolder the suspicious parts and/or use some electrical tape to isolate wires that might be touching with the barrel on.
If everything looks and sounds good. Add some heat shrink. There is no right and wrong here. My tip is to use transparent heat shrink as the "final" layer. Don't warm too much with the heat gun (if it doesn't shrink anymore after 5-10 seconds. It wont shrink anymore. 😉 I've actually melted the isolating plastic inside a 1/8″ TRS once).
When you're finished it might look something like this. If it doesn't well… You'll get there… Eventually. Keep DIYing and Fight the Man.