Within a few words of this article, it would be pretty easy to see how excited I am with the TMA-1 headphone from AIAIAI. I wonder how this little company keeps on coming up with products that excites me, as well as a lot of other people. Companies continually brag about "passion" about their products, and how they are "unique" from everyone else. So much have we heard those sentences that they started to lose their meaning. Well, in the case of AIAIAI, their products have always been very unique to my eyes, and not only in the aesthetic sense, but the whole engineering behind their product design reveals that they are truly passionate about their products.
If other companies seem to be on a race to release as much product variety as possible (especially Sennheiser and Audio Technica), AIAIAI takes the opposite strategy where less is more. They seem to not be bothered by the abundance of new product releases by everyone else. Instead, they take their time to plan, design, and execute a product so well, that every release always gets people's head to turn. So far, they have released one portable headphone (AIAIAI Tracks), one DJ headphone (the TMA-1), and two earphones (Swirl and Pipe), and every release has gotten my respect (with the exception of Pipe, because I've never auditioned it).
Reading around the web about the new TMA-1 headphone reveals that AIAIAI is aiming big with this headphone. They seem to want to take on the established Sennheiser HD25-1 headphone which has been quite a favorite among DJs. There is something about the TMA-1 that makes me really want to get it, more than anything else in these recent months. Sure, you can find more expensive audiophile headphones with better technicalities than the TMA-1. But the TMA-1 is not about winning horsepower races or megapixel counts, to borrow analogies from the automotive and photographic industry. The TMA-1 is about a fresh offering on an overcrowded market.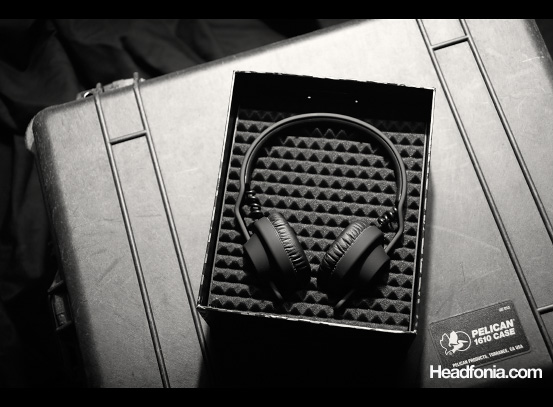 Whatever it is that the AIAIAI people did with the TMA-1, and whoever was behind the development team, I have no idea. What I do know is that my heart raced with excitement upon receiving the TMA-1 headphone. AIAIAI has always been distinct about their packaging, and opening the box, I find the TMA-1 headphone placed in a properly fitted foam that reminds me of the hardboxes for pro-audio equipments. I was drooling when I saw the pictures of the TMA-1 headphone on the internet, but it looks even better in person. The flat, matte black finish is truly inspiring. Just the kind of product design that you'd expect to see from the funky designers in Europe. Everyone who works in the creative industry is probably lining up to get the TMA-1 just because of the looks. In a few months, they'll probably release the TMA-1 in some other funky color like a pale white or lime green.
"Okay, the headphone look good, the packaging is nice, and they hired some big-name DJs to help promote the TMA-1. But we don't care about that, do we? We need to know how the TMA-1 actually sounds!" Allright people, here it comes.