In today's review we're taking a look at the new flagship closed-back headphone from famed Japanese audio manufacturer Audio Technica: the ATH-AWKT, which retails at $1,899 USD.
[responsivevoice_button]
Note: the ATH-AWKT, Handcrafted from Japanese striped ebony wood, or 'Kokutan', was sent to us on loan by Audio Technica Australia, and we'll be sending it back their way after the review. We appreciate the opportunity to be able to spend some time with their new headphone and to be able to share our thoughts with Headfonia readers.
Timber tone
What sets-apart 'instruments' from mere 'tools'? From one point of view, headphones, like other audio playback equipment, might be considered to fall into the latter camp. After all, headphones are created to accurately recreate music as close to the artist's and engineer's vision as possible. An instrument, on the other hand, is designed not only to simply make music but to impart a certain 'character' onto it and become a vessel through which an artist can impart their emotions and performance. Certain instrumental manufacturers have achieved legendary status among virtuosos and collectors for their house sound, which has allowed them to demand equally legendary price-tags. A Bosendorfer grand piano will easily set you back six figures, and a well-preserved Stradivarius violin can demand an eye-watering eight figures. Ask a musician what sets these instruments apart from their lesser brethren, and they'll tell you it's a combination of two things: craftsmanship, and materials. And the most important material in these instruments is often the wood – the nuances and properties of the organic material impart differing types of resonance, and specific timbres characteristic to each type.
Renowned Japanese manufacturer Audio Technica has been in the business of creating audio 'tools' since 1962, crafting turntables, cartridges, microphones and of course, headphones, for professionals and punters alike. Audio Technica has also shown-off the more artful side of their business with a special line of audiophile headphones known fondly to enthusiasts as 'woodies' – hand-crafted audiophile headphones made from different species of wood, and endowed with extravagant names such as 'Raffinato' and 'Maestoso'. Just like it does in musical instruments, wood naturally provides certain sonic characteristics to headphones, giving different headphones a particular voicing. But there's also something about using hand-crafted wooden headphones that make the overall experience of listening to music more of a vivid, and visceral one than via a more spartan plastic and metal affair.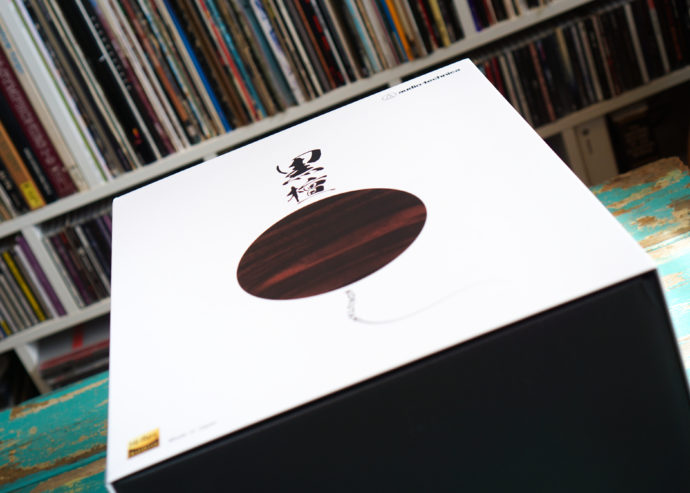 'Kokutan'
Audio Technica's latest additions to their line of 'woodies' are the $1,399 ATH-AWAS, a $1,399 closed-back headphone made from 'Asada Zakura', a rare Japanese cherry wood; and the subject of today's article: the flagship $1,899 ATH-AWKT which is set apart thanks to the use of a rare Japanese striped ebony known as 'Kokutan'. Taking over 200 years for the trees themselves to mature, this wood has some serious musical pedigree, having long been used for the manufacturing of woodwind instruments such as clarinets, and also in pianos. Audio Technica explains that they chose this variety of hardwood for the ATH-AWKT due to its natural tendency to suppress unwanted resonance, allowing for "…clear, natural sound reproduction". The cups of the ATH-AWKT are hand-finished to an impressive semi-gloss sheen by craftspeople at Audio Technica, and because of the natural brown and black striped patterns of the Kokutan wood, no two are alike. 
Inside the wooden cups, the ATH-AWKT sports a pair of brand-new lightweight 53mm drivers, employing what Audio Technica calls "highly efficient German Permendur magnetic circuitry". The underside of the housing structure inside the cups is divided into two separate acoustic chambers, as a part of Audio Technica's proprietary Double Air Damping System (D.A.D.S). Other key features and specifications of the new ATH-AWKT include:
6N-OFC (high-purity, oxygen-free copper) voice coil
Two detachable 3.0 m (9.8′) cables with A2DC (Audio Designed Detachable Coaxial) connectors at the headphones: one with a 6.3 mm (1/4″) gold-plated stereo plug, the other with a 4-pin XLRM balanced connector
Magnesium alloy headphone arm
Stitched ergonomic earpads and headband made from smooth, high-durability sheep skin
Frequency Response: 5 – 45,000 Hz
Maximum Input Power: 2000mW
Sensitivity: 102dB/mW
Impedance: 48 ohms
Weight: 405g
So it's fair to say that I was hugely excited when a large package from Audio Technica arrived in the middle of the current COVID-19 lockdown protocols currently in-place here in Australia. After being genuinely impressed by their open-back flagship – the ATH-ADX5000, I was curious to see Audio Technica's take on a high-end closed-back headphone, and a wooden one at that. Unlike the 'all business'-looking ATH-ADX5000, I had a suspicion that the ATH-AWKT might be an altogether different kind of beast – not only due to its closed-back configuration but because of its philosophy. The 'Kokutan' has genuine luxury, aesthetic appeal for the would-be collector of high-end craftsmanship; but I was equally keen to see how it felt when listening – could the ATH-AWKT be more of a musical instrument? 
Head over to Page Two to continue our review, just CLICK HERE.