Everyday Use
Compatibility 
Audirvana Studio is only available on Windows/macOS.
You'll need a fairly recent version of each OS to run Audirvana on your computer. Minimum requirements are OS X 10.13 or later on Mac, and Windows 10 64bits on PC. The software needs a minimum of 4Gb of ram to run, but 8Gb is recommended for optimal performances.
I installed the software on both my computer: 
PC, running Windows 10 64bits, Intel CPU, and 64Gb of Ram
Mac, running macOS Big Sur 10.6, M1 CPU, and 8Gb or Ram
The app worked flawlessly on both systems, but you can only run one instance at a time. If you forgot to quit the app on one machine, you'll have to forcefully close it through the web interface.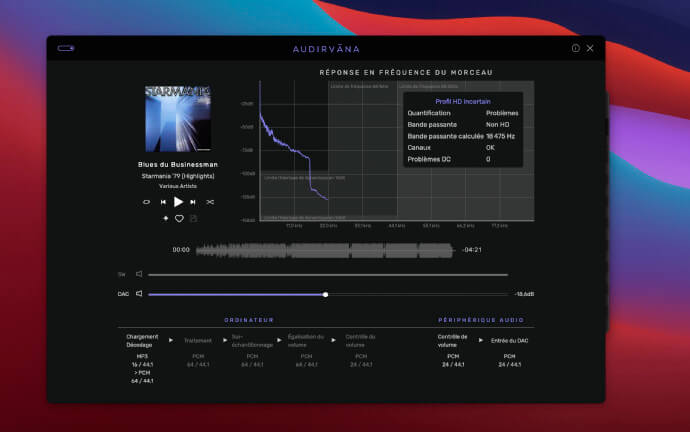 Ircam Amplify Analyzer
Obviously, the quirkiest feature of Audirvana is the IRCAM Amplify analyzer. To access it, you have to switch from the full player to the mini player, and then click on the switch, located on the upper left-right. Once you've done that, a new window appears and confirm if the file you're listening to is a real Hi-Res file, or a scam (aka a fake Hi-Res file). 
I tried that on three files, an album that I personally ripped, an album bought on Qobuz, and a file that I upsampled, thanks to AIPM3 converter (MP3 256kbps -> FLAC 24bit/96kHz). And for each file, the player was able to confirm it what I was hearing was, indeed, a true Hi-Res file, or not.
In fact, I even found out that, sadly, one of the albums I bought a few years ago in DSD, was just a simple oversample of the CD version… Shame!
So, after all that talk, it's time to get into the review.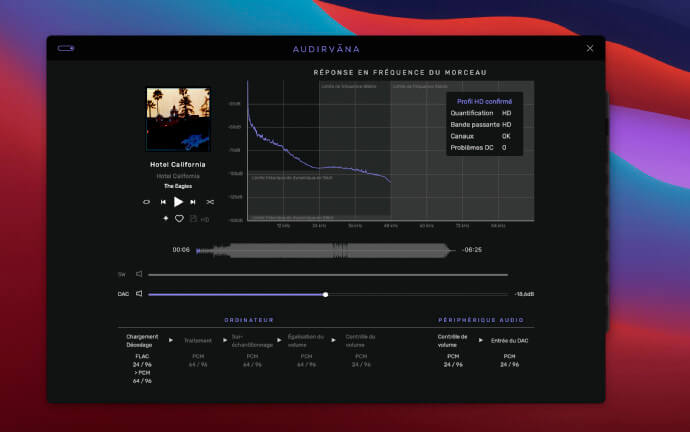 Interface and UI
Once installed, Audirvana behaves like every other music apps, or so. 
The main screen is divided into four different sections:
a top bar with a search console, sort/filter option, and a button to access the app settings
a left sidebar, where you can find all your sources, local files/radios/podcast/Qobuz/Tidal/Hi-Res Audio. Note that Qobuz/Tidal/HRA won't appear unless you connect your account in the settings
a center frame, where all your files will appear, so you scroll and pick your music
a bottom bar with playback controls, volume, and even quirky things like a playback quality checker
Compared to the prior version, Audirvana Studio is a major visual upgrade. If you can switch between light and dark themes, the team changes various things like the font, the space between the lines, the overall presentation of your albums, etc…
The search engine is good, even if it's slightly faster on Mac than windows, and surprisingly it's faster for me to use the Audirvana search engine, than Qobuz own search engine.
Like Roon or Plex, the media library can be automatically scanned and sorted. Audirvana relies on fingerprint analysis, like Shazam, and is on-point almost 90% of the time. If you find one track that couldn't be analyzed correctly, you can tag it manually, directly from the player.
Lastly, if I mentioned the oversampling before, Audirvana also has various replay gain settings, to avoid volume/gain mismatch between your tracks and albums.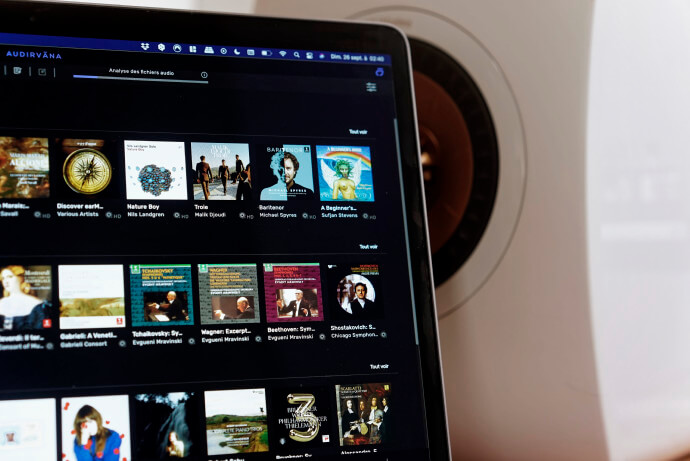 Pricing
Last but not least, we can't end this review, without talking about the price. 
Compared to Roon, Audirvana is surprisingly more affordable, as a monthly subscription only costs $/€6,99 or $/€5,88 per month, if you get Studio Access, a yearly subscription. For that price, you get :
Regular free updates all along the year
Full access to all Studio's features
Integrated streaming content services
Free smartphone Remote app
Exclusive streaming service advantages
Personally, after the 30-day free trial, I took a Studio Access subscription. I kept Plex for my movies/series and took Audirvana for my music.
To that, you have to add the cost of your music streaming subscription :
€14.99 for Qobuz Studio Premier, FLAC 24Bit 96-192kHz streaming
€19,99 for Tidal HiFi, MQA streaming + Dolby Atmos
£89,99 (6 month) / £179,99 (12 month) for HighResAudio, FLAC 24Bit
Page 1: About Audirvana
Page 2: Specifications
Page 4: Sound Performances, Comparison, conclusion