Today's post is all about the Head-Fi Canjam London 2018 show. Check out previous reports by clicking HERE. The picture above was taken on the top of "The Shard".
Canjam London 2018 – Intro
My first ever Canjam show happened in London last weekend, and because this was also my first ever trip to London, I enjoyed it more than you can imagine. Apart from hanging with Lieven around the streets of London and taking that beautiful picture above from The Shard, the show itself was also so great, that it made me wanting for more next year.
The show was held in Park Plaza Westminster Bridge Hotel like last year, and I preferred to stay there for easily accessing the show. A lot of exhibitors, if not all, were staying in the same hotel and I came across some of them, which gave me a chance to meet them in person. Everyone was very cool, talkative and kind. And because this was my first ever experience with the people behind those brands that we like, I enjoyed every chat and sharing our opinion was very nice.
The actual place for the show was the same as the last year. The ballroom was comfortably spacious, it was very easy to go around to different booths and if you're tired you can sit down in a couch and have a rest. The only complaint that I had was that the air conditioning was making the place too chill for me. Other than that everything was good.
Meeting with the Head Fi team, with many exhibitors and also hanging around with some of them at night was so cool. I was also surprised that many people knew my name beforehand. Yes, I've been writing reviews for good period of time now, but I still didn't expect people to know me.
We should thank everyone who contributed to this event and making it real. I think I'll head back to London if there is a 2019 show (Brexit).
In a nutshell, here's our report of Canjam London 2018:
Remark: This report is different from last year because;
I'm doing the show report instead of Lieven, though Lieven added a short list to the last part representing his quick impressions.

The report is mostly including the favorite gear that impressed us throughout the show,
Instead of going alphabetically, I will divide the products in categories: DAPs, Headphones, IEMs, DACs, Amplifiers & others.
Digital Audio Players
The Hifiman R2R2000 was one of my primary listening targets for Canjam, so I went there being very curious about it. As I've owned old Hifiman DAPs like the HM601LE & 801, and tested the HM901S several times, I know they have that certain flavor to make a DAP sound really good. After listening to it with my files, it indeed ended up being among my favorites of the show. A true natural sounding DAP, with a hint of warmth and with great technical abilities. The best part about it is that it's very compact and light. So having that high end sound in a really small package with a cool design is fabulous. The software was pretty OK too. No worries.
After the R2R2000, I wanted to listen to the N8 from Cayin. A lot of my audiophile friends from my home country are curious about it. The N8's sound is on a very high level and it's quite warm & organic sounding with a very good sound stage. To me this one is up there with the WM1Z and SP1000CU. A great sounding DAP in the TOTL segment. Anyone who has the opportunity should listen to this one as it's really special. And it's going to be released soon!
The Norma from Astell & Kern is the successor of the Ak70ii. I gave this entry level from A&K a listen and I realized the step up in SQ is obvious. It's more transparent and imaging is better. Sound stage is again quite close like the 70 series, but that's OK at this level. The biggest upgrade though is the new software and quad-core processor. It's much faster in operation, and the design is surprisingly comfortable.
I also tried the Futura, which wasn't my type of sound with a very wide sound stage & relaxed sound. I found the dynamism lacking and it I think has some resemblance with the AK120ii from the past.
Headphones
There were LOTS of headphones at the show and it was literally impossible for us to listen to them all. But here are my favorites:
The Beyerdynamic Amiron Home is a sweet and easy to listen to headphone with the convenient wireless feature. Its sound is soft and enjoyable, relaxing with good stage and warm approach. Very nice one from Beyer.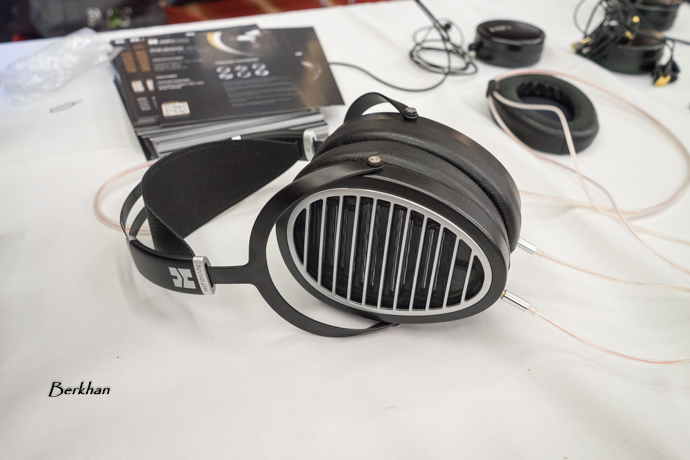 The Hifiman Ananda surprised me pretty much with its incredibly natural presentation. It's also very comfortable to wear and the overall sound stage & imaging capabilities are very good with the addition of a very controlled, yet punchy bass. I think this could be a new favorite for many.
Another Hifiman with 6 times the price, the Susvara, sounded extremely good, relaxed and effortless with the Auris Nirvana amplifier. An extremely good headphone from Hifiman which many people, including Lieven, enjoyed at the show. The price is making me sad though…
We checked out the high end Hifiman Shangri La Junior electrostatic system, with both the junior and senior headphones connected to the junior amp. While it was definitely very impressive, we kind of expected to have the senior amp at the show as well, to experience this very special setup at the highest level.
The Audeze LCD-4z, even straight from the A&K SP1000cu was very enjoyable and the overall presentation was dynamic yet very controlled and it has tremendous technicalities. One of the highly recommended ones at the high end level.
As a side note, we weren't really impressed with the new LCD-2 closed headphone, both Lieven and me. But let's see how it goes with different gear. It can play better with a warmer setup. Very comfortable by the way.
ZMF Headphones is one of the brands that we would like to review, but unfortunately we haven't agreed on terms yet. Anyway, I think their flagship model, The Auteur, is a very successful headphone. One of my favorites of the show, The Auteur sounds deep and wide, has very refined treble response with good bass and transparent mids. I liked it very much. Maybe a review will come in the future, who knows?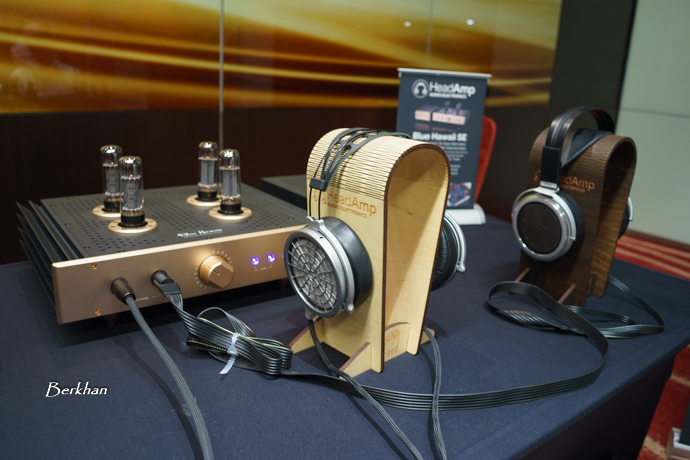 Mr. Speakers has exciting headphones on the market, but I mostly wanted to listen to their electrostatic model, the Voce. Paired with the Blue Hawai Special Edition amp, the Voce sounded amazing with every song I played, proving that the electrostatics are on "another league". It's so precise, yet engaging and natural. I could listen to that setup all day, but unfortunately it was the second day and I didn't have much time. Also HeadAmp and Mr. Speakers were in the upper floor in a quieter room so it was more enjoyable than the lower floor.
I also listened to the great Stax SR-009, which is amazingly sharp and perfectly transparent in its own way. Although it's not my type of sound, being unforgiving and brighter than the Voce, it's hard to deny its immense technical capacity.
The Meze Audio Empyrean, especially for Lieven, was one of the highlights at the show as it now is as good as finished.
The report continues with IEMs & Amplifiers on the second page HERE.