Sony
I did spot a couple of them at the booths, but it seems AK is more popular in Germany. The Sony I saw most was the WM1A
Stax
A headphone show in Germany without STAX? Not possible
StereoPravda
The Russian IEM and amp company was there and they were showing their different universal IEMs
I even was so lucky to take a SB-7 home with me
Misha is a really nice guy and he likes to innovate. I mean, who else ever came up with inflatable IEM tips?
TEAC
Tsakiridis
I wouldn't be surprised if you never heard of the Greek company before but they have some excellent amps in their line-up
I'm a big fan myself of their Tube Tester. Do contact BELHIFI for a demo
Ultrasone
Always a big collection of headphones at their booth. And this time I finally got round to listening to their Edition 15
Violectric
All the attention logically went to the new Nimbus brand, but the Vio gear still is excellent. I still use it all the time and the V850 is a great DAC with the V281.
Vision Ears
The German CIEM company was having the European launch of the Erlkönig, their first universal IEM. But hey brought all their other models too
But for most of us it was all about the Erlkönig with its 13! drivers, 5-way crossover and 4 sound configurations.
Doesn't it look beautiful?
It even has changeable face plates! It's not the lightest monitor and the +$4K price if hefty, but he sound surely impressed too
Viva
Also impressive, in a different way
Westone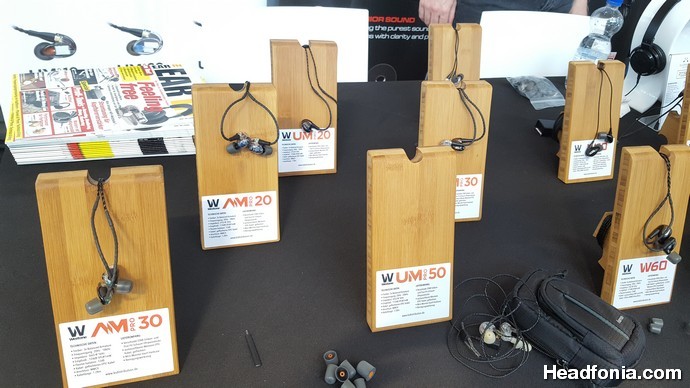 Woo Audio
It was great seeing Jack again, and just like last year he brought his WA33! The mighty 596 rectifier still impresses (I still have some for sale btw)
The WA8 Eclipse portable tube amp was also present, I still love it!
But I did spend most of my time listening to the brand new portable WA11 amp
It even has its own docking station
And its fully balanced!
End Words
Another awesome High End and Canjam show and I hope you enjoyed the picture report. I could spend more than a week there and I still wouldn't have time to listen to everything I wanted to. To me it's the best show on earth so yes, you can be sure I'll be back there next year.
Can't wait!