3D Headphone printing
One of the German schools/universities was presenting their 3D Headphone printing concept and they were actually printing parts at the show. They had one finished version available for auditioning based on the popular Fostex T50RP drivers and it wasn't bad sounding indeed. Personally I would add some treble damping and improve wearing comfort but overall a good and impressive headphone.
Astell & Kern
AK wasn't at the show as a company but a very large part of the represented companies were using AK players to demo their other products. Sennheiser was using the AK Jr and Beyerdynamic was using AK240s and the TOTL AK380 for auditioning their new range of iems (See Beyer). I borrowed the AK380 from the Beyerdynamic stand for a while and listened to it with my Earwerkz Legend R (now Empire Ears). While it certainly was impressive I'm not sure if I would trade in my AK240 and AK120II for one of these. During the limited time I got to spend with it, I found it to be a tad overly detailed sounding from time to time.
AKG
A while ago I couldn't resist buying the AKG K7XX from Massdrop. Not only did it take really long to get here and did I have to pay almost as much on taxes as it cost me in the first place, but I don't even like its sound. To be honest I never was a big fan of the AKG sound, except for the discontinued AKG K414P. And don't even get me started on the awful headband system. But AKG was there and as usual their stand was always pretty darn busy. The AKG K1000 was at the show as well. I bought one a couple of years ago for a friend of Mike and listening to it always is a unique experience. A classic.
ALO Audio

AudioGarden.fr is ALO's newest European dealer and they brought the most recent ALO gear to the show. They even dragged in the huge and incredibly good sounding Studio Six. Also present was the ALO Continental Dual Mono which we reviewed and tested here and here. One day I'm so buying the S6.
Audeze
I don't think I have ever seen more Audeze headphones in one building than last weekend. Together with the Sennheiser HD800, the LCD-2′s, 3's and X's were the most represented for trying out the "goods". I did only discover one Deckart amplifier though, and it sounded pretty good but at the same time not spectacular either.
Audio-Technica
AT also had a constantly crowded booth and I didn't really get to trying out the headphones they brought with them. Maybe next year.
Audioquest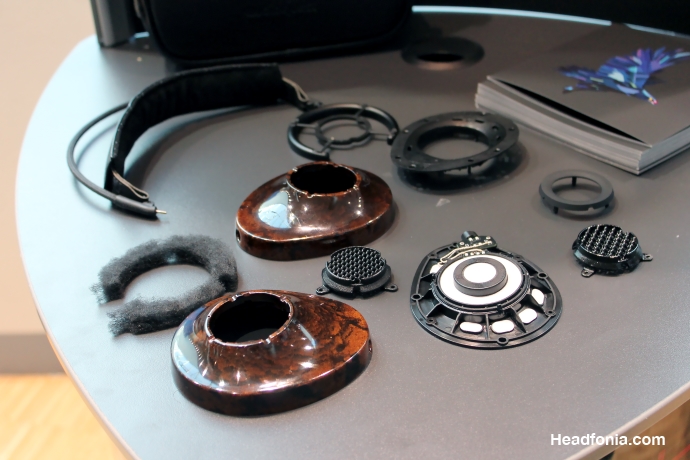 Audioquest was mostly showing of the latest Nighthawk headphone. I didn't really listen to it at the show as I have a unit at home for an upcoming review. I did make this picture of a disassembled Nighthawk as I'm not planning on doing that to my unit. Most people surely know Audioquest from their cable lineup but they are also know for the usb DAC/AMP the Dragonfly. I've been also using their Jitterbug that is supposed to make your USB gear sound better but I can't really say there's that much, if any, difference in the sound.
Aune
Aune was also represented and they were showing of their latest models? We reviewed some Aune models a while ago and I'm sure these models will follow soon.
Auralic
The show wouldn't be complete without Auralic gear. I did have the impression however that there were a lot less units present compared to last year. They still deliver top quality though and I especially like them with the LCD-X.
Bakoon International
One of the products I really wanted to listen to was the new DAC-21 from Bakoon. I really liked their HPA-21 and I bought the HPA-01M especially for my Audeze LCD-2.1 and my Beyer T90. On Saturday the new DAC was always in use and I couldn't get to listen to it. When I returned on Sunday there was a problem with the battery charging and as the battery was dead I didn't get to listen to it. Major disappointment.
Beyerdynamic
Big booth. Big setups. Beyerdynamic has a a big product line-up and the products everyone was looking forward to most were the brand new DT1770 of wich I actually forgot to take a picture of, the new DX200 which is the awesome DX160's big brother, the new T1.2 with the removable cable and the  AK T8iE. The new DT to me sounds like a mix of the DT770 and the T1 flagship. I actually expected it to have more bass than it had, but I quite liked the new affordable DT1770. If there is one headphone I can't get used to it is the T1. I have tried them on dozens of different amplifiers and I just can't get to like it, which is weird as I am quite the Beyer fan. The T1.2 is no different unfortunately. I didn't get to listen to the new inear as I didn't want to. The used tips looked quite nasty and it didn't look like they were being cleaned. We'll get all those for review though, don't worry.
Burson Audio
Australia is a long way from Essen but there were quit a Burson units at the show. One of the units we missed here on Headfonia is the Virtuoso and now I finally got to listen to it. It sounded very much like a Burson: tight, fast and detailed. As you can see in the picture they made the Virtuoso with the see-through cover. I remember having the see-through 160 at my place years ago, total coolness. I really look forward to listening to their new Lycan which is on its way to me.
Campfire Audio
Campfire as most of you know is related to ALO Audio. Audiogarden brought their first universal IEM, the Lyra, with them to the show. I quite liked how it sounded and build quality was really great. I also love the leather pouch it is delivered in. They will be releasing more IEMs over the next few months and of course Nathan already reviewed the Lyra here on HFN.
Cayin
So far it has always been extremely hard to get Cayin review samples but after this show I have a feeling it might be easier now. Haja brought a lot of their products to the show and I especially liked the big tube amp with the LCD-3. That amp is extremely heavy btw. I can't say I am a fan of the UI on their DAPs, but probably it just takes some getting used to.
Chord Electronics
Chord wasn't at the show themselves and the only two Chord units I saw were the Hugo from a visitor (and my own unit) together with the Hugo TT. Unfortunately it was set up with a Final Audio headphone which I don't really like. I still hope to get to listen to the TT at home for a review but my Chord contact has left the company. Anyone?
Comply
If you needed new tips you were at the right place. I think Comply brought their full line-up to the show. Personally, because of my tiny ear canals, I can't use the foam tips but there are more than enough others to choose from.
Cosmic Ears
Someone (uhum) brought a Cosmic ears CE6P universal demo model to the show. I like my Bass version of this monitor in a custom mold but the overall impressions of this demo model were very positive, especially taking into account the price they're going for. There's a great story about someone who came to listen to it at the show but that's more something for over a beer. So if you ever see me in a pub… 😉
Hidisz
The Headsound team also brought the Hidisz AP100 to the show, in the end I didn't get to listen to it but Nathan has already reviewed it on here.
Hifiman
If you in Germany say Hifiman, you say Sieveking. The Sieveking guys pretty much brought the full Hifiman lineup with them, amps included. Of course everyone wanted to listen to the HE-1000, luckily they brought several units as they were more ears wanting to listen to it then there were sets. I have a HE1000 with me for review and you can expect the review really soon.
More in part 2 tomorrow! (or after the click here once it has been published)
And then there's Part 3 HERE