Calyx Audio
One of the coolest items at the show for me was the new Calyx M DAP. It retails for about 1000€ and the screen and UI is really good. The sound even was enormously good but the biggest failure of the player is the 3 hour 4.5 hour  battery life (Calyx asked me to change this). Yes, you read that right. Calyx is working on improving it though.
It's a quite heavy player but it doesn't weigh more than your AK240 combined with an external amp and it has more power than the AKs. I didn't see the numbers but it drove the Audeze's a lot better. The volume control on the side works with a magnet and is quite nice to use.
Some people found it to sound too loud on the lowest setting when using sensitive IEMs but you can also set the volume (even lower) using the touch screen.
Glove Audio & Colorfly
I never had the pleasure to listen to one of the Colorfly DAPs but thanks to FAB (see lower) I got to listen to it for about 10 minutes. Lovely sound. Not such a big fan of the looks though
Michael Mercer has been raving about the Glove Audio but unfortunately it was behind glass.
Cosmic Ears
CE wasn't officially present but they did send a pair of CE4E and CE6E to Canjam so people could have a listen in the Community Area
The Steam Punk and Junk, developed by CE, still look lovely!
Both the CE4E and CE6P sounded awesome and they got a lot of happy listeners: Price quality wise they're still unbeaten.
Cypher Labs & Dita
If I was disappointed in anything it was the lack of Cypher Labs products at the show. I only found one Theorem and like with the Glove Audio it was behind glass.
I did however find one pair of DITA earphones. Nathan reviewed those a while back but I didn't get to listen to them in the end. Too bad.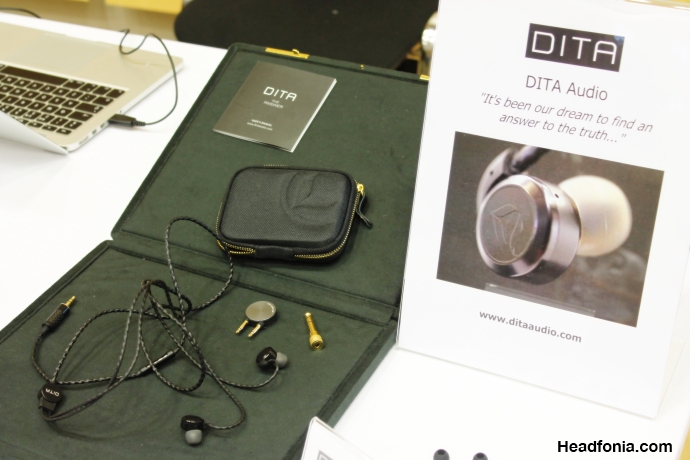 Oh yes there's even more