Memory
Memory-wise the Cayin N6ii comes delivered with 64GB of internal memory. Next to that you have one MicroSD slot to extend your storage, but hat isn't all. The USB-C connection has an OTG storage capacity and so the capacity becomes unlimited using an SD Card, a Flash Drive, a SSD a HDD, etc.
If that still isn't enough for you then you can stream music from Tidal, Qobus or Spotify or even from your network, through a 3rd party app.
The N6ii does what a modern DAP should do in regards to memory, and then some. You really have nothing to worry about memory-wise.
Battery
The battery inside the Cayin N6ii is a 5900mAH 3.7V one. Cayin claims 14hrs of continuous playback using the 3.5mm output and 13h with the 4.4mm output. To be honest the battery life is not the best and I never got anywhere near 10h when on the go. Depending on the screen usage, earphones used and file type played, this will vary but you can always see the battery percentage drop on the screen.
I have on several occasions found myself without battery during my daily commute but the upside is that the N6ii allows Quickcharge 3.0. which will charge the DAP from 10% to 90% in 110 minutes.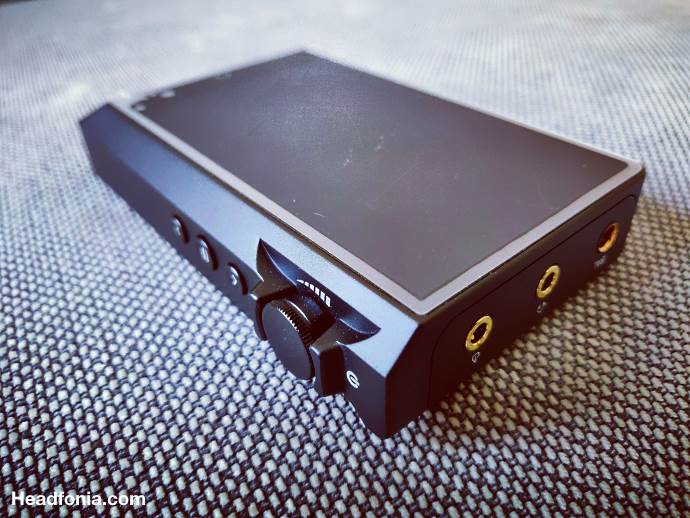 Accessories
The Cayin N6ii costs $1,199USD and of course a lot of that is because of the R&D done for the exchangeable motherboards. That being said, at this price we always expect a nice set of accessories, and this time Cayin is delivering a sturdy leather pouch, a nice looking USB-C cable and a 4.4mm to 2.5mm balanced adapter. The screen-saver comes pre-installed. It's not the most exotic set of accessories but what else is there in regards to a DAP besides a coax adapter (like with the N8), right?
When you order the second/other motherboard, you also get a nice and good quality screwdriver to replace the boards.
User Interface
The Cayin N6ii is very easy to work with if you've ever worked with or used an Android smartphone. You have the typical slide down menus, the home screen, apps screen, etc. You also have the typical non-visible home button at the bottom and if you swipe up from the bottom, you can close your open programs.It's easy, simple and it works well. Cayin made a great choice going for this full Android OS.
So of course the N6ii allows you to install apk's from the google store like on your phone. I myself have installed Spotify and Tidal and they both run without any issues. Basically you're free to do wat you want with the N6ii's memory in regards to app installation.
The Cayin Music and HiBy Music apps come pre-installed but there's very little difference between these if you ask me. I use both all the time and neither have caused any issues or crashed on me while listening. They're also extremely easy to figure out and use.
Usability / Controls
Because of its smaller size the Cayin N6ii is easy to work with, even one-handed. The leather case does add some more thickness to the player but all the buttons are in the right place and you can easily control the N6ii without taking it out of your pocket.
The power button only requires a short push for the player to turn on. While I like that, it might annoy some others at you might accidentally turn it on in your pocket without you knowing so, resulting in a dead battery when you want to use it.
All-in-all nothing seriously to complain about, the only thing that does bug me is that with my sample the side buttons after start-up have a delayed reaction time. Sometimes you will push them and nothing will happen, then after 30 seconds or so, all your commands will be executed. This issue disappears once the N6ii has been on for some minutes, but it is annoying to me. I don't know if anyone else reported this bug or if this just is an issue with my early sample.
Versatility
It's not the first DAP that Cayin builds and all their other models already were very good when it came to versatility.
The Cayin N6ii isn't just a DAP with a 3.5mm and 4.4mm output and a line out, it's so much more. With its USB DAC, OTG capabilities and comprehensive digital output options such as I2S (mini HDMI), USB Audio and S/PDIF the Cayin N6ii becomes part of your home setup as well.
On the Cayin site you can in detail read what the N6ii is capable of in terms of connectivity, but it's very safe to say the N6II (again) is very versatile.
N6II Sound
The N6ii used in this review is running FW version 1.18EN. We'll split up the parts on sound by motherboard.
The A01 with the AK 4497EQx1 DAC chip
You get a musically tuned N6ii with the perfect blend of neutrality and warmth. The N6II doesn't sound overly warm and neither does it sound neutral but it delivers the best of both worlds. You get a good level of detail with great clarity delivered in a clean and smoother way.
The N6ii & A01 combo sounds full bodied from bottom to top and you get a nice impact and sense of fulness at each frequency. The sound stage is good but it isn't the widest and deepest, and because of the closer presentation in regards to spaciousness and air, the delivery is more intimate. An inside your head presentation isn't necessarily a bad thing, and the N6ii and A01 prove exactly that: it's fun, musical and engaging, yet it's not the technically strongest.  Dynamics, separation and speed are good but the layering with this module is not as pronounced.
The bass section has good body and a nice kick. Bass goes down low when needed and shows a good amount of detail but the fine detail and layering aren't the most impressive with this motherboard. The mids are also full bodied and flow perfectly from the bass. The mids are smooth, natural and very musical. The spaciousness and airiness is the best in the mids and that combined with the excellent vocals make the midrange the highlight of this combo.
The treble is energetic but nut he furthest extended or most detailed/layered. It however provides more than enough detail and energy to create the sparkling, exciting contrast with the player's low end.
The part on sound continues on Page Three of this review, after the click HERE.