The dCS LINA Amplifier – Main Features
The dCS LINA Headphone Amplifier is designed and hand-assembled in the United Kingdom. It is purposely built for headphone playback and according to dCS it is "Engineered for the purest expression and the finest possible sound". Its solid aluminium chassis minimises the risk of electromagnetic interference for enhanced audio performance. But we'll talk more about its design in a bit.
Even though the amplifier is part of the LINA stack, you can perfectly use it with any other DAC in your home system. The LINA Headphone Amplifier's variety of balanced and unbalanced inputs make it an excellent addition to virtually any high-end headphone setup. Buffered and unbuffered options make it compatible with both high and low impedance digital sources and guarantee the best possible sound from whatever source you choose to connect.
"Through exhaustive development, extensive testing, and creative thinking, we developed an all-new design that combines tried and tested features with novel innovations engineered to further enhance performance and efficiency."
The dCS amplifier is a solid state amp, with a CLASS AB design which delivers high power efficiency and excellent linearity. Why solid state? dCS explains ss ensures optimal, constant and clean performance with a vast range of headphones, from IEMs through to reference-level over ears. The LINA Headphone Amplifier features a Class Super A output stage that allows to maintain a high degree of linearity and efficiency. Its design offers the fidelity of Class A system with the thermal properties of a Class B – meaning less heat generation, higher efficiency, and none of the crossover distortion problems typically associated with Class B designs. To achieve that, dCS developed a DC servo system with novel error correction technique, which allows them to maintain a clean signal path and correct incoming voltages at source. dCS feels his approach provides all the performance benefits of a Class A system, while also keeping heath and power usage under control.
This solid state, Class AB amplifier is engineered to drive a vast range of headphones – from planars to sensitive IEMS – to their full potential. With its low noise floor, wide bandwidth, vast dynamic range, and excellent linearity, it delivers all the sonic benefits you'd expect from a dCS product and is designed to complement virtually any head-fi setup. The LINA amp is designed to drive the most sensitive headphones such as the HE-6 and Susvara to their full potential. But it doesn't stop there. Because of its low output impedance, it works well for about every headphone and IEM on the market, no matter what technology they are using or what sensitivity they have. We'll get back to that later in the article.
The price of the LINA amplifier is set at €10.250 Euro or $9,100 USD.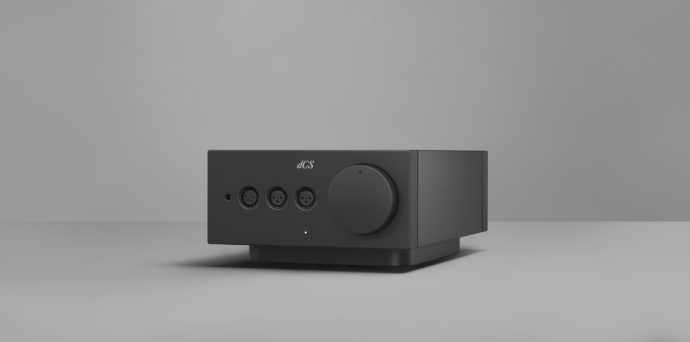 The dCS Amplifier – Design & Build Quality 
The dCS LINA amplifier is built from scratch. dCS explains the LINA Headphone Amplifier is engineered to deliver the highest levels of performance, quality and reliability. This is reflected in everything from the arrangement of internal components to the design of its circuitry, electronics, and billet Aluminium casework (selected for its excellent acoustic and electromagnetic properties). We have relentlessly studied and questioned every aspect of headphone amplification, developing new features and techniques, while pushing existing technologies to their limits, with the sole aim of creating the finest headphone amplifier available.
Visually, the LINA amplifier is somewhat special. The full stack is impressive to look at and the amplifier's looks perfectly match the design of the other LINA components. The LINA amplifier is also simple in design, but it is classy. It's not the most sexy or attractive amplifier in my opinion, and I prefer the Bartok design more but that of course might be completely different for you.
Build quality wise you at this level expect the very best, and that absolutely is the case. There are no flaws, and everything is perfect. The only weird thing to me is the 6.35mm input jack. Where other units have a clear "front", it here is recessed, and it disappears into the body. It's a bit weird to insert the pug, but that could be just for me.
The amplifier measures 121.5mm (H) x 220mm (W) x 356mm (D) and weighs 7.5kg. On its own the LINA amplifier is normal in size, but the full stack of course is much more impressive.
Box & Amplifier Lay-out
Everything about the LINA stack screams luxury and high-end, even the boxes. When the LINA stack got delivered a few months ago, it came in 3 identical, huge boxes all perfectly protecting the units inside.
The amplifier doesn't come with many accessories however, and all you will find in the box are a simple power cable and single Power Link cable. There also was a welcome letter and a quick start guide which were presented in a leather "envelope". I downloaded the full documentation for dCS' website.
The amplifier's lay-out is reasonably simple. On the front you from left to right find the following: The single ended 1/4'' (6.35mm) headphone jack, the single 4-pin balanced XLR jacks, the dual 3-pin balanced XLR, and the volume control. Below the right 3-pin XLR plug, you will a find a small LED. When the unit is on, the status indicator is bright white, blue, or magenta depending on the input.
Right below the volume know at the bottom, you will find a small switch which allows you to switch between the high and low gain setting. dCS recommends using the high gain setting for Orthodynamic headphones, as it delivers the most current for this type of headphones. The power button is situated right below the LED, at the bottom of the amplifier. (When the unit is switched off, press to switch it on. When the unit is switched on, press to change input. When the unit is switched on, press and hold for 2 seconds to switch it off.)
The back of the amplifier is busier. On the right you have the Power socket, fuse and power switch. To the left you from top to bottom have the unbalanced L/R RCA inputs on the top row. On the second row you on the left have the regular balanced XLR inputs to use with the LINA DAC. To the right you have the buffered balanced XLR inputs which dCS recommends using with a non-LINA DAC. On row three you have a double powerlink connector (RJ45), to connect the amp to the other dCS LINA units.
Using the LINA headphone amplifier is very easy. Once everything is hooked up at the back of the unit, you only need to turn it on, choose the correct gain setting and plug in your headphone. The volume control is smooth and precise and offers good a good range. Setting the volume to exactly the point you want is no issue, it's never too loud or too silent. The LINE amplifier is also completely silent when no sound is playing and turning the volume control is noiseless as you would expect at this level.
When you use the full LINA stack, all 3 units are connected to each other, so you only need to turn on/off one single unit to power on/off the full stack. The only thing missing here perhaps is a remote, but all-in-all the dCS LINA headphone amplifier is a great and easy unit to work with.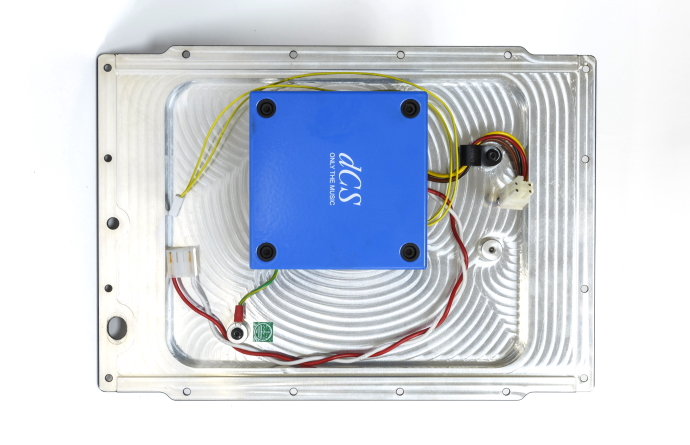 Full Specifications
Product Dimensions / Weight: 121.5mm (H) x 220mm (W) x 356mm (D) / 7.5kg
Shipping Dimensions / Weight: 320mm (H) x 360mm (W) x 530mm (D) / 9kg
Finish: Black machined aluminium
Power Link (synchronizing on/off state with other products): 2 x RJ45
Electronics: Pure analogue design / Automatic voltage switching
Analogue Inputs: 1 x stereo pair unbalanced RCA, input impedance 48kΩ + 1 x stereo pair unbuffered balanced XLR, input impedance 16kΩ + 1 x stereo pair buffered balanced XLR, input impedance 96kΩ
Power: 90-120v & 230-240v, 50/60Hz nominal
Frequency Response: 1Hz-100kHz better than +0/-3dB
THD+N: <0.005% @ 1kHz 6V rms balanced output into 30Ω (80kHz bandwidth)
Channel Separation: Balanced input to balanced output into 30Ω. Better than 100dB @ 1kHz. Better than 80dB, 20Hz–20kHz.
Signal to Noise Ratio: 110dB 20Hz-20kHz A-weighted. (referenced to 6V rms balanced input and output)
Headphone outputs: 1 x dual 3-pin balanced XLR, right and left channel + 1 x single 4-pin balanced XLR + 1 x single (6.35mm) headphone jack
Power output: Balanced 2W into 30Ω / Balanced 0.48W into 300Ω / Unbalanced 1.6W into 30Ω / Unbalanced 0.2W into 300Ω
The article continues on the third page. Click HERE or use the jumps below.
Page 1: dCS Audio, dCS LINA, dCS LINA Components
Page 2: dCS LINA Amplifier Features, Design & Build quality, Box, Amplifier lay-out, Full specifications
Page 3: Sound Intro, Sound General, Sound Headphones Pt. 1
Page 4: Sound Headphones Pt. 2,  Comparison, Non dCS DAC, End Words