Sound performances
For this review, I chose to pair the ddHiFi TC44A / TC35C with the new Shanling ME800 – exquisite IEMs, go read the review –  Janus 2 and my faithful Unique Melody Maestro, now equipped with ddHiFi Nyx cable – incredible cable.
My sources? The iPhone 13 Pro and Apple Music with the new and improved lossless catalog – big upgrade compared to before, so go read that review too. 
Overall signature
TC35C
As I expected, the TC35C sounds almost exactly like the TC35i (2020). It's an obvious improvement compared to Apple's dongle, but if you already own the first generation of ddHiFi's Lightning dongle, you may directly get the TC44A.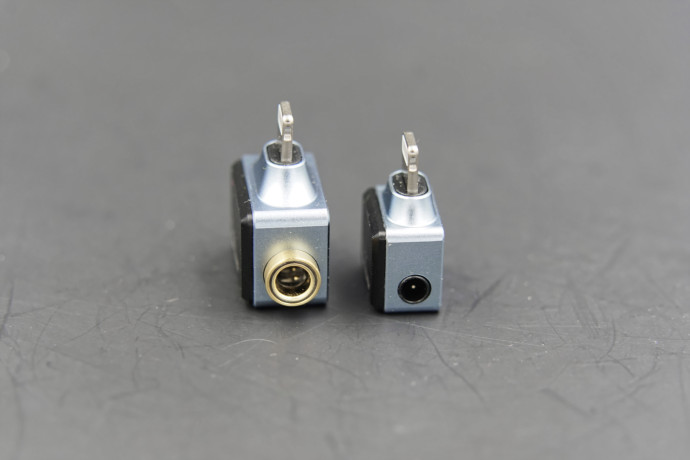 The soundstage is good, voices are clean and if bass seemed a bit thin, I'm still keener to use the TC35C than Apple's dongle. Even more, if you feed this DAC with high-rate files like I did with Apple Music. This is where you'll definitely feel the difference.
Out of curiosity, I plugged my Meze 99 Classics, with Meze's Balanced cable, and the TC35C was able to drive them comfortably. The warm signature hid the lack of power, and the bass didn't seem as weak as before.  It's not night and day, but the absence of ground noise is already a big improvement on its own, and – once again – compared to the out-of-box experience you get with Apple's dongle, it remains sonically superior, at least to my ears. 
Long story short: it works well with sensitive IEM/CIEM, and if you want to use a headphone, favors mellow ones like the Meze.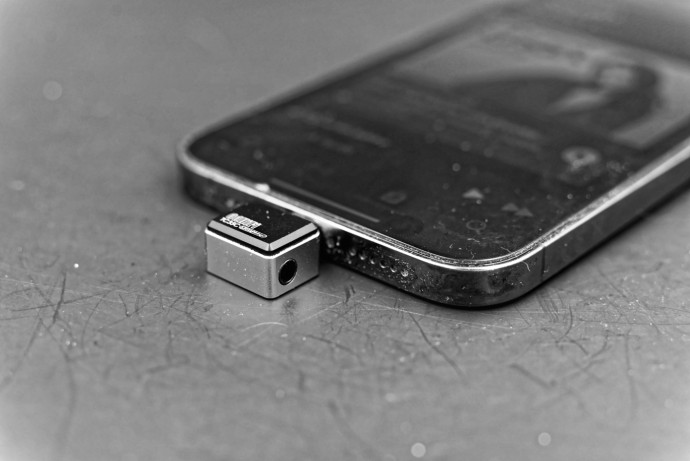 Tonality
Highs: clear and clean. The TC35C offers a good level of resolution and scales up easily with Hi-Res files. There is no harshness nor distortion, even at high volume, and through all my listening, I never encountered any humming noises or buzz. 
Good test track: Tauma – Worakls Remix – NTO
Mids: open and forward. Vocals and acoustic tracks were not a problem for the TC35C, even more once paired with a good IEM. The soundstage seemed wide enough on my Shanling but, to no one surprise, fell short with the Meze as the lack of power became more problematic.
Good test track:  D'Angelo – DAVID AUGUST
Lows: thin but good. The TC35C struggled to reach deep notes and sub rumble, with my 99 classics. The low power output can't deliver enough juice to push the drivers hard enough, but once you're outside, this is less of an issue. With my IE-C3 and Shanling's ME800, I didn't encounter this issue and was able to get enough lows to meet my needs. Hurray
Good test track: Marketing Director – Fingerspit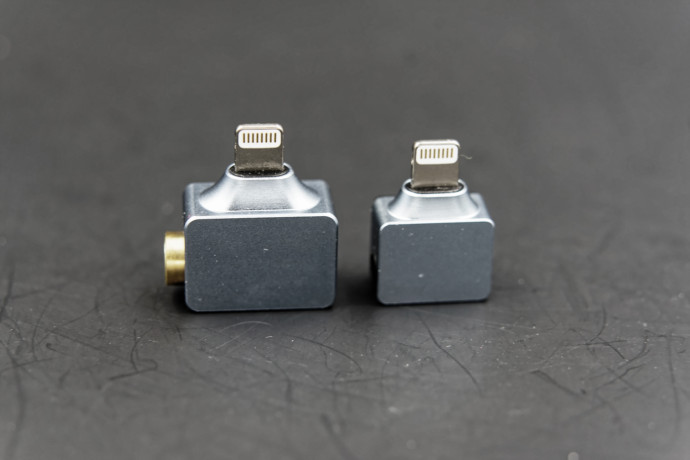 TC44A
Ok, now it's time to get serious. Does the ddHiFi TC44A offer a better experience than the TC35C? Of course! Even better than I expected to be honest. Okay, you don't get a balanced output like I hope we'd do, but whatever the IEM, whatever the track, I never encountered any buzz, nor any channel imbalance. A good start. 
And, if I didn't expect the same level of performance found on my EarMen Eagle, I was deeply surprised by that tiny box, especially paired with the Shanling. It doesn't retrieve as many details as the Eagle, but the soundstage feels much more natural on the TC44A. Pan effects are delightful, and if you think an IEAM cannot match a headphone in terms of spaciousness, I think you should put this one to the test. Sure, the Sparrow wins hand down, but it's also thrice the size and twice the price.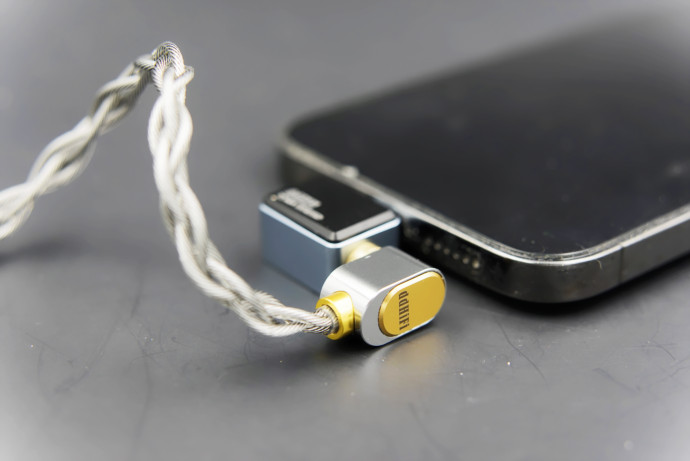 Digging deeper, I mostly fed "hard" tracks to the small DAC, like "Badamba" by Boris Brejcha or Liquid Night from T78, to check where ddHiFi put the threshold in terms of power . It's the kind of music that might sound a bit crude at first, but the better the gear, the better the sound.
Thankfully, the ddHiFi TC44A achieved something quite remarkable. First and foremost, it drove my Unique Melody Maestro and gave me clean, authoritative bass, when the TC35C felt overwhelmed during hard-hitting situation. Next to that, the TC44A surprised me a second time by outputting exquisite mids and voices, even compared to similarly priced units like iFi's Go Blu, who's enjoying a Cirrus Logic CS 43131 DAC. 
It's fast and precise, at any level of volume, and the layering – if not exceptional – is a step above its little brother. It feels natural, effortless, and I think ddHiFi is now perfectly mastering its art, at least in terms of tuning. This isn't a DAC that'll wow you right off the batch, on the contrary, the more you'll listen to it the more you'll get to love it.
Micro-details, balanced signature, precise timbre, you get it all, in a DAC that's as big as a thumb. Honestly, to get this level of detail, out of a box this small, is like witchcraft to me. Give it twice more power, and the ddHiFi TC44A would come from a great device, to a killer device!
All in all, an excellent DAC!
Tonality
Highs : clean and transparent. The TC44A achieves a good job there, with a good amount of air. Trebles are precise, never harsh and with the right headphone, you'll get a level of comfort that I wouldn't believe possible a few years ago. It's never dry, never sibilant, never boring. Very impressive!
Track : Believe in Me – Jamie Lidell
Mids : excellent layering and great spaciousness. The mids blend perfectly with the rest of the spectrum. The soundstage is splendid, sometimes astounding until you reach the highest level of volume. If so, the mids tends to fall behind the highs and lows, giving us an odd V-Shap signature. Still, this is only if you really push the DAC to its limit.
Track : Nobody Speak – DJ Shadow
Lows : fast and powerful. Bass is impressive, very impressive. Usually, this is where small DAC falls short, but this was only the case at MAX volume with the TC44A. It's fast, powerful and with a good headphone, you'll be rewarded by deep, tight, toe-tapping bass. Plus side, it never oversteps on the other frequencies.
Track : The Chasm – Dan Terminus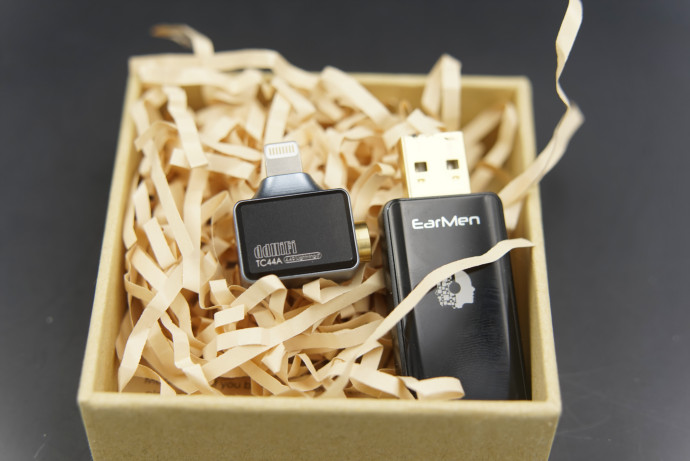 Conclusion
Long story short, the ddHiFi T35C is an updated TC35i, with a T-Shaped plug, instead of a straight one.
Where things get interesting is with the ddHiFi TC44A, a great little DAC, capable of great lengths once paired with a good IEM. Sound quality is surprisingly good, build quality is top-notch – as usual – and the conception design makes it the perfect companion for your smartphone – whether you got an iOS or Android device.
Ok, it won't replace your usual DAC/AMP if it's a Chord Mojo 2 or an EarMen Sparrow, but for the size and versatility, you'd be hard-pressed to find something as good-sounding. Paired with a good IEM as I did, the end result is very – very – good. 
Plus, you can just attach one to your IEM and completely forget about it, so you get a powerful, thumb-sized, combo everywhere you go. Big thumb up for ddHiFi!