Today we review Effect Audio's new effort in sustainability: the Effect Audio Axiom IEM, which sells for $1499 USD.
Effect Audio
Effect Audio is one of the most recognizable cable companies in the market which is based in Singapore. With their relations to the other well-known companies, and with their products' performance as a whole, EA is a reliable manufacturer in terms of aftermarket cables. Whenever a fellow audiophile asks me about which cable they should get, one of the first brands that come to my mind is Effect Audio. We've been reviewing their products since 2014 so it goes a long way.
There are a lot of different options in their product range, distributed into four different series. The entry-level cables belong to the Vogue Series. This series is about price/performance, and the Grandioso is a very good performer in that regard. The EVO Series is the newest addition to their lineup with EVO 1 and EVO 10 cables. Then comes the Heritage Series which contains the legendary Leonidas cable (2nd edition).
Effect Audio released a new flagship cable last year as well, named Centurion, which brought a lot of fuss because of the price. We reviewed it in August 2021 and I still recommend it to the people who have summit-fi gear and have that huge budget for portable audio:

Axiom
Effect Audio was posting a lot of pictures through social media with their "what's with the X?" campaign for a long time. After keeping their fans waiting, they finally introduced the new Axiom IEM in November 2021. Two models were announced and this one is the regular version. EA also will release the "Effect Audio Axiom XP", supposedly a higher-end variant, very soon.
This is the first in-house IEM from EA as well. The previous IEMs were collaborations with other brands, while this one is a genuine EA product top to bottom.
So really, what's with the X? To cut the story short, this is an IEM created for "sustainability", EA claims, and they ship it without any accessories and even cables. So according to EA, this is the first passive IEM on the market to be packaged without a stock cable. This approach to sustainability can be seen with giant companies like Apple when they first introduced their iPhone packages without chargers. The opinions have been polarizing ever since.
About the Concept
So does Effect Audio have a point here? For loyal EA customers, yes. Because they most probably have multiple cables from Effect Audio already. Since they don't need more, they can purchase this IEM without any cables or other accessories. They can even get a discount for already owning an EA cable (more below). Not to mention less environmental damage.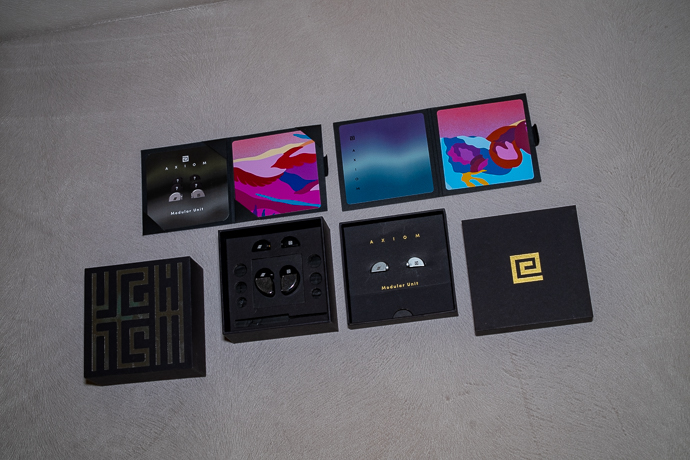 However, if someone is going to get the Axiom from ground zero, it certainly will not be attractive at all. You get no carrying case, no cables, and no accessories other than a few ear tips. The price is also not very cheap, so they can look elsewhere for an IEM that has the complete package.
I'm sure the EA marketing team will look at the reception from the audiophile crowd. We'll see how it goes. But this is surely a courageous attempt.
Modular Unit
Apart from those topics, EA also introduced a new "MU" (Modular Unit) with the Axiom. This module is swappable with other future modules from EA. The idea is to change from 2-pin to MMCX and vice versa. Another gain from this solution is tweaking the sound with different modules. So it has two purposes; tweaking the sound output and changing the IEM sockets. I currently have two different modules and I'll share my experience soon below.
While this is a unique approach for sure, one might argue that Effect Audio already have their "ConX" system to allow you to change your cable termination on the IEM side. So changing the connector sockets doesn't seem a great solution and it might be a little obsolete in the first place. Of course, if you have cables that don't have the ConX, this solution might appeal to your needs.
What about changing and tweaking the sound? I say yes, it makes sense for a modular and sustainable IEM. When you look for a change or when you get bored, you can swap to a new unit for a different sound. No need to purchase a whole new IEM.
And is there an opportunity to create a wireless module and stack it on the Axiom? That might be a great solution for wireless lovers for sure.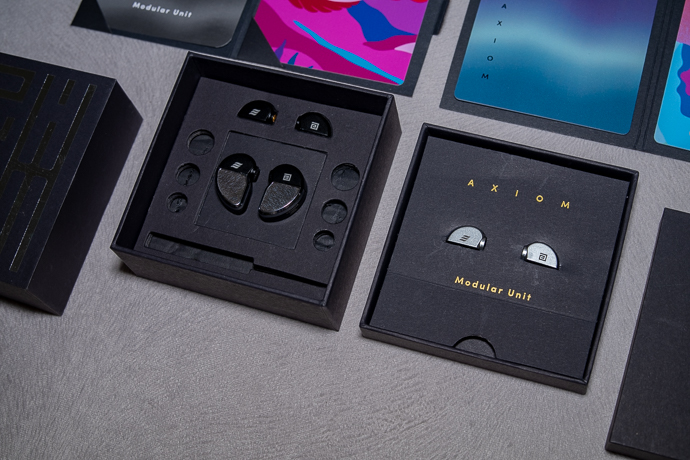 Pricing
While the base price of the Axiom is 1499$, the price is subject to changes depending on your cable choices. For instance, EA has an ongoing promotion at the moment. If you have a Horus or Cleopatra cable, the price decreases to 1319$. The other cables are not applicable for this discount (or so it seems).
On the flip side, if you want to get a cable for your Axiom purchase, you need to pay an additional fee. If I have to give an example again, the Cleopatra cable costs 599$, while it normally costs 799$. On some distributors, the Vogue Series cables are free with your Axiom purchase. The price policy is not very clear in this regard and maybe it would be best to contact EA directly for this matter.
The Horus is 1274,25$ with the Axiom, and the EVO10 is 440$. So the discount rate is %25 for those three models. The other models in the EA portfolio seem not included on the product page.
I think that it would be better to offer promotions for every existing EA cable user out there, regardless of their cable models. The current approach to me limits the target audience. Also, I think the discounts should apply to every cable model, including the Vogue series. The discount rate can be improved as well.
My opinion is based on the fact that the Axiom is not a cheap IEM at all, and while it sounds quite good (keep reading), either a cheaper price or better discounts/advantageous offers would make it more attractive as a whole. It would also be better for backing up the "sustainability" claim more.