Today we take a look at the $180 USD Etymotic Etymotion Wireless Bluetooth cable. 
Disclaimer: Etymotic sent us the $200USD ER2XR Wireless bundle for the purposes of this review, free of charge. I only covered the import taxes and fees. All thoughts and experiences with the product are naturally my own. Headfonia and Etymotic are not related in any way.
Etymotic Company
Who doesn't know Etymotic? Etymotic Research is an engineering-driven research, development and manufacturing company. The name "Etymotic" (pronounced "et-im-oh-tik.") means "true to the ear." Mead Killion, Ph.D. founded Etymotic Research in 1983 to design products that accurately assess hearing, improve the lives of those with hearing loss, protect hearing, and enhance the listening experience of musicians and music lovers everywhere.
With deep roots in acoustic research and the hearing aid industry, Etymotic invented insert earphones in 1984. Etymotic's original earphone design used balanced armature receivers, which established these speakers as the gold standard for high definition in-ear earphones. The first versions were used for diagnostic testing and precision auditory research (ER-1, 2, 3). Etymotic produced the first noise-isolating high-fidelity in-ear earphone, the ER-4 (1991), which became the basis of all subsequent in-ear earphones and in-ear monitors worldwide, and created an entire category of consumer electronics.
ER Series
Currently there are 3 subcategories in the ER series. ER2, ER3 & ER4. Etymotic has two versions of each series. First of all there is the SE or Studio Edition. This version is the most neutral/reference tuned and then there's the XR or Extended Response version which has a little more bass impact. The ER2 series IEMs use a single high performance dynamic driver and no Balanced Armature as in the more advanced models. 
Specifications & Technical Data
ER2XR
Frequency Response: 20 Hz-16 kHz 
Transducers: High performance moving coil driver 
Noise Isolation: 35-42 dB (Insertion method & tips dependant)
Impedance: (@1kHz) 15 Ohms 
Sensitivity: (@1 kHz) SPL at 0.1v 96 dB 
Maximum Output: (SPL) 120 dB 
Cable Detachable, 4 ft 
Warranty: 1 Year
Etymotic Etymotion Wireless Bluetooth Cable with AKM Velvet Sound DAC and Amplifier
Chipset: Qualcomm Bluetooth 5.0 
Supported Codecs: AptX, AptXHD, and AptX LL (24 bit/48khz) 
DAC & Integrated Amplifier: AKM AK4331 with Velvet Sound Technology 
3-Button Controller (Volume & Playback)
Awareness Mode
8 Hour Battery Life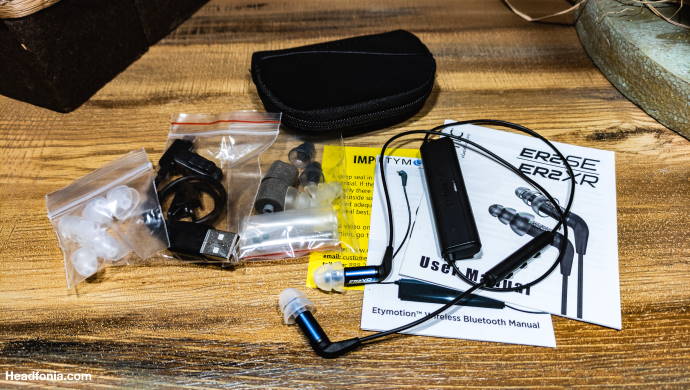 Packaging & Accessories
The bundle comes in a very neat and compact packaging. Etymotic has listed all the details on the box. On the inside you'll find these accessories:
ER2XR Earphones
Etymotic Etymotion Wireless Bluetooth Adapter / Cable
2 Pairs of Triple Flange Tips + 4 Pairs of Double Flange Tips + Foam Tips
Filter Removal Tool and Replacement Filters
Storage Pouch
Micro USB Charging Cable
Shirt Clips
Earphone Design & Build Quality
I always liked the way Etymotic earphones are designed. I like how small they are. I remember the day I first put the ER4P-T MicroPro in my ears. I think it was around 2013. I remember getting blown away by the speed and articulacy. The transition between attack & decay surely were certainly something else. I also remember how small and compact they were compared to general design language. They were these compact rods that you inserted into your brain and had a good time with. Years later, they are the same rods that you still have to insert into your brain (rather than your ears) and you still have a good time with them, haha! Only now, the shells of ER series are metal with an anodized finish. It gives the rods a nice, elegant feeling and a touch of modernity. I really like the hue of blue they went with. I am happy that Etymotic still continues to use their iconic design language.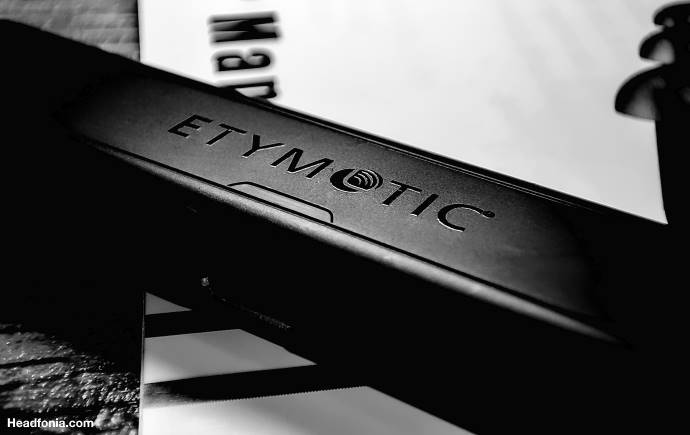 That is probably because of it's acoustic properties but still, it feels very nostalgic to me. Build quality is excellent, metal construction feels cold to the touch and seems very durable. The MMCX sockets are firm and tight as well. However, I do have a little complaint about this part. The ER2XR has this slightly recessed MMCX connector and there is also a little cutout, a notch that guides the cable into the connector and prevents the cable from spinning. I certainly admire the thought process behind this design idea, but it also prevents you from using many of the third party MMCX cables on the market. They just won't be compatible with the ER2XR and that's a rather annoying situation. In my opinion, apart from this, the ER2XR has a great design and it will continue to serve you for a really long time.
Plus, you have the option to change filters as well and that lengthens the life of any earphone! 
Etymotic Etymotion Wireless Adapter Design & Build Quality
First of all, it is a very light adapter. It surprised me the first time I held it in my hands. It has a plastic construction and it uses micro-USB for charging. I couldn't believe an adapter so light could give me 8 hours of playback but it did so that's a definite positive in my book! Manufacturers sometimes miscalculate the length of the cables and make things harder for us with these adapters, however, Etymotic's adapter does not suffer from this issue.
Cable length is optimal and it is very easy to use. It has a 3 button controller and a mic to take calls and control playback. The controller does not add bulk to the adapter as it is very light and small in terms of form and factor. I will talk about the adapter's technical performance in the next chapter so read on!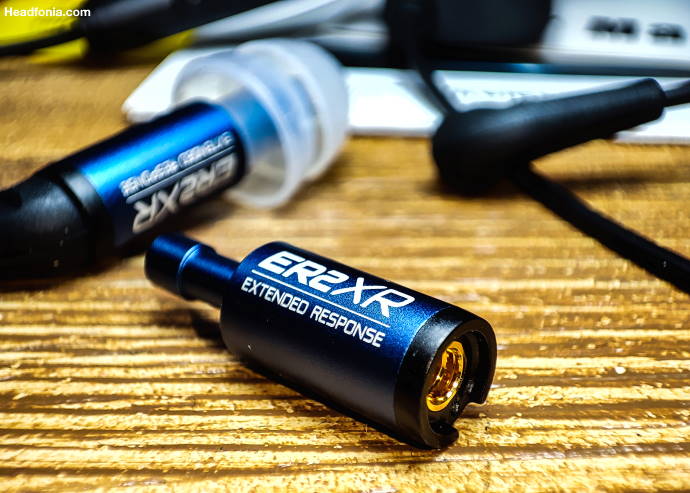 Comfort & Isolation
The ER2XR IEMs are really small earphones and the wireless adapter cable is very lightweight. That means the comfort, in my opinion, is quite good with one little exception. You have to stabilize the adapter with 2 shirt clips to prevent it from swinging left and right. Etymotic's ER series feature 35dB+ noise reduction depending on the tip and insertion method so you will hear the detail buried in the mix without raising the volume to compensate for ambient noise. My favourite tips are, however, not the triple flange ones but the double flange, white, more elastic ones. I really like how they feel in my ears and I often forget that I wear the Etys.
In my opinion, the comfort is as great as it gets for these kinds of universal IEMs. You can also experiment with Shure's gray, thin nozzle tips as they are 100 percent compatible with ER2XRs. Triple flange tips are recommended by Etymotic as they provide the deepest seal and come with famous brain insertion jokes. If you get subpar sound quality out of the ER2XRs, it is almost always about the seal. You've got to go deeper, haha. That pretty much sums up this section!
More and the part on sound starts on the second page of this article. Click HERE or use the jumps below.