Scenarios
So, in what ways you can use the R7? Well, there are many. Starting with the most obvious ones, you can just use it as a standalone DAP. The only difference is you need to use the power cable since there's no battery here. There's an SD Card port on the back so you can play local files, or you can just connect to a music streamer service.
Another way is the DAC mode so that you can hook up active speakers or another amplifier. You also can use the R7 as a DAC/Amp, whether it's a phone, tablet or PC. You can even use the exclusive DP mode, to connect to an external display, a tablet for instance, and operate the unit on a bigger screen.
Another possibility is to use the R7 as a digital transport and connect it to an external DAC. For that, you can attach a hard drive to play your local file archive for example.
In my case, I wanted to use the R7 with an optical out from my TV. I can connect my active speakers that way in my living room. However, there's no option to control the volume from afar at this time. FiiO promises remote control functionality over a smartphone with the next update. Another option is to purchase the RM3 remote, which, again, should've been included in the package in my opinion.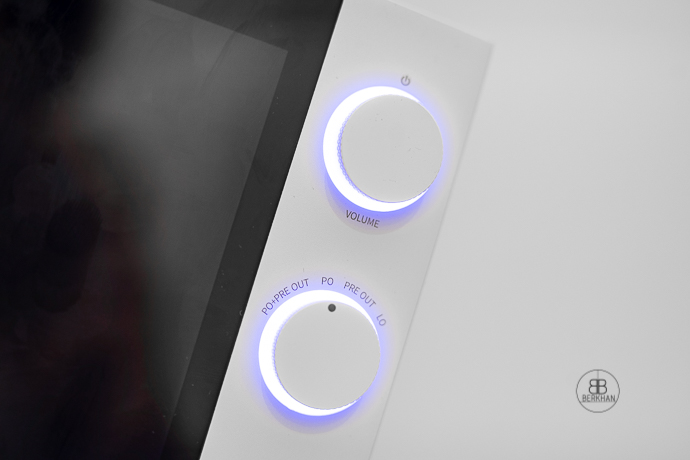 Operation
As you can see, the options are endless. To switch between modes, the R7 has a mode selector menu. The modes include;
Pure Music Mode
AirPlay
USB DAC Mode
BT Receiving Mode
Coax In Mode
Roon Ready
Optical In Mode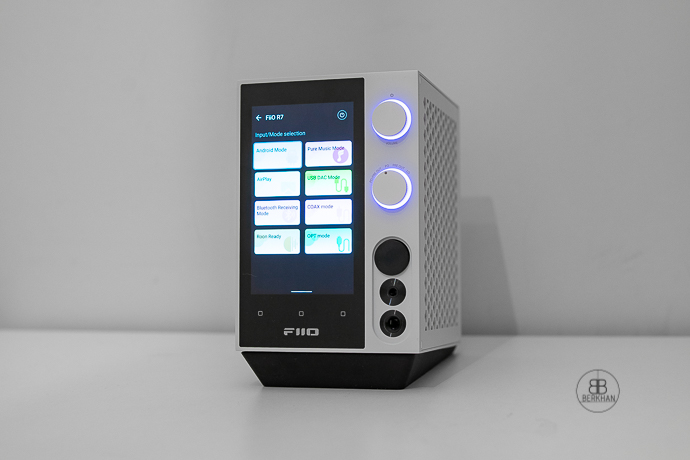 For switching outputs, you use the knob which is located just below the volume knob. This one has four options;
PO + Pre Out – Both front and rear outputs active with volume control
PO – Front outputs active
Pre Out – Rear outputs active with volume control
LO – Rear outputs active with fixed maximum volume
User Experience
The new R7 has Snapdragon 660 which is extremely popular in the DAP market nowadays. It has 4GB of RAM and 64GB of internal storage. This is reasonably sufficient for a device like this. The real-world experience is great. The device is snappy, has a clean UI and is close to stock Android feel. The Android version is 10, which could've been higher when you consider the fact that most units nowadays have at least 11.
The volume and output knobs have nice weight and sturdiness, but they're also easy to operate and turn. You can customize the LED lights on both knobs. By default, they change depending on the sample rate. Under the screen, you have navigation buttons for tapping. You can set them as play/pause/skip/previous for easy operation without turning on the display, otherwise, they work for navigation on Android UI. 5Ghz WiFi works like a charm, and the BT quality is good, especially with LDAC.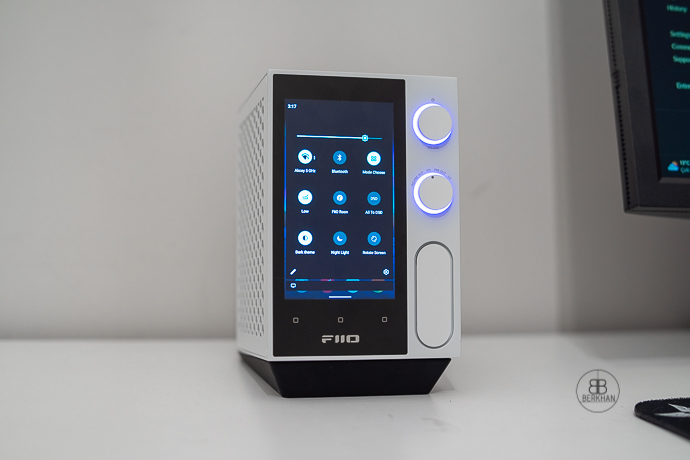 Display
The display is a 4.97-inch, 720×1280 LCD touchscreen. It has good resolution and the colours are nice, which is fair enough for a desktop device. It's responsive with good sensitivity. You have different screen-saver options when the screen is off, which is nice. There's also a nice graphic when you turn the volume knob, which you can change the volume by touching once you turn the knob.
FiiO Market
One thing I liked is that FiiO has an application menu which doesn't require you to log in to Google services or accounts. This screen provides many music applications you need, including Qobuz, Roon, Tidal, Spotify, Deezer etc. It also has FiiO applications and radio listening apps, should you need any. You can download these apps with just one tap and install them, and you're ready to go. Honestly, I didn't need to check Play Store in any way thanks to this.
Roon Ready
Another positive thing about the R7 is that it's Roon Ready. This means that you can utilize your Roon Core in your house and take advantage of Roon's capabilities. FiiO has a separate app which is "FiiO Roon". This can also be activated from the mod selector menu as I mentioned above. Roon is always a nice feature to have.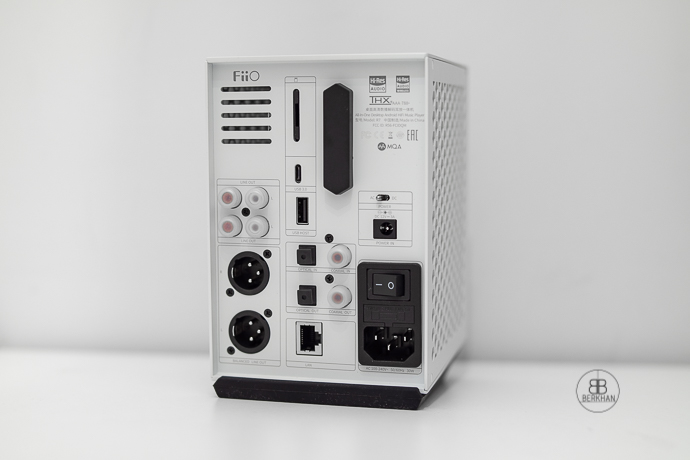 Hardware
FiiO uses an ESS ES9068AS chip for the DAC stage, which supports up to 32-bit PCM and DSD256. On the amplifying side, we have THX AAA 788+ headphone amplifiers. The power output is 3650mW at 32 ohms on maximum gain, from 4.4mm and XLR phone outs. The output impedance is less than 0.5 ohms.
The unit also contains premium components like 12 470uF tantalum capacitors and femtosecond crystal oscillators. The amplifying stage has 5 gain levels, from low to ultra-high. The device is certainly powerful with great figures on paper.
Power Supply
The R7 has a 30W switchable power supply. With dedicated high-voltage capacitors, the AC input provides large capacity and pure power. Other than AC, the R7 also has a DC input circuit, which is made from a ±12V high-voltage design. This DC mode allows R7 to utilize external power supplies, such as FiiO's own PL50, for cleaner power. This could possibly improve the sound you get from the unit. I don't have the PL50 to try so my impressions are solely from the unit.