Amplification
HiBy used high-quality amplification units in the new R6 2020. x4 TI OPA1612 & x2 AD SSM6322 provides 245mW from the SE out and 750mW from the BAL out. (32ohm) As you can see here, there is a huge power gap between the two so if you're planning on getting absolutely maximum performance out of the R6 2020, go balanced. The HiBy R6 2020 is a powerful player,  it has plenty of power to drive any IEM you could get.
I paired the Mangird Tea hybrid IEM via BAL and only 20% volume is more than enough for it. Note that it's a 20-ohm earphone. I also paired it with a bunch of other earphones such as the Earsonics Velvet V2 and never passed the 30% mark at middle gain.
Sound Signature
The HiBy R6 2020 has an impressive circuit under its hood, LDOs, ELNA & POSCAP capacitors, crystal oscillators, independent isolated power supply design…
It is quite rich in audio hardware and it is equally well-implemented, coding side. HiByOS allows the R6 to fully utilize every piece of hardware so my expectations were quite high for this product.
The HiBy R6 2020 sounds balanced, clear & refined. It is not exactly neutral, it is on the slightly warmer side of the scale. Tonality is pretty spot-on, it does not feel digital or artificial, at all. 5 minutes into the first contact, I noticed how technically capable and dynamic it was. After spending more than a week listening to it, trying it with different earphone configurations, here I am describing it to you! All tests done via 4.4 BAL, MSEB off, LPFR default filter.
Lows
Tight, textured, and articulate. It has quite a quick attack & decay, which makes it very dynamic when it comes to faster genres. Listening to electronic music is really fun. Bass is clean and sweet, while the quantity is not excessive or light. It is just adequate and scales very well with the earphones. For example, when I pair it with the Earsonics Velvet V2 (Warm/Balanced mode), it gives me a very powerful bass response but also a very quick one at the same time. Midbass is very adequate as well, it does not suffocate the staging, quantity-wise. HiBy managed to tune it to hit the perfect spot. Pairing it with a slower, single dynamic earphone, such as the Mangird Tea, bass articulacy and speed is affected negatively while the quantity increases and note weight thickens. Audio, after all, is a world of diminishing returns. To sum up the bass section, it has a very controlled, balanced bass response that scales very well with the different earphone configurations.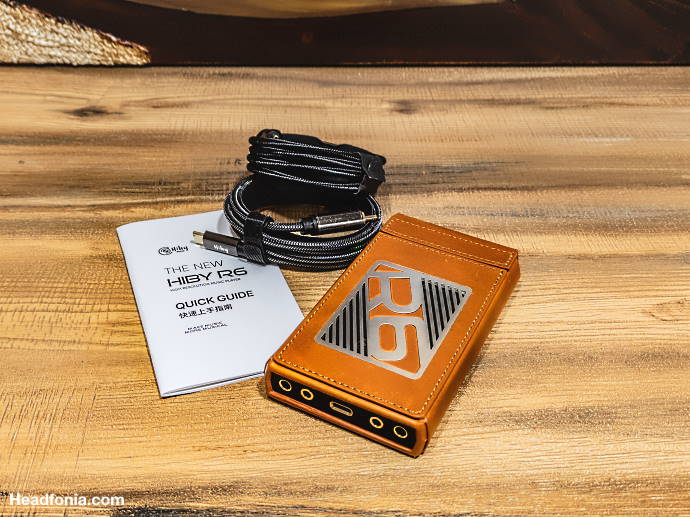 Midrange
Transparent, detailed and natural. It does not have a saturated midrange, note thickness is adequate, it feels accurate and mid-based instruments such as guitars are easy to spot & track on stage. Vocals are layered, clear, and very detailed. Not too forward, not too recessed. Upper mids are vivid but controlled. No harshness of any kind. Resolution is quite impressive, almost as good as my desktop rig. (SMSL SU-9 & SH-9) It is quite impressive to pack this performance into a handheld device. Listening to Tom Waits and his gravelly voice immediately gives you goosebumps. Separation, airiness, and layering immediately catch your attention while the natural tonality of the instruments is waiting to be noticed.
Treble
Refined, expansive & clean. I really like the treble region of the R6 2020 as it is very well-tuned. It is detailed and not fatiguing at the same time so quantity is really well-done. It is not sharp or particularly smooth, it is just balanced and airy. The extension is also quite good with plenty of details. Microdetail retrieval is impressive, too. Treble-bound instruments such as Piccolos or Flutes feel natural and easy to listen to. Transients are effortless and they extend into the top octave in a relaxed state. The whole presentation feels relaxed and articulate.
Technical Capabilities, PRaT & Soundstage
The R6 2020's technical side is strong thanks to its airy and transparent presentation. It is a very capable DAP and its presentation and overall performance make it a very good all-rounder for practically every genre out there. It handles congestion and complex passages easily when it is paired with an equally good earphone. Don't forget, a chain is only as strong as its weakest link! The R6 2020 has plenty of air between the instruments and this of course is the reason behind the spacious presentation. The layout is very defined as well. The R6 2020 has a wide and moderately deep stage. Instruments are relaxedly scattered around, they have plenty of air between them and their positions are defined. It is easy to focus on each and every one of them. Imaging is excellent.
vs. HiBy R6
Compared to the original R6, well how can I put it, … everything is better. The R6 2020 has a more relaxed, airier presentation with more natural tonality. It has a wider and deeper stage, much better resolution. It also is a much better all-rounder thanks to better technical capability. It has a much faster SoC, more RAM. It has a bigger, more vivid screen for all your multimedia needs. The original R6 sounded somewhat digital compared to the new R6 2020.
Last Words
HiBy's new R6 2020 packs a big punch with its new and refined audio circuitry, new processor, and many features such as the x16 MQA decoding capability.
It is nothing like the original R6 and R6 PRO. This is a complete overhaul and I am not sure why HiBy chose this name. They could've gone with the HiBy R7 name instead. Anyway, as I stated already, this is a feature-packed device, it has many tools like MSEB in which you can fine-tune and find that specific tonality you're after. This flexibility means that finding earphones that synergize with the R6 2020 will be much easier and that's a big bonus if you have multiple earphones in your arsenal.
Other than these, the R6 2020 has a gorgeous design, small enough to carry around without hassle, light enough to put into your pocket. It has a custom Android 9 interface so the possibilities of what you can do are limitless, you could even use it as a USB-DAC as there is practically no downside to it. I downloaded my entire Tidal-Masters library into a 512GB SD card.
It feels great to listen to MQA songs on the go. It has a very fulfilling sound quality, it doesn't make me want to switch to my desktop rig at all. Players have come a long way and thanks to HiBy, we have one more awesome device. From top to bottom, my experience with HiByOS and the R6 2020 was hassle-free. No bugs, no stutter, nothing.
I really enjoyed my time with the R6 2020. It is an excellent package altogether. If you're looking for a capable Android DAP and multimedia device, this is your best bet in this price bracket.