The Challengers
Voshkod 6ZH1P-EV(Stamped: V80)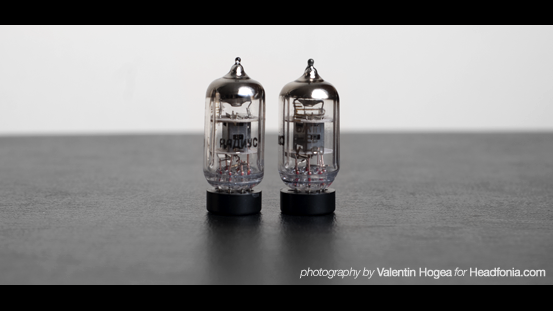 Bass – Very thick bass with fantastic layering. A real head quake without being too boomy. Sounds like a contradiction? It feels likewise. Excellent none-the-less. 5
Mid range – Neutral, neither silky nor harsh. 4
Treble – Great extension, fast without any harshness. Depending on preference the slight roll-off can be a winner or not. In my book, definitely one of the best. 4.5
Sound stage -The widest of the bunch, much better than average height and depth. The best sound stage period. 5
Detail – I can't imagine squeezing out more from The Pan Am, excellent. Very easy to pin-point micro-detail. 5
Other factors: There is a surplus of them everywhere. Buying 10-100 tubes and matching them yourself for a nickel is not a problem. Good to know in 20 years when all the fancy American tubes are history. +0.5
Total: 23
Average price:  5-20 (9) USD [There are pairs for 40+ USD too. But that sure is one good profit-margin.]
Value:  23/9 = 2.56
In short: The cheap "military tubes" from Mother Russia that can't be good considering ALO have them in surplus and sell them for 9 USD/pair. Hah! Think again. From an analytical/technical point of view, my favorites. They offer the highest resolution of the bunch. If you want micro-detail, great mids and fantastic bass (who doesn't?) this is the one. Considering it's dirt cheap and can be found in excess. Go for it!  These and the Mullards are must-haves, it comes down to preference. The Mullards are silky sweet, whilst these are very exact. Which sound signature do you prefer?
Tesla 6F32V (Stamps, on top: 025, back: 38 UB)
Bass – Not as impressive as the Mullards or the Voshkods, but much better than the rest. 4
Mid range – Well, it's pretty good. But it doesn't leave a fond memory. 3
Treble –  Very good extension and fast decay. Really enjoy fast-paced rhythms with these. Speed metal à la Judas Priest, oh yes! Can get a tiny bit harsh sometimes. 4
Sound stage – Better than average no doubt. Height and width was most impressive. I actually" heard" my own door bang in MJ – Black & White. Freaked me out 4
Detail – Better than average, but you can have more. Mother Russia's calling you back. 3
Other factors: –
Total: 18
Average price:  8-12 (10) USD
Value:  18/10 = 1.80
In short: If you want a well-balanced all-rounder. These are very sweet. Not as sweet as the Voshkod's though. But hey, they have yellow printing!
Shuguang (I think) 6J1-Q (stock tubes)
Bass – Neutral bass. I'm missing a lot of that oomph! And tabbing out bass lines ain't exactly easy. 2
Mid range – Nothing bad, nothing good. 2
Treble – Well, they do offer more quantity than several other ones. Can't say it sounds especially fantastic. It's best quality though. Especially considering there are worse ones. 3
Sound stage – Well, this word will reappear a couple of times. Nothing more than average. It could be worse. Burning out the tube in say 500-1500 h's and it would be a 1. Can't torture myself to that point though. 2
Detail – Imaging is pretty shabby on these. The sound stage feels quite inexact. You hear details, but they're all either to the left or to the right. Panning and micro-detail? Not really. 2
Other factors: –
Total: 11
Average price:  ? USD
Value:  11/0… Oh no. We're going to have a mathematical dilemma here.
In short: It was hard to give them all the hours they deserve. But sure. If you're on a really tight budget? Keep the stock ones. However. Considering ALO sells 6ZH1P's for just 9USD/pair. I'd rather sell a kidney if the monetary bit is deficit, to avoid these.
Tung Sol JTL-5654/6AK5W (Stamped front: 634; Production year: 1956)
Bass – Exact and fast. However a bit on the dry side. 4
Mid range – Neutral, a bit laid back. 4
Treble – Very fast, extended. Can get a bit harsh with some genres.  3
Sound stage – Very good width and depth. The height is most impressive. But it's not Voshkod-class. 4
Detail – … And it contains a lot of pin-point detail. 4,5
Other factors: –
Total: 19.5
Average price:  35-45 (40) USD
Value:  19.5/40 = 0.49
In short: The third of the recommended tubes sound-wise. Being the most expensive one and hard to obtain, the other two should be prior on the agenda. I would probably say that this is one of the best all-round tubes. Linear. Exact. I prefer it for for slower/acoustic music though, since the treble can get a bit harsh with rock and electronic genres. This might also be a good one for low-volume listeners, a lot of detail without having to turn it up "loud".

Amperex 5654/6AK5W (Stamped front: 77-18)
Bass – Boomy, quite inexact. Hard to explain. But it sounds like poor-EQ'ing. The bass is plentiful but the quality is horrible. 2
Mid range – Very forward mids. Not as liquid as the Mullards though. More detail though. 5
Treble – Rolled off. If you're completely allergic to treble. However… 3
Sound stage – … the sound stage is quite congested… (but hey, some people like Grados. Right?)  3
Detail – … and most of the detail is gone.  2
Other factors: –
Total: 15
Average price:  30-85 (40) USD
Value:  15/40 = 0,37
In short: I've seen several sources claiming that some 60's-70's Amperex are relabeled 60's Mullard's. That may be true. But these sure as *blipp* aren't Mullards. And if you want Mullards, buy Mullards. (note to self: Mullards, Mullards, Mullards, a whole lot of Mullard's in these sentences, and we haven't even gotten to them yet!). On a positive side, I might have some use for the green/yellow box to screen for color blindness.

Western Electric 403B (Production date: Nov 1980)
Bass – Average extension and quality, higher-than-average quantity  2
Mid range – Smoothed out mids very laid back 3
Treble – Extension is lacking with an obvious early roll-off, very soft recessed cymbals 2
Sound stage – It is so congested  and deep that it's horrible. They give the sensation of the music being played on a ghetto-blaster placed 50 m's inside a cave, and you're in the opening 1
Detail – Don't even get me started 1
Other factors: Microphonic the first 30-40 hs during warm-up, still sensitive to movements [-1]
Total: 8-1=7
Average price: 40-50 (45) USD
Value:  7/45 = 0.15
In short: Horrible, horrible horrible. Don't know if it's bad synergy with the Pan Am, considering they're smaller and have a weaker heater current than the rest. Whatever it may be. Not recommended.  If I would sell my kidney to avoid the stock 6J1Q's, then I would sell my soul to avoid these.

Mullard CV4010 (Production date: May 1984)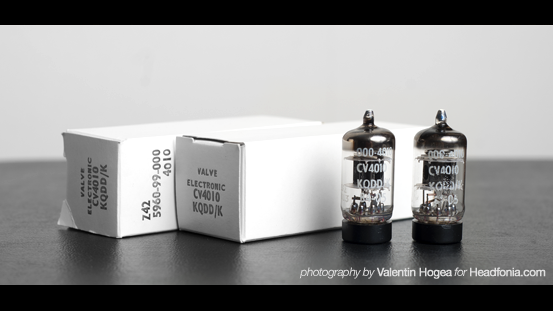 Bass – Deep, exact and plentiful 5
Mid range – The best mids in the bunch, marvelous! Like a satin filter softening out all impurities. 5
Treble – Good extension, fast and exact decay. Depending on preference the slight roll-off can be a winner or not. In my book: 5
Sound stage – Excellent! In all dimensions. 5
Detail – Soft and liquid, however still very good separation 4
Other factors: Very good boxes, includes pin-protections, no interference whatsoever even when amp is moved or placed on the side. One of the few that isn't influenced at all. [+1]
Total: 24+1=25
Average price: 15-17 GBP (26 USD)
Value:  25/26=0.96
In short: And finally… The Mullard's. Sound wise my favorite. Excellent value too. Great for basically everything. Recommended for a liquid sound. Purchase and try, you won't be disappointed. If you want a more aggressive sound and have a tight budget focus on the Voshkod's… but if you have a tad of audio-OCD – you're reading this article right? – it will eventually lead you to these. Yes. I predict that British export will sky-rocket the coming months.
Continued on Page 4, Everything that has a beginning has an end