In this article we look at the $299,99 Luxury & Precision W2 Dongle & DAC/AMP.
Disclaimer: The Luxury & Precision W2 was sent to us free of charge by MusicTeck and Luxury & Precision, in exchange for this review. LP is in no way related to Headfonia.
Intro
Dongles are getting more and more popular and there must be dozens of brands right now with a USB Dongle in their product line-up. It's almost impossible to follow up on all of them, but in all honesty I don't think that's needed either. There are some really good and affordable USB dongles out there of the bigger brands and looking at those probably gives you a 90% on the market and possibilities. Think AudioQuest, Fiio, EarMen, xDuoo, etc. Dongle wars, it's not for everyone.
We're a bit late with this LP W2 review however, mea culpa for that but even if it isn't the newest, it still is a great and actual device deserving a closer look. So on to the review!
Luxury & Precision
Does Luxury & Precision really still need an intro? Not really.
It's not the first time we feature the Chinese Luxury & Precision on Headfonia.com and we have looked at their L3, L3PRO, L5PRO, L6 , LP6 and P6Pro before. If you want to read up on L&P and the units we have reviewed before, check out these reviews here.
So far we have only reviewed their DAPs, but this is their first USB DAC/AMP dongle we're looking at now.
Luxury & Precision W2
The LP W2 to me is the successor to the W1 dongle (launched in 2020), which we did not receive for review. They were supposed to be launched at the same time, but the W2 was delayed. therefore I'm calling it the successor. It doesn't really matter though.
You can find out all about the LP W2 on the Chinese web page here, or on MusicTeck's website here. So what's so special about the W2 you ask? Well, let's look at some of its most important features.
According to L&P, the W2 is the only USB DAC/AMP so far that features SPDIF Output. Now to be honest, I am not sure if that (still) is true, but I haven't seen it any of the USB Dongles in my collections. For those who have no clue on SPDIF, go here. In short it allows you to use the W2 with the DAC of your choice, should you want to do that. (When used with your phone in your office on your desk in example). With the SPDIF output the LP W2 – according to L&P – enables to use the a new playback solution with improved clarity and signal transmission.
The most important part of the W2 is its DAC chip, and for that L&P has chosen to use a double CS43198 chip which is pretty impressive. You can find out all about it here. It's the same chip as iBasso is using in the DX300, or Topping in the D30 Pro or Astell&Kern in their SR25 just to name a couple. It at he same time is no surprise really, the CS43198 is a high-performance, low-power consumption DAC chip from Cirrus Logics that provides excellent high-resolution audio signal decoding with low-power consumption. Its signal to noise ration up to 131dB and it has an incredibly low distortion (0,00012%). Next to that, the CS43198 has a very low system power consumption, so it allows you to save phone battery life, while still getting a high end sound. In fact, L&P has implemented a separate system management task to MCU so that the USB decoder chip only performs data transmission. And this according to L&P produces a superior sound quality.
The Luxury & Precision W2 sports a double headphone output: a 4.4mm balanced Pentaconn and a single ended 3.5mm one. Its output power goes up to 230mW @ 32ohms.
The LP W2 also has a whole set of options to fine tune the sound. We will get back to that in a dedicated chapter later in this article. You can use the W2 with your phone (both Android as well as iOS) as well as with your Windows PC. Wasapi will work directly, for ASIO you need to install some drivers. I have mostly been using it with my laptop in my home office, and with my OnePlus 8 Pro at my remote office and on the go. I often even use an AudioQuest Jitterbug FMJ in between because I want o get the cleanest possible sound. This is not a necessity however.
The Luxury & Precision W2 is selling for $299,99 USD, so it's one of the more expensive USB Dongles on the market (like the AudioQuest DragonFly Cobalt).
Packaging & Accessories
For this money, the L&P W2 comes in a small but nice box and it has a nice set of accessories I haven't seen with any other dongle.
You get:
1 USB-C to USB-C
USB-C to Lightning cable
1 USB-C to USB-A adaptor
1 Luxury and Precision W2
1 Warranty Card
1 Manual
As said, a pretty impressive set of accessories! Top marks for L&P here.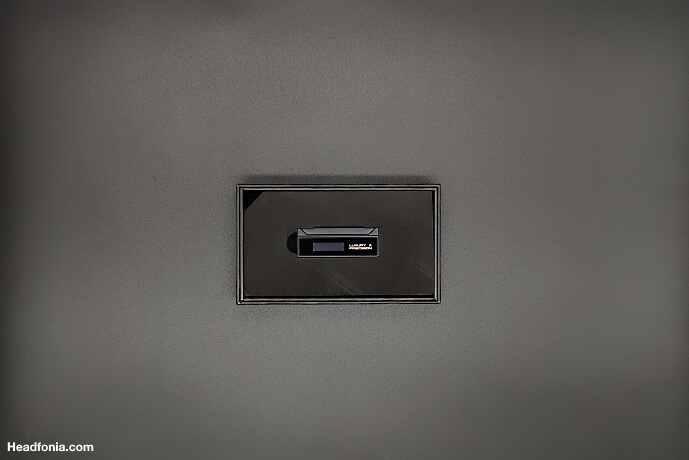 Design, Build Quality
The Luxury & Precision W2 is small and light like any dongle, especially as the cable is removable. It measures only 60 x 22 x 12.5mm and it merely weighs 22 grams. Size-wise it's about the same as the world famous DragonFly dongles but it's larger than the EarMen, Sparrow and Eagle. That being said, it does feature a small 0,91" screen, and none of the other dongles in my collection have that.
Design wise it's a bit special as well as it has volume buttons and more, as well as a double output. Seeing one of those is a 4.4mm one, it's actually impressive how small the W2 still is. I personally wouldn't say the front design of the W2 is nice. It's more functional than it is pretty, but do we really care. The back side of the W2 – which is useless – is pretty nice however with the carbon like look.
The build quality is good, and it's actually a type of metal, but it feels plastic like to me. Even though the buttons feel sturdy and have a nice click to it, I do wonder how long they will last. But so far so good, and that's after a couple of months of use. I haven't had any issues either with the headphone connectors either, so it's looking good for the L&P W2.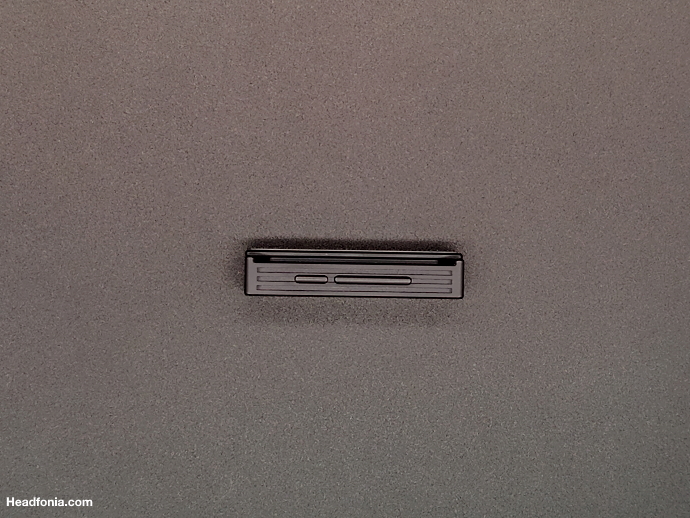 Lay-out & Usability
As said, the main feature really is the small screen on the front. On top of the unit you'll find 3 buttons: two for the volume and one for the screen (on/off). A long press on the small (screen) button brings you into the menu where you can change the settings, using the volume keys. The screen can be on or off (automatic).
On the bottom and the back of the unit, you'll find…absolutely nothing. On the left side you have the USB-C connector, and on the right you have both the 3.5mm and 4.4mm output.
It's a simple layout but it makes the W2 easy to use. Changing the setting however requires you to pay attention and look at the screen. It's impossible to change any settings quickly without paying close attention to what's showing on the screen. So the W2 is a bit harder to use as any of the other dongles, but they don't have a screen or any settings/options either. So it's only normal. And once you have configured the W2 to your liking, you don't really change the settings often anymore either.
Let's have a look at those tuning options on the next page. Click here!
Page 1: Intro, L&P, W2, Packaging & Accessories, Design & Build Quality, Lay-out & Usability
Page 2: Menu & Tuning Options, Features, Specifications, Sound General
Page 3: Sound Basics, Sound xDuoo XT10TII, Sound Conclusion, Comparisons, End Words