Specifications
For the nit-pickers and nerdy ones here, I'm giving the specs and technical sheets. For all the others, you can just go to the next page to see how the unit performs.
Cirrus-Logic DAC and Custom USB Chip
The NuPrime Hi-mDAC uses a CS43131 chip from Cirrus Logic.
You can find the DAC in Cowon's latest players, the Plenue D2 and Plenue R2. It's a full IC that embeds a next-generation, low power audio DAC, with a high-fidelity headphone amplifier.
On NuPrime website's, you get this full paragraph, explaining why the brand chose this chip :
" To minimize pre-echos and ringing artifacts, the CS43131 is designed with proprietary digital-interpolation filters that support five selectable digital filter responses. Filtering options include low group delay with pseudo-linear phase and a fast or slow roll-off. Volume matching of the analog output levels and channel mixing enable a seamless transition between the DSD and PCM playback paths. The onboard low noise, ground-centered headphone amplifier provides proprietary AC impedance detection to support headphone fingerprinting to provide a consistent and transparent audio experience for the end-user regardless of transducer impedances or frequency responses."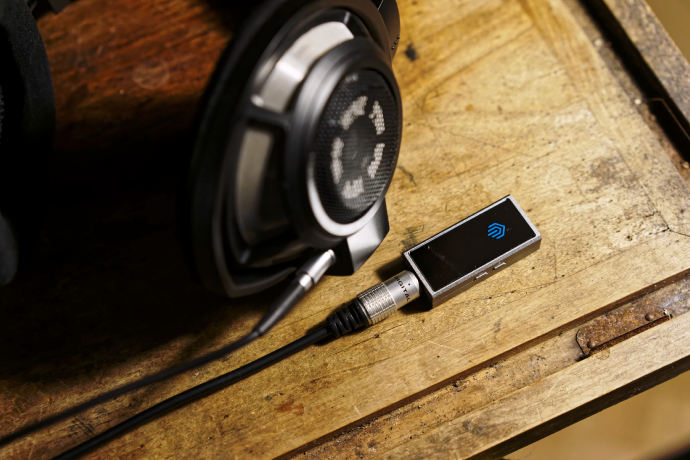 And, if that wasn't enough, NuPrime chose not to fit the usual XMOS chip. Instead, they made their own customized low power USB communication chip, which supports 32bit and DSD256 files. Let's hope that translates well in terms of performances.
Battery Life and Charging
No battery, no worry.
Everyday carry
Compared to my usual players, the NuPrime Hi-mDAC is a pleasure to carry with me. It's definitively one of of those devices that you can leave in your bag, pocket or trousers for days and just forget about it.
If connected to a smartphone, it'll only add a few grams so there is no reason to carry one. Plus, this is one of the rare USB-Sized DACs which offer direct volume control. It's not much, but sometimes you just want that extra dose of precision, to reach the right level of sound.
Full specs
Type : USB Powered DAC
DAC : Cirrus Logic CS43131
USB : customized chipset
Sample rate : PCM : 8Hz – 384kHz (16/24/32bits) native – DSD64/128/256
Outputs : 3.5mm headphone out – Optical Out (192kHz max/DSD64)
Input : USB-C
Size : 50mm x 22mm x 12mm
Weight : 35g
Frequency Response : 20Hz – 20kHz (+/- 0.5dB)
THD : > 0.0058%
SNR : > 100 dB
The article continues on Page five, after the click here