INEAR
It's always good chatting up with Marco at the show. Their StagDiver series simply are the best fitting universals in the world. The StageDiver 2 and 4 are two of my favorite universal IEMs.
They of course also make custom molded versions for professionals and the new thing there was the possibility to personalize the face plates with leather
The big news from Inear however was a new universal called the ProPhile-8 and Canjam Europe had the world première
The ProPhile-8 is an 8 driver universal with a flat reference tuning and a double switch system. That makes it possible to have four! different sound signatures. The switches add 3db down below and 2db to the treble. Price if I'm not mistaken is €1295. A review will be on HFN soon!
KEF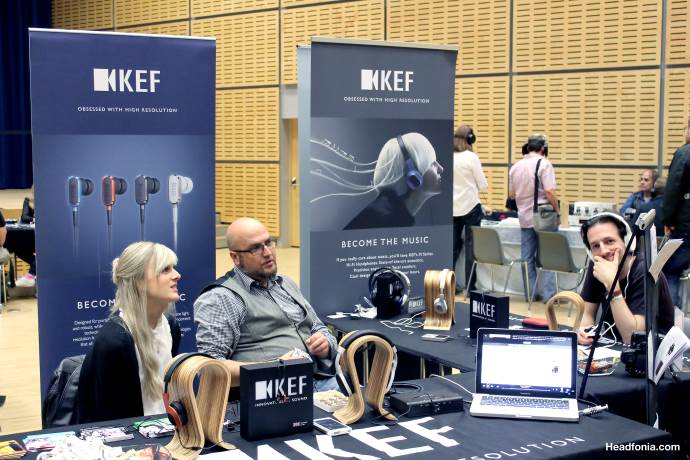 I was a little surprised to see KEF at the show but they sure did color up the room with their headphones and IEM.
Kennerton
The Kennerton Odin that was playing with the above mentioned amp sounded incredibly good. So good in fact that I immediately wanted to buy one, until I was told the price (+$2K). A great headphone though!
Lehmann Audio
The classic German Lehmann has given the community a lot of great amplifiers over the last few years
Their new amp is called "The Drachenfels" and it is an analogue amp to which you can add a DAC card. I listened to them with my Obravo EAMT-1A and I really liked how it sounded. More soon!
Lotoo Paw
KS distribution was showing a lot of brands of which Lotoo was one. The Gold DAP is one of the better high end DAPs and I'm sure everyone knows it
I have always liked the P5000, it's little brother, more though. It's a back to basics DAP
Malvalve
Malvalve always has a wide selection of tube amps at the show and they're always demoing their gear with a selection of the very best headphones from Audeze, Hifiman and Mr. Speakers
This year they also brought this new headphone, which looks like an advanced version of the AKG K1000
The unit is called Headphone 4, it's still a prototype for now but the price will be around….€9000!
The Headphone 4 is huge and it uses a double headband system to keep the headphone on your head. Everyone had a tough time listening to it because of the size and weight but Haja from Audiogarden.fr had no issues with it. I wonder why.
Manunta
The Italian Manunta was displaying their complete (new) lineup with DACs, AMPs, PSU, etc etc etc
I especially liked the EVO HPDAC TWO headphone amp/dac. It's compact, looks great but isn't the cheapest (+1K€)
You'll find PART 3 of today's report on the next page, right after the click HERE or below