Meier Audio
Jan Meier is an incredibly gifted engineer and a great guy. He's always in for a chat and his gear always sounds so good. I wasn't the biggest fan of the original Classic and Daccord but once the FF technology was integrated in these units, I really loved them. Those amps are also why I bought an original HD800.
Seeing Jan talk passionately to his customers is something you never get tired of
He also brought a new prototype amplifier to the show and it will be called the "Soul". He didn't know yet when exactly it will be available but,I have to admit it sounded sublime with that HD800S. To me it's his best amp yet. Keep your eyes on this.
Meze
I think Meze has been to every single headphone show this year and at Canjam it was the big man himself who represented the brand. All their units have been quite the hit and they're actually promoting their new IEM line-up. The Classics still looks great though
Review samples of the 11 and 12 are on the way to Nathan, so expect a review of their latest IEMs on HFN soon!
Mr. Speakers
The number of used headphones from Dan was a little lower this year but I did spot a couple of them
Most of the attention of course went to the new Ether Flow
I listened to it using a Burson Virtuoso amplifier but I have to say the combination didn't really work for me. I do love the Ether C on tubes though. Lovely.
The People
Canjam Europe for me isn't only about meeting imports, distributors and brands. Is's also about hanging out with friends and having a good time
Haja (again) and Felix from Box Design / ProJect Audio certainly were having a great time
Canjam Europe is also a place to run in to old friends. It was nice seeing you again Harald!
Optoma Nuforce
Not so long ago Nathan reviewed both the Nuforce BE6i and HEM2. Btw nuforce, that's way too much gear for just one table 😉
Obravo
Obravo has been getting better and better over the last few years but I'm still not fully convinced by their full sized headphone lineup
I do however am in love with EAMT-1A inear that's in for review. Sure it's rather big, the look is a bit weird and it costs a few thousand $/€ but the sound is almost perfect. They didn't bring my EAMT-1A but they did bring the EAMT-1C, the ceramic version. Phil from Audio Sanctuary in the UK absolutely loves it.
OPPO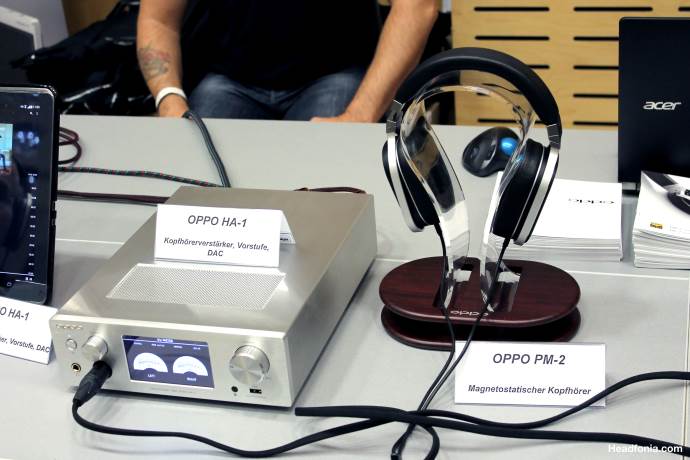 Most of the people I know are big fans of the brand and that's not that hard to accept. OPPO has great mid-fi headphones, a good full sized desktop unit and a sublime HA2 portable unit
Like Burson, Violectric and EMR, OPPO also has one of these see-through cases
The best OPPO unit for me personally is the HA-2 which just light get even more popular with the disappearance of the 3.5mm jack in the new iPhone.
OPUS Audio
Opus is mostly know for their Opus#1 Digital Audio Player which Nathan reviewed for HFN
They have just released the brand new OPUS#2 and we're doing our best to get a unit for review
Next to DAPs, OPUS also has USB DACs as you can see in the picture above.
Oriolus
I don't think Oriolus officially was on the list of brands but they just showed up in the community area after a very very long flight
As you can see they brought some prototypes and an Oriolus DAP…
We reviewed the original Oriolus IEM not so long ago and that's not the last of them you've seen on Headfonia either…
And that's it for part 2 of the Canjam Report. Report ONE can be found here. Part three will be available HERE tomorrow.