Comparisons
We sure have been very blessed with great sounding audio gear this past months, sources got better and better, so did a lot of in-ear monitors and headphones. A good number of flagship in-ears have been launched in the recent past, and if you have been following my posts here on headfonia you might already have a good idea what models the Tzar will have to step in the ring against.
Noble Audio's dual flagships Katana and Encore are enjoying a lot of trust from audiophiles around the world. Advanced Acoustic Werkes has been getting a lot of praise for their top-of-the-line hybrid monitor W900. Jerry Harvey has also been cooking up a rather unconventional hybrid called Lola, we have reviewed it just a little while ago!
All mentioned prices are those of their custom versions, all manufacturers also offer these models as universal fit, most of them go for a lower price. The comparisons are done with the M20 module, unless specified otherwise.
Noble Audio – Kaiser Encore (10 BA, 2099$)
Noble has revamped their legendary Kaiser 10. The Kaiser Encore uses ten proprietary balanced armature drivers per side in a 5×2 BA configuration. In contrary to the K10 the Encore goes for a brighter yet still fun signature with incredibly rich upper mids and treble, which have served me as reference since I got it. It packs a good low-end punch and sub bass rumble. The A18t has a bigger mid and bass-body and features rounder shaped lows compared to the edgier form of the Kaiser's. Encore hits harder than the Tzar, sub bass rumble on the 64 Audio is bigger though. A18t reaches a good notch deeper. The new Noble ten-driver did inherit the magical bass-hiding skill from its predecessor. The Tzar's bass doesn't blend into mids either. Midrange on both models are very similar with good body and weight, the Tzar does have fuller sounding mids though. Encore's treble is more energetic and rich, at least when the M20 module is inserted, replace it with the M15 and the tables will turn. Imaging and instrumental separation are top notch on both models. Encore as well as A18t have an impressively big sound stage, though the A18 stretches wider and a little deeper and wraps more around your head. Tzar also renders a higher resolution picture with sniper-like precision.
Noble Audio – Katana (9BA, 2099$)
Katana has only half the driver count of A18 Tzar in the following configuration: 1BA (bass) + 2 BA's (mids) + 2 BA's (upper mids) + 2 BA's (highs) + 2 BA's (super highs). Encore's co-flagship has a very similar sound signature to the A18. It's balanced and very coherent. The Tzar reaches a bit deeper into lows and features a bigger body with more sub bass rumble compared to Katana. A18's bass also is a tad faster. A18's treble region is airier and more extended. It is a touch dryer than Katana's, which has a slight warmth over it. Both high notes are very soft, though the 64 Audio shimmers brighter with more sparkle. Again, with the M15 module A18's treble is far richer and more energetic. Mids are very much alike on these two models, with the 64 Audio being fuller again. Both are impressive when it comes to instrumental separation, air, imaging and resolution. Katana as well as A18 have one of the highest resolutions out there with out of this world precision.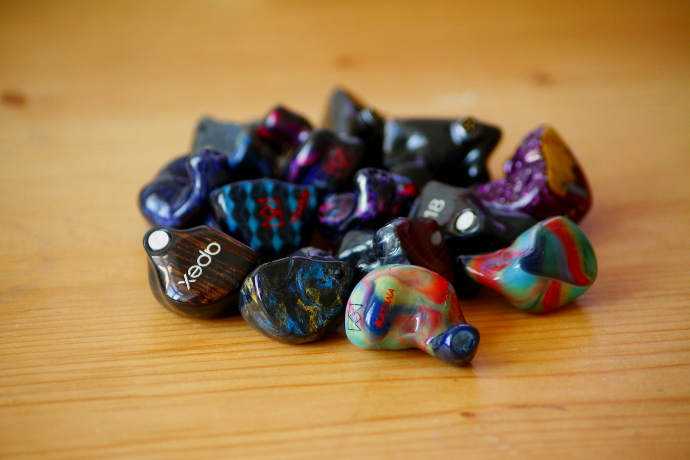 Advanced Acoustic Werkes – W900 (1DD/8BA, ~2100$)
Singaporean AAW has made a lot of waves with their hybrid flagship. It uses a proprietary nine Millimeter dynamic driver for bass, dual BA's for mids, another pair of BA's for highs and a quartet of BA's for super highs. Overall W900 has a nicely balanced signature as well. A dynamic driver is often used for low-ends because of its airy and powerful sound. This is what Advanced Acoustic Werkes has achieved here, W900's bass is airier than Tzar's, though the A18t is more dynamic, faster and better controlled with nicer body. The mids of W900 are of different quality than those on the A18t. The Tzar has nicer body, is lusher and has greater emotions, the W900 on the other hand is dry and a little coldblooded. Where they differ the most is the treble again, nothing comes close to the TIA treble. The AAW model is also well extended and airy, but of brighter and sharper nature. Especially the upper treble can come across as aggressive and harsh, whereas the TIA driver's treble is softer and airier with more blood in it.
The W900 like the Tzar also sports a big and wide sound stage, though A18 bests it in terms of width and depth. 64 Audio's flagship renders a finer picture with higher micro resolution.
JH Audio – Lola (6BA/2DD – 1745$)
Jerry Harvey has set out to create an unique hybrid monitor, and in that pursuit, he has discovered that the magic of a dynamic driver does not lie in its bass, but in the mids they push forward. He couldn't be more right. Lola features the purest emotions with a lush signature that reminds me of the one of a great tube amplifier. Where Lola falls short though is where the A18t shines: details, precision, high resolution, layering and sound stage. All of them are accomplished better on the 64 Audio. The JH has a completely different sound, it goes for a darker but fun signature. The Tzar aims for highest precision and balance. Lola's bass is similarly big in terms of body and has the advantage of being adjustable. A18t's low ends are a lot faster and tighter, making it more suitable for a multitude of genres. Lola takes the prize for a more convincing and fuller midrange, but again loses out on the superior treble of A18. It is more extended, of brighter tonality, richer and sparkles more by a good margin.
Conclusion
64 Audio has a winner on their hands, perfect fit with loads of choices to create your design with and great customer service. Most important though is sound, and this one is definitely amongst the very best models I've heard to date. Sure, the price is high, but don't forget what you're getting in return: a total of 36 sound reproducing drivers, two proprietary technologies and a 3D fitted custom monitor, all packed together into one of the very best in ears around! You will also get both Apex modules, each worth 99$, and 64 Audio's premium cable.
The massive driver count has definitely proven to be the right way here. With an orchestra of 18 balanced armature drivers per side and the 8+8+1+1 configuration 64 Audio has shown what can be possible from an in-ear monitor. Sure, I've seen very convincing string quartets but the most awesome and mind-blowing performances have been those of big orchestras.
The A18t is to me the most resolving and balanced sounding monitor out there, with the absolute best treble ever paired with the most impressive sound stage of all. Bass that goes deep and is dynamically liquid and realistic. Thick and life-like mids on top of that. Within 30 seconds you can change the signature of it from powerful bass to the richest treble by going from the M20 to the M15 module. These and many more reasons made the A18 Tzar go directly to my short-list for Custom In Ear Monitor of the year!
If you want to dip your toes into the TIA waters but don't want to shed out 3000$ for that, you might want to look at 64 Audio's newest offerings, the U/A12t and the Tia Trió.