Sound performance
Overall signature
A few years ago, I used to say that hybrid IEMs were the worst type of IEMs, lacking finesse and separation of pure armatures and the powerful bass of pure dynamics. Thankfully, those days are long gone and I can confidently say the BGVP DMG is well balanced
Once you find yourself in a quiet place, the IEM truly shines and, if it's not as impressive as the KZ ZS5 I previously reviewed in term of price/surprise, the DMG remains a splendid surprise. The work they did on the crossover is, by far, excellent and you never feel the IEM lacking. The double dynamic drivers are more than a simple gimmick. Like with a double turbo on a car, they achieve an impressive performance, especially in the bass section.
Yes the bass goes low, very low. Still, I can't say it's an IEM aiming at bass-hunters, it's just a clean powerful bass as you can only get from dynamic drivers. The gist of it is how fast and full they sound, even on hard-hitting electro I couldn't fault the BGVP. If you like to listen to bassy music or epic soundtracks, you'll be more than served. On the Dunkirk soundtrack, it was breathtaking and I was fully immersed inside the movie once again.
As I said, the dynamics are excellent and you can hear a lot of details and micro-details, even at low volumes. It's not a V-Shaped IEM as I feared and even though the 8kHz is a bit too present for my taste, it gives you that wide soundstage we all love. On "Summer 3" from Max Richter, the more you dive into the track, the more you hear how well they picked and tuned the drivers. Even though the NF3-U from Hidizs/NF-Audio with their outstanding highs stays my reference one, the DMG is still a pleasant experience, very pleasant.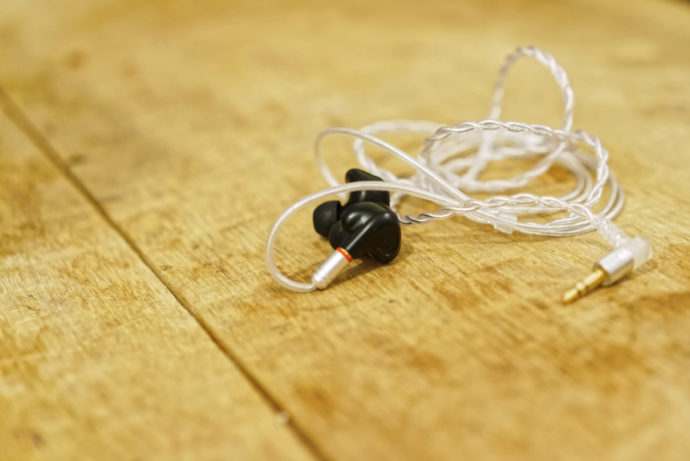 Tonality
Highs : the BGVP DMG has pretty good highs. Fine details and micro-details, accurate transients and fast response, the brand did their homework. It can reach very high frequencies with ease and even on a small DAP like the FiiO M6, the DMG can be really impressive. It's not as good as the NF-3U but if you compare them to similarly priced IEMs, I doubt you'll get the same amount of details.
Good test-track: On Reflection – Max Richter
Mids : rich and full. Thanks to the balanced armatures, the mids retain a lot of micro-detail with ease. After the bass, this is where the DMG really scores : great vocals, accurate soundstage and as we said, there is this upper midrange bump to get that extra chill. It's a full bodied sound and the extra-bass level ups the game, but this is still a flat IEM overall. Well, or flatter than you'd expect
Good test-track : San-Francisco Street – Sun Rai
Lows : deep deep deep. The bass is impressive to say the least. It goes as low as your hearing can, and even further, without any kind of distortion. The DMG really stands out from the crowd here and if you like bass, you really should give this IEM a try. Even more if you don't want a bassy headphone/IEM, but just a balanced one that can reach deep lows, this could be perfect for you.
Good test-track : Hyrdogen – M.O.O.N
Sensitivity / Hiss / Association / Filters
The BGVP DMG is not hard to drive, again the small FiiO M6 was able to get them fairly loud. It's also not prone to hiss, so if you're easily annoyed by this, the DMG will be a safe choice for you.
A good association for this IEM are SABRE chips, the amazing dynamics you get for those DAC chips elevate the IEM to new heights. I tried it with the Astell&Ultima SP1000M and (obviously) had a great time, but that was also true with the FiiO M6 which is much much more affordable.
A balanced cable adds an extra layer of separation and precision, it's better on the SP1000M but I didn't find any difference with the FiiO M9 for example. You'll have to try it with your specific source.
I tried the filters but I didn't feel much difference compared to the "reference" one. It's very subtle and if I really need to apply some changes/corrections, I'll stick tothe usual EQ.
Conclusion
The BGVP DMG is a true all-rounder: it's fast, precise and truly balanced without compromising the bass section. It can be used as a true audiophile IEM once combined with a good source but it can also become a great alternative to your usual full-can.
The poor isolation however is my main concern regarding the DMG, as its exceptional performances are totally annihilated in public transports. For the rest, it's all good and if you are on a relatively tight budget, this could be the only IEM you need.
I don't know who's behind BGVP but they really achieved something impressive with the DMG. They offer much more than what you'd expect, for a very affordable price-tag. Thanks again to Linsoul for the sample!