Exterior
Chord has the best looking gear in my opinion, of course that is argueable, but I really like the shining balls they use on Hugo 2 and Mojo. Not just those two devices, but all their products in general show a special design, and that makes them unquestionably unique. You see it and you know – That's a Chord!
Hugo 2 is made of aluminium and has excellent finish. The logo and product name are perfectly cut out and add a certain it-factor to the casing. There is a cut out window on top of Hugo 2 for you to peek on the FPGA. Via this window you will also receive sample rate indications. Hugo 2 will show you what samplerate currently is decoded by corresponding LED colours. For example 44.1kHz correlates to red light… You can see in the gorgeous manual Chord supplies you with what colour translates to what sample rate.
There is another small part on Hugo's housing which is not made of aluminium, a tiny black plastic window right above the filter ball. This one is for apt-X Bluetooth. It guarantees best possible range, this was one of the few problems the original Hugo had. Now Bluetooth range should be up to 10 meters.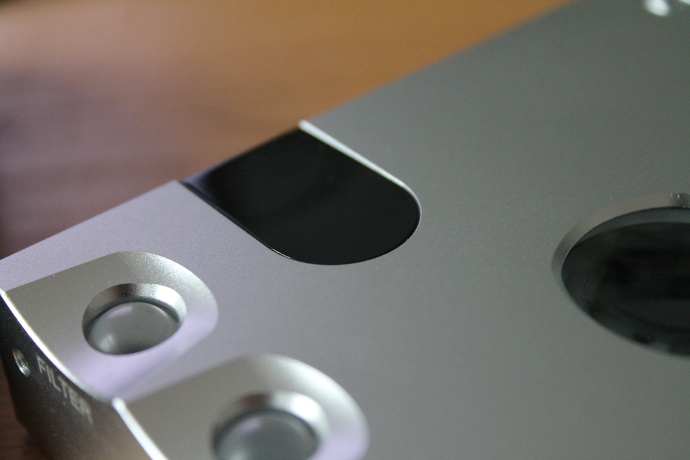 On the left side you will find the USB and charging input, both of which are micro USB sockets, clearly marked which one is for digital input and which one charges Hugo 2's batteries. On the right side are two headphone outputs (a 3.5mm and a 6.35mm jack) an RCA output as well as coaxial and optical inputs. Unfortunately the connectors of my Audioquest King Cobra cables were too big to be used with Hugo, so I took the Mackenzie's off my turntable and used those instead.
Interior
Hugo 2 of course is an FPGA (Xilinx Artix 7) based digital to analogue converter with a tap length of 49152, that accepts files up to 32bit/768kHz and DSD512. So all existing files and coming ones are supported. It shoots incredible 740mW into 33 Ohms load via its headphone outputs and has a very low output impedance of 0.025 Ohms. So Hugo 2 should be able to drive even very demanding headphones, it is for a reason Chord markets Hugo 2 with Audeze's LCD-4.
Four digital filters can help you alter the sound to your preference, two of which are more reference tuned while the other two are supposed to add a little warmth to the colour. For headphone listeners, such as us, Chord has implemented a crossfeed function which gives you a more speaker-like listening experience. Everything to make your audio life a little better.
During the past weeks I have run through numerous battery cycles. Its battery life is around 6-7 hours, depending what you're feeding it and how many headphones/amplifiers you have connected. Recharging is done after four hours or so – you will be notified by the white light turning off.
When you connect Hugo 2 for more than 24 hours to the wall wart it will put itself into Desktop Mode (you can tell by a magenta/pink power knob). This mode is designed to be the most battery saving, bypassing the charging circuitry and sending power directly to where it's needed. Personally I think this feature is very handy, yet I would have liked it more if it were enabled just after the battery has been done charging. This would be perfect for people like me who bring their Hugo 2 to the office and take it home with them everyday and thus have to disconnect it from the powersupply.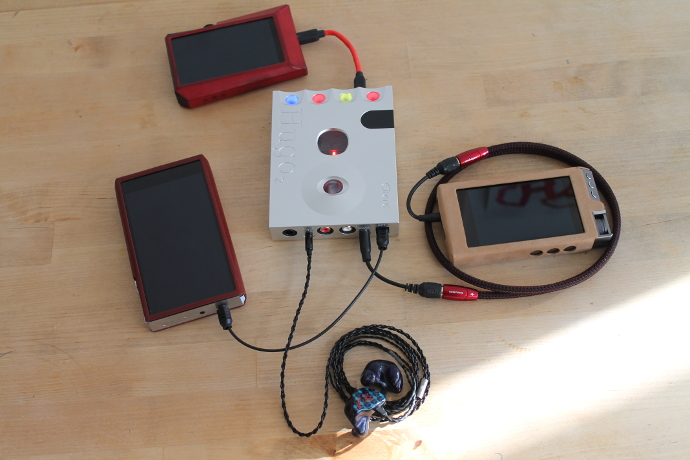 Sound
Hugo was a landmark when it first hit the shelves, many people, including Lieven, were an instant fan. I, sadly, only heard it briefly, and even then I was stunned by the impressive sound it created. When Mojo came out, just about a year ago, I had to get it. Ever since then it has been my go-to office DAC. I value it for its great details and ability to drive all possible headphones at my office. It is small and lightweight to carry around, even in my pockets it fits. Nathan calls it the chosen one for a reason.
Fast forward to Munich's High End 2017. Chord announced the Hugo 2 a few months back at CES Las Vegas. It had peeked my interest quite heavily. I wanted to hear this little bugger so badly, and so I did. First day I listened to the LCD they had hooked up to their demo units, boy was I impressed, but I had to hear it with my Kaiser Encore as well, so I came back a day later and plugged in my CIEMs and hit play… I had to get it.
A few weeks later the UK packaging finally arrived at my door. Mojo went aside and got replaced as my office source of music. It's fed by Roon via micro USB input.
I mainly used them with my in ear monitors, since my collection very much concentrates on those. It only hisses very mildly with the most sensitive of my in ears. Katana does pick up small portions of hissing, Encore does not. Most IEMs should be fine though. I only have a vintage AKG K240 (aka Sextett) at home, which I also used with Hugo 2 to see how their synergy is. Surprisingly H² did power them very well, surprisingly because the AKG is a very picky headphone to drive. Not because of its 600 ohms impedance, but because it sounds better when connected to a proper source. Not even my Continental Dual Mono can make them shine.
With the right recordings Hugo will let you feel right in the middle of the show. Its sound stage stretches very majestically on all axis. It especially goes wide and deep. Hugo excels on imaging and instrumental separation with the right amount of air between them. It has great transparency and will show you all there is in the tracks you love.
What I noticed rather early is that it features very high precision when rendering a picture. Every little note is clear and Hugo tickles out even the tiniest details. H² delivers a thrilling sound with outstanding realism. Natural decay to make acoustic pieces sound life-like. Overall the signature of Hugo 2 is well balanced and neutral. It has good portions of musicality, emotion warmth in it. The four digital filters let you shape the sound a bit further to your preference. I myself have been using it to alter the headphones I used with it. For example, I used the white filter for listening with Kaiser Encore and the orange filter for Katana.
Across the entire frequency spectrum there is wonderful coherence and its timbre and layering is remarkable. Everything is lined up perfectly from top to bottom. Nothing bleeds into anything and what you get is great transition. Mids are full bodied and feature awesome weight to them. Piano, violines and guitares have great weight and are addictive to listen to. Voices are extremely realistic and a pure pleasure to listen to through Hugo 2. Bass is punchy, well controlled, tight and dynamic. It goes particularly deep into the sub-bass region with certain Dubstep (please do not mistake this Genre for the epileptic crap that's been going around the past years) tracks from artists like Benga or Skream. Treble is well defined and smooth. Every monitor I used Hugo 2 with produced a silk-covered, non-fatiguing treble, well except for one, but this particular monitor was sent back for repair.
I have played with the various inputs of H² and must admit, there are some slight changes to the sound, especially when using the coaxial input. This one gives the most analogue feel for me. It is more harmonic and slightly warmer than with USB or optical input, but your milage may vary of course…
Honestly it is hard to find a flaw in Hugo 2's sound.

Eager to find out how Hugo 2 compares to other TOTL products? More on the next page