Disclaimer: The Chord Mojo was sent to me in exchange for Audiogarden.fr bannering on Headfonia.com, the unit can be kept in our collection for reference. We had to get the Mojo via a reseller as Chord wasn't interested in sending us a Mojo for review. Nathan bought his unit himself.   
Chord Electronics
If you've been in to Hi-Fi or even personal audio for the last few years, than you surely must have heard of Chord Electronics:
"Chord Electronics Ltd is a world-leading manufacturer of high-end audio products. Since 1989, under the leadership of proprietor John Franks, Chord Electronics has been pushing the boundaries of innovation, creating some of the planets finest hi-fi, home cinema and professional audio equipment. A technology-driven leader, Chord Electronics philosophy of ongoing evolution and refinement continues to deliver landmark audio products with extraordinary performance and unrivalled design features." 
We've seen several very successful products from Chord such as the 2cute DAC, the Hugo, Hugo TT and of course the TOTL reference DAVE. Now Chord is back with their smallest and most portable DAC/Amp unit ever released and it was developed especially for use on the go with your phone. A lot of people are using their phones as source nowadays and for a while I feared that phones would completely take over DAPs. Lately however we've seen so many new good and affordable DAPs that – at least for now – DAPs still seem to rule the audiophile world. The good thing is Mojo works with a whole lot of different sources and you can basically use it with any device, but more on that later.
No this isn't the first time we feature the Mojo. In fact, Nathan has looked at the Chord Mojo a few months ago already and he absolutely loved it. He also did a follow up article on a Japanese balanced Mojo MOD he loved even more. A lot of people however kept asking me about my own opinion on the Mojo and so our friends from AudioGarden.fr sent me over a unit to have a closer look at. Nathan and myself have a completely different style of writing, so do read up on both his articles first as he surely touches points I won't elaborate on. The Mojo still goes for about $599 USD. How do we feel after a few months? Is it still as hot?
Mojo
Chord's marketing department describes the Mojo as following:
"Designed and built in England, Mojo brings studio quality sound to your pocket and is the ultimate, truly portable, DAC/Amp. Mojo is built upon the multi-award winning Hugo platform and will afford the listener with Hugo like performance for a fraction of the cost. Inside Mojo is a massively powerful headphone amplifier that will deliver crystal clear audio whether you use in-ear buds or large studio cans, it will even play almost any audio file that you can find, up to 768kHz 32bit, and quad DSD 256. Thanks to the latest Li-Po technology, Mojo is able to charge to full in only four hours and will give between eight to ten hours continuous use."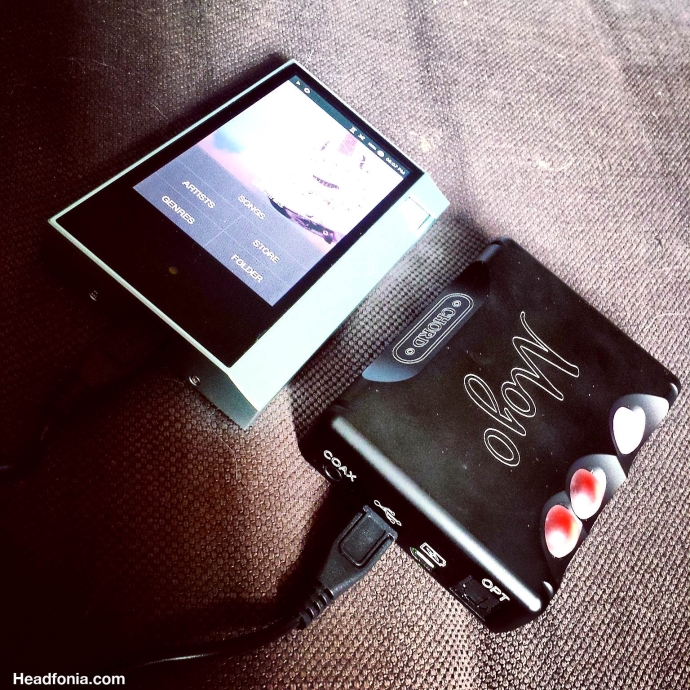 Mojo was launched in London during a very big event in of the more famous hotels. We weren't invited but it is clear Chord Electronics wanted to put the Mojo on the worldwide map since day one. Looking at where the Mojo is a few months later, Chord has certainly succeeded in making the Mojo a big hit. Chord is especially famous for making its own top quality DACs using their FPGA technology, they simply don't use any out-house developed DAC chips like those from Sabre, AKM, Cirrus, etc. and so far this has really been paying off for Chord Electronics. I love the DAC – if I may call it that – inside the Hugo a lot but tech-wise the new Mojo's DAC is a few miles ahead of the Hugo.
Even though the Mojo was mainly developed for use with smartphones it, just like the Hugo, is all about versatility. Mojo also works with your Windows or Apple PC and it can be connected to DAPs over optical, coax and USB. A lot of people simply use the optical or coaxial out from their DAP to the Mojo. Recently Astell&Kern made the USB-out available from their AK70 and AK380 DAPs and because of that the number of AK70/Mojo setups seems to have skyrocketed. Just look for AK70 on Instagram and be amazed how many people hook it up to the Mojo. Dignis even developed a leather AK70/Mojo case, which says enough about its popularity.
Mojo has 3 digital inputs. 1 x TOSLink optical capable of playing 44.1KHz to 192KHz PCM and DSD64 in DoP format. 1 x 3.5mm COAX SPDIF capable of playing 44.1KHz to 384Khz PCM (768KHz special operation) and DSD64, DSD128 in DoP format. 1 x micro USB capable of 44KHz to 768KHz PCM and DSD64, DSD128 and DSD256 in DoP format (which is far more than the Hugo can decode). Driverless on Mac, Android and Linux OS. However Windows Vista, 7, 8, and 10 will require a driver. DSD playback is supported using the DoP Standard 1.0 with 0xFA / 0x05 markers.
Design & Build Quality
The Chord Mojo is beautiful. Chord uses top quality materials and the Mojo is very well machined. The unit feels smooth and soft and it's a pleasure to hold, 100% made in the UK. On the top of the unit you immediately notice the three buttons which actually are tiny turnable balls. These "balls" have several uses: First of all there is the power button (hold for 2 seconds to turn on) that lights up when it is receiving data. When it does so, it shows you what type of sample frequency is being received by changing the color of the ball. You push the ball to select the proper input.

Basically the Mojo uses the same color system as the Hugo does. The other two balls are there to set the volume. Mojo allows you to set the volume extremely precise with a lot of steps. By pushing down both these buttons during power up, you'll set the Mojo to be used as Line Out (3V). Once powered on, pushing both volume buttons changes the brightness of the Mojo balls.
On the bottom of the unit, Chord has already added 4 small rubber feet so the unit doesn't hurt the device you're stacking it up with and it helps stabilizing the Mojo on your desk. On the front of the unit you'll find both 3.5mm single ended outputs and on the back from left to right there are the Coaxial Input, the USB-input, USB-power and the optical input. I do hope to see a Rev. 2 of the Mojo with a balanced output one day, I hate switching back to 3.5mm cables with my monitors. Battery wise the Mojo loads in 4 hours and that gives you up to 10h of playtime at most. The Mojo can be used while it is charging but it will get a little hot when you do that. The Mojo does have an inbuilt thermal cutout for safety.

Size wise the Mojo measures 82L x 60W x 22H (mm) and weighs around 180grams which makes it a very small and powerful package. It is so small in fact that it looks weird when stacked with a modern smartphone. It pairs perfectly with the AK70 on the other hand.
Compared to the Hugo the Mojo is small. While I love the look of the Hugo, especially when it in its leather jacket, the Mojo simply is more beautiful. I'm not a fan of the new Mojo jacket though.
Features & Sound on Page 2, after the click HERE or below