Advance Memory Playback Technology – AMPT.
Unlike the past, Colorfly's new generation HiFi processing solution optimizes the original audio structure from the underlying code, and the audio data stream is directly obtained from the memory, bypasses the CPU data conversion, reduces the latency of the data stream, and shortens the audio data flow through. The method realizes the classification of audio signals and operating system hardware to ensure the sound is clean and transparent, minimizes the impact of the operating system on audio restoration, and makes information restoration more accurate.
JitterKill II generation technology
The ultra-low phase noise crystal specifically designed for HiFi audio products, Typical-168dBc/Hz, has a 77 femtosecond reference clock, greatly reducing Jitter.
U8 uses dual 45.1584MHz, 49.152MHz high-frequency crystal oscillator, twice the precision of ordinary crystal, DE-JITTER depth custom chip, to achieve the audio restoration process "zero jitter."
As all the new DAPs nowadays the U8 comes with two outputs: a single ended 3.5mm one and balanced output in 2.5mm. For now the 2.5mm output is still winning the balanced battle against the 4.4mm output, but I'm not sure which of both will be the winner in a few years' time.
Of course the U8 comes with Wifi (802.11b/g/n (2.4GHz)) and Bluetooth: V4.0 (A2DP, AVRCP). I'm not a big fan of BT myself, but if you are you'll see the U8 doesn't have the LDAC or aptX standard.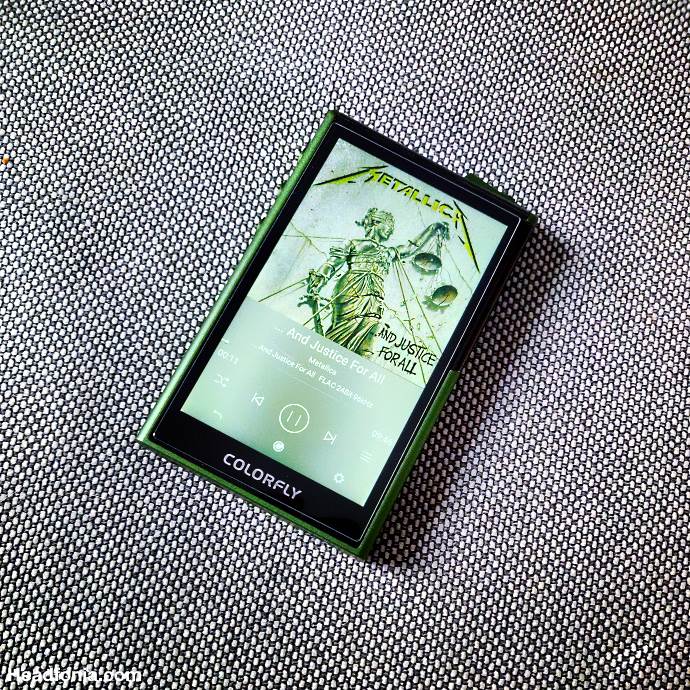 Accessories
The U8 comes is a nice yet simple box and compared to AK or Cayin it's not as nice. Yes, it's still only a box but the standard nowadays just is really high, especially in the +$1K price range. Inside the box you'll first find a small box with a manual, a warranty card, a screen saver and a set of tissues to clean your screen and stick on that screen saver. There's only one plastic protector there for the front of the player, not for the back, and so I just keep the factory protection on the back of the unit as you'll see in the pictures.
Next to that you of course get the U8 DAP and a USB-C charging cable. And…that's it really, there's no case, no other cables, no connectors, nothing. For a unit in the high end segment to me this isn't enough and it should at least come with a top quality leather case.
User Interface
The UI is like a slimmed down version of Android which is called Ultron but it is very simple to work with. At the same time Colorfly decided to not give you access to the play store, so you only get what Colorfly is giving you. Colorfly rebuilt the UI interface to bring more intuitive interface details display, to achieve humanized human-computer interaction.
The U8 can't install any aps and that combined with t a straight forward UI, results in a simple and easy to use interface. We'll go into the menus structure in a bit but once you've booted up the U8 it won't take you more than a few minutes to know where everything is hidden.
Basically you have a quick slide down menu with the most important shortcuts according to Colorfly. Via that menu you can go into the Audio and System settings. There's also a hidden menu at the bottom of the player in the play screen which you can make appear by swiping bottom up. It's very straight forward and you can do/control it all with just one hand.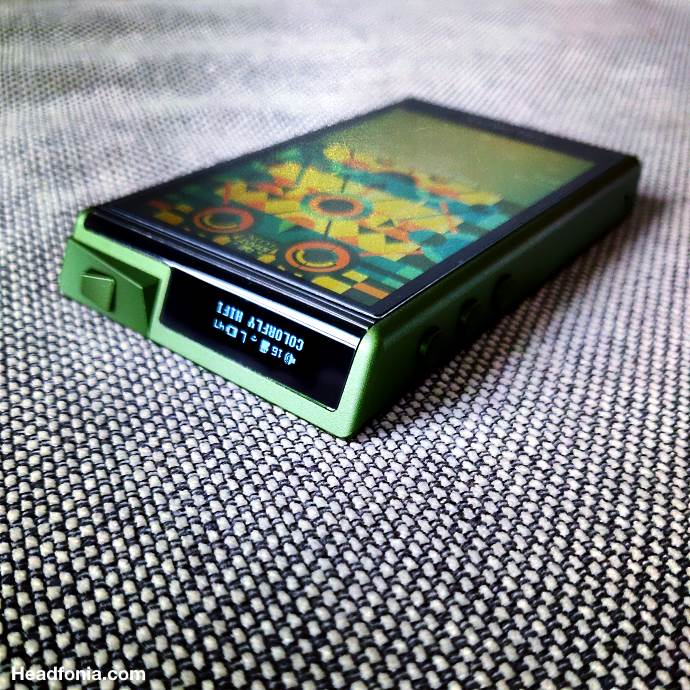 Usability / Controls
Like I said it is very easy to use the Colorfly U8. I did have to get used to the Apple implementation of the buttons on the left as most modern DAPs just don't use that anymore. If you don't know what I'm talking about it is very simple: a single click on the down button on the left changed the volume and  double click down switched to another song.
A nice thing here is that you can also change the volume by using the touch area on the right side of the player and when the screen is on you can even do it there as well. That gives you 3 possible ways to set he volume, something I've never seen before in a DAP. In the menu there also is an option in which you can set how many steps each "change" of volume corresponds to, it's quite handy..
So far I have encountered two different issues when using the U8. The first is that it becomes warmer than any of my other DAPs. The Cayin N8 also gets warm but the U8 gets even warmer. Of course we're not talking about burning danger levels but it simply is a fact that the U8 will get warm during playback and you will have a nice hand warmer in your pocket during winter time.
The other issue I encountered is that the U8 sometimes doesn't output any sound. Then you have to click pause/play and it will come back. This only happened when the player is switching from one song to the other but it's quite annoying. I have reported this to Colorfly who seems to be aware of the issue, so I suppose it will be filtered out during one of the next firmware updates. The firmware updates can be done manually or OTA in case you were wondering but here are no push notifications, you have to check manually for updates.
Versatility
Versatility here is key. The U8, next to playing songs from the internal memory or MicroSD cards can also access our home network by DLNA and play songs from your home storage (NAS). So no it doesn't not allow the installation of Tidal or Spotify but it at least gives you this option for listening to music to.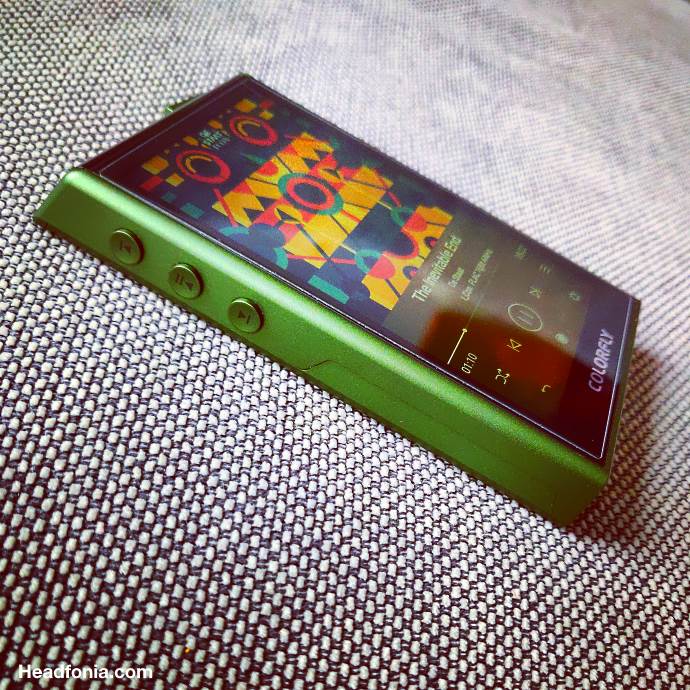 To use DLNA you on the home page have to navigate to "File" and in its sub-menu you'll be able to choose DLNA cloud and then the server of your choice. I love DLNA on DAPS as it allows me to listen to my full collection anywhere in the house without having to worry about SD cards.
According to the online documentation you can also use the U8 as a DAC but I haven't gotten that to work to be honest. To be sure I contacted a friend of mine who has a U8 as well, and he also confirmed the USB DAC -part in the actual fw just isn't there. Colorfly also reported back to me about this and all we can say is: "There is no DAC driver for windows". Quite disappointing and important to me.
The U8 on the other hand does have a line-out which you can use to hook it up to an external amplifier and it even has an optical output you can use to connect it to your fav DAC.
A special mention goes out to the EQ functionality Colorfly has implemented here. I'm not the biggest fan of EQ'ing and I hardly ever use it but if that is your thing, then you'll love the U8 EQ settings.
So all-in-all quite a versatile player but the Windows USB DAC functionality should be delivered asap.
The part on Menus, Sound and the full specs can be found on the third page of this review, just click HERE