Disclaimer: The Fiio K5 docking station was sent to me free of charge. Fiio also is a site sponsor for that matter
Intro
Fiio is on a roll. The number of new products and accessories they've put on the market from 2015 up to now is impressive. In fact, it's actually hard to keep up with reviewing all of them. Luckily Fiio always manages to make great products for little money and that motivates me to keep sharing Fiio reviews. Fiio products are really built for the consumer and for the price they're going for as good as anyone can afford them. Yes the X7 is over $500 but compared to other brands even the X7's price setting is really good and you get a lot in return for the money.
The new Fiio K5 docking station (and amplifier) is no different and with its recommended selling price of $110USD, it is – again – a product to look out for.
K5
In "the old days" a lot of us always used separate desktop and portable systems and the difference in (sound)quality between both often was huge. To me Cypherlabs, with their CLAS SOLO DAC, was one of the first companies to offer desktop quality sound on the go. Back then we all were using iPod Classics and the SOLO, often in combination with an ALO amp, gave us the best on-the-go sound possible. Since then a lot has changed and we've been spoiled and flooded with top quality portable players. The better they got, the better our portable sound quality became and the difference between normal or mid-fi desktop sound and portable sound now is as good as gone.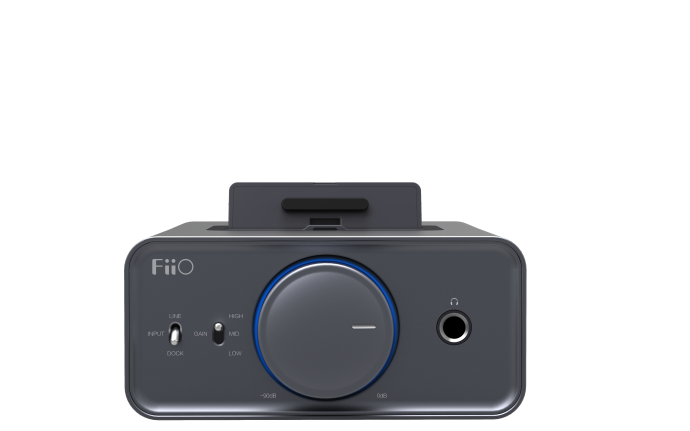 That brought us in a new era where more and more "listeners" were switching to portable gear only and nowadays everyone simply expects that new portable players can be used as desktop DAC as well. The K5, as a docking device not only allow you to charge and use your portable player as a source but you can also use the DAC of your DAP (X3SG, X5II, E17K and X7) as a DAC for your desktop/laptop. Just install a driver, click the player in the K5 dock and enjoy, it's that easy. I'm fully convinced a whole lot of people will be going this route in the future because you for little money get a portable and desktop setup with great sound quality and enough power to drive the full sized headphones you want to use at home. Fiio actually has done it before with the E7 and E9, and while they were extremely successful, I personally think the time now is even more right.
The big advantage of the K5 is that it (without the DAC function) works with almost all of Fiio's portable players (X1*,X3II, X5II, X7 and the E17K), and not with just one player. Did I mention it goes for $110USD only? Impressive stuff.
Design
Fiio's gear usually is simple but simple works and I quite like how a lot of Fiio's products look and work. The Fiio K5 is no different and its look, layout and use are very simple and straightforward.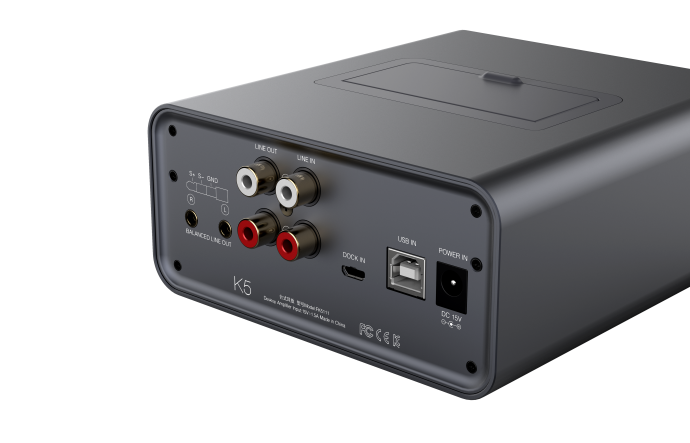 On the front, from left to right, you have the input selector (line or dock), the gain switch (0db, 6dB, 12dB), the analog volume knob that serves as on/off switch and the 6.3mm headphone out connector. Around and behind the volume dial a blue backlight reflects and it's a very nice touch which I like a lot. On top under a small lid, you'll find the docking connector itself (standard 11pin micro USB). It is nice to see Fiio noticed not all their DAPs fit in perfectly and they supply rubber stick-on parts to use with thinner DAPs to protect the connector. Make sure you click your Fiio DAP all the way down in the dock or it won't work. On the back of the unit you from left to right find: the power plug, the USB type B input, the 11 pin "dock in", RCA line In, RCA Line Out and both of the 3.5mm balanced outputs. The balanced line output functions when the X5II or X7 is docked and it can be connected to other professional amplifier components for even better sound. Do note that in case of the X7, you will have to take out (part of) the X7 out of its leather case in order for it to properly connect to the docking station.
The K5's body itself has a titanium color with a high quality sanded surface finish and measures 120mm x 130mm x 55mm. Its weight is 450Gr and that seems to be just enough to not make the K5 move all over your desk. The K5 is pretty solid in look and feel and comes delivered in a simple but nice box. The supplied accessories are: one USB Type B data cable, one 6.3mm to 3.5mm headphone adaptor, one power adapter, four rubber feet and two clear silicon rubber pads.
As a reviewer I received one of the first K5 units and at that time Fiio only had the Chinese cables in stock and so they asked me what power plugs we use here and I sent some pictures. Unfortunately the adapter supplied simply was useless for my part of the world. In case you encounter the same problem, you'll have to look for a Mickey Mouse kind of connector to connect it to the power unit. These can often be found on laptops and I myself use my wife's laptop cable. I'm pretty sure though that Fiio has taken care of this "issue" in the meantime though (I sent them extra pictures) as they are now officially ready for the EU market.
It continues after the click below or HERE