Disclaimer: The sample of the Fiio X7 DAP was sent to us free of charge. Fiio is a site advertiser but if you're read our reviews you know we will always look at a product in an objective way.
Fiio
Fiio is a company that is hard not to like. Check Head-Fi or Facebook and you'll find thousands of Fiio fans of which I am one. No, they might not always make top level/high end products but Fiio listens to the "consumers" and they always give you the best bang for your money even for those who are on a very low budget. Fiio has released a whole number of awesome products of which the HS2 signal switcher, the E10K amp/dac and now the X7 DAP just to name a couple are among my favorite units. I have enjoyed the Fiio products since the beginning and I can't see myself falling out of love any time soon.
A few years ago Fiio launched the X3 DAP, their first entry in the DAP segment. The X3 was quickly followed by a whole series of other DAPs and their revisions: X1, X3SG, X5 and X5SG. Now Fiio is back with their Top Of The Line (TOTL) X7, a DAP that took two years of research and Fiio again worked with the users to give them what they wanted. Of course Fiio couldn't do anything (like a double MicroSD card in example) but the X7 is a very complete and well working package, let me tell you that already.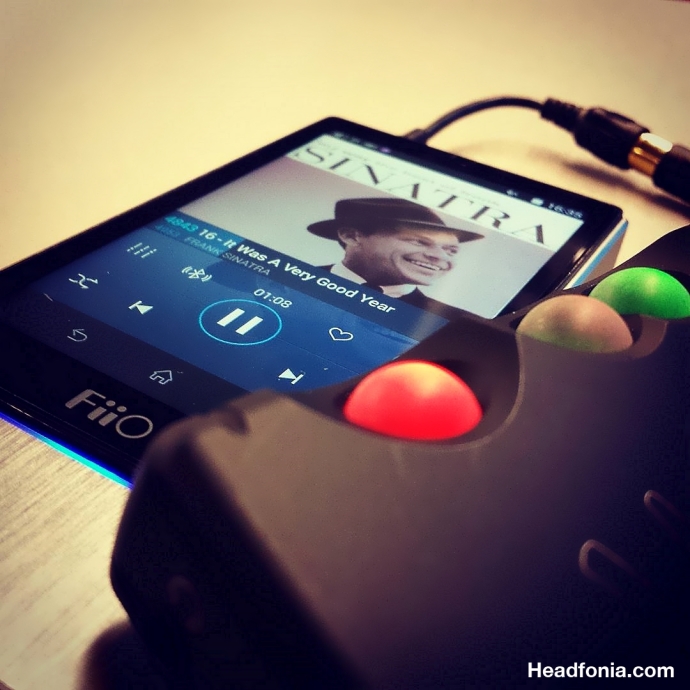 I've been using the X7 for quite some time now and I had a hard time putting down the L&P L5Pro as my daily DAP. Then when I was finally ready to post my review, Fiio released the AM2 module and it got pushed back again. I really should apologize to Fiio for that. Next DAP reviews in the pipeline are the Cayin N5 and the L&P L3 IEM DAP. DAPs keep popping up every minute and I would have never thought I'd be doing this many DAP reviews, and the end isn't in sight just yet.
The X7
While I quite like the X5SG tonality-wise, Fiio up till now never managed to really convince me with their DAPs. It wasn't an easy job either with the full iBasso range, the L&P L5Pro, a Cayin and the AK120ii/240 laying around. I think the AK120ii still is the DAP I have used most in total but when the L5Pro arrived the AK went to my nightstand. The X7, especially with amplifier module AM2, is a direct competitor to the L5Pro and with its more user friendly interface it might even out best the L5Pro, but more on that later.
Fiio decided to go for the Sabre ESS9018s chip and I personally think they made an excellent choice. The quad Sabre (2 x 4 in this configuration) does DSD64/128 and PCM up to 64/384 as a USB DAC. Fiio's X7 comes with 1G of internal RAM and 32GB of internal storage. While some people complain about that (the AKs easily have over 100GB), I find it perfectly normal for the price range it is in. Besides, you can always expand your storage up to 128GB by inserting a MicroSD card (the 200GB seems to work fine too) on the side.
For the X7, Fiio selected the 3500mAh battery. It's not the absolute best but I manage to get around 8 to 10 hours on it depending on the amp module, gain setting, screen usage and the ear/headphone used. I do still stick to my point a "new" DAP should easily provide ten hours of play time, but looking at the specs of several recent DAPs, that isn't the case. Nathan does seem to have found an especially well performing DAP in this area though.
It continues on page 2 after the click HERE or below