Disclaimer: The Flare  Isolate Pro were sent to us free of charge in return for our honest opinion. We can give one pair away to a lucky reader as well. EDIT: THE GIVEAWAY IS OVER
Flare Audio
It's not the first time we talk about Flare Audio on Headfonia, as a matter of fact we have reviewed their full sized R1 and their R2A & R2PRO earphones. While the R1 – the first fully open headphone according to Flare – received mixed feedback, the IEMs were quite successful. Now Flare is back with something new, this time not to listen to music, but to block sound. Although "block" isn't the good word for it. Keep reading.
Flare Audio originally is a British loudspeaker technology company who believe that artists and engineers, not loudspeakers, should create sound.
This is how Flare describes their selves on Kickstarter: "Flare was born to unlock the issues surrounding sound by developing new patent-pending technologies and products that truly revolutionize our experience of sound.We don't follow rule books, we look at everything we do with a blank page so that we can unlock new understanding. We use suppliers who focus on achieving the highest quality components, whilst ensuring their efficiency enables a cost effective product."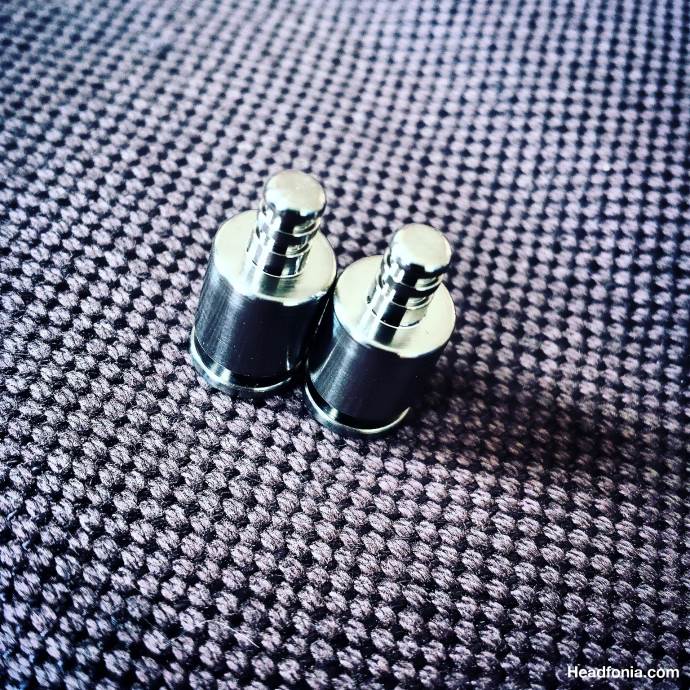 The Isolate Pro
The what what? The Isolate Pro doesn't make sound, it simply is a hearing protector using the latest technology to protect your ears while sleeping, travelling, going to concerts and clubs, doing or visiting motorsport and working.
Flare's founder and inventor, Davies Roberts, could not understand why traditional ear plugs were so bad at doing their job (we'll get back to that later). When he looked into it, he realized that ear protection was taking the wrong path in using plastics, silicone and foams to absorb sound. Solid metal is a good conductor and so had been discounted as unsuitable for use in ear protectors. Until now. What Davies has discovered is that, in order to conduct sound, metals need a direct connection. Without a direct connection solid metals block sound perfectly! (according to Flare)
"When you isolate a small piece of metal or dense material in soft foam inside your ear, sound waves can't penetrate from the flexible medium of air and it becomes the perfect isolator". Understanding this principle is what inspired them to develop the perfect ear plug. Flare continues: "Traditional earplugs, particularly the standard foam ones, rely on absorption principles to attenuate sound. Trying to absorb sound in this way requires a large amount of material to work well: examining anechoic chambers demonstrates this with their foot-long spikes of foam. Traditional ear plugs and defenders cannot block low frequencies from entering your ears very well. As well as being unpleasant to listen to, they make sound muffled, leaving you feeling disconnected, or as if you are underwater. Low frequencies produce the most energy, and this is not absorbed properly by the plastic or foam used in traditional ear protectors".
ISOLATE® technology works by a revolutionary approach in the materials used. Noise is blocked by a dense material suspended in soft memory foam to isolate it from the effects of conduction. The result is total direct noise isolation for your ears for the first time ever without any electronics. ISOLATE® has been tested in-house against a typical foam earplug using a direct sound source, this measured the attenuation level achieved by the different materials.
Aluminium is a great metal that is strong, lightweight and cost effective. Titanium (our version) is used in ISOLATE® PRO. Being harder than aluminium it maximizes isolation and can stand serious abuse without breaking. The red trace below is the source signal which was a headphone unit, the pink trace is a standard foam earplug, the green trace is Isolate (aluminium) and the blue trace is Isolate Pro (titanium). Each square on the chart represents -10dB of sound attenuation.
ISOLATE®: Solid Aerospace Aluminium – 17.5mm long, 8.5mm diameter, 1.76g
ISOLATE® PRO: Solid Titanium Grade 5 – 17.5mm long, 8.5mm diameter, 2.86g
Kickstarter
Flare likes Kickstarter and all of their before mentioned products were launched via the group funding platform. The Isolate Kickstarter project was extremely successful. It finished with Flare achieving a final total of £462,171, which is a tad over the £25,000 target! The campaign finished rated number 1 popular project in the world out of 4174 live projects, and a staggering £73,850 was pledged on the final day. It seems a lot of people are looking for good and affordable hearing protection.
I believe the Kickstarter Isolate units will be sent out to the backers in September. For those who didn't find the Kickstarter project in time, the Isolate now is available for pre-order on Indiegogo.  These buyers will receive their Isolates in October.
The Flare Isolate is available in several colors and prices start from £24/€28/$32 for the aluminum version and £48/€56/$63 for the titanium version. The story (My experience + using the Isolate) continues on Page two, right after the click HERE or below