Design & Build Quality
Shell
Most of my ears are Custom in-ears, so I was not expecting something particular from the NF3-U, my mistake. The "medical grade resin" isn't just for show, you really feel the difference once you have the IEM in your hands. It feels more durable and thick than standard acrylic, like if it was coated. Fully transparent, the shell allows you to visualize every component embedded inside the NF-3U : drivers, cables and even the filters. 
Of course, what's really eye-catching are the copper nozzle and the wooden faceplate, magnified by the glossy resin. Fun fact, if on their website the IEM displays an NF Audio blazon, in real life they put Hidizs instead. Overall, my main concern would be the alteration of their transparency over time, clear IEMs tend to tarnish slowly but surely, so make sure to keep it clean.
Build quality
If the NF-3U are sold by Hidizs, they are handcrafted by NF Audio. Build quality is really good, no bubbles in the shell, no bruises on the wood and the interior of the IEM isn't the usual mess you can see in some CIEMs. For the price, it's a great piece of work, I own some CIEMs three time more expensive and I can find more flaws on them…
If you look inside the nozzle, you can see two canals for the sound. Unfortunately, there is no filter for dust or earwax, you'll have to trust the cleaner provided by Hidizs and NF Audio. The cable socket is a standard 0.78m double pin, non recessed, with a standard golden plated plug. After a few plugs/unplugs I think they could endure some cable swap without harm, or so I hope.
One word about the cable. It's a high-end model with " 8 core 6N Single Crystal Copper and Silver Plated Mixed Wire" perfectly crafted and braided, ended by a beautiful 3.5mm plug with the NF Audio name engraved. The cable alone could be sold at the IEM price if it was a wire brand, but there are two issues :
the cable uses a silicon ear-guide which would be great, if they were not this rigid. It took me a few days to bend them right.
the cable is a bit too sensible to microphonics. It's not critical but if you're sensible like me, it can become a true hassle overtime.
Of course, that's just me being picky, for 499$ you're getting more than you could ask for.
Bundle and Comfort
Inside the box
For once I can say it's fancy, Hidizs x NF-Audio packaging their IEM in a pretty nice box. The black carton box is only displaying the NF-Audio Logo on each side, the reflective coating is making it looks like a luxury watch box.
Inside of the box you find
the Hidizs x NF-Audio NF-3U
Six pairs of silicon tips + a Spinfit set
one 3.5mm 2-pin cable, a pretty high end model as I said before
a pelicase 1010 from Pelican, still one of the toughest cases available
a tool to clean your NF-3U
I'm a big fan of the pelicase, it can endure much more than you could ever ask for and if you really want to protect your IEM, they are the only choice. Sure it's big and not the easiest one to carry but I think it's a small trade-off to avoid an accident. I recently had to remold two CIEMs that were NOT in a pelicase, and it could have been avoided…
Additional accessories
Since Hidizs x NF-Audio provide basically all you could ever need for your NF-3U, it's hard to suggest additional accessories. Plus, Hidizs do not sell any accessories for their IEM, so you're only left with aftermarket ones.
If you want a new cable, the 0.78mm 2 pin socket could fit any model using this standard. It would be a shame to change the NF-Audio cable though, unless you want to go balanced.
The copper nozzle can fit pretty much every tip you want, even the mighty comply for our foam lovers out there. The best accessory you could get for your NF-3U would be… a DAP or a DAC !
Comfort
Once fitted with the right tips (I use the small blue silicon tips) the comfort is top-notch. The semi-custom shell has been polished and mastered by many brands now, and NF-Audio is clearly one of them. I was afraid the nozzle would be too thick with a tip, but that's not the case.
The light design and resin shell blend perfectly in the ear. Even after the small Final Audio E5000/E4000, I find the NF-3U more comfortable, sealing closely in the ear, making it a great commuter IEM.
The cable needs a few days to become really usable, but overtime it will fit correctly. Even the weird shaped 2-pin plug reveals its brilliance once the silicon wrap finally molds after your ear. The 3.5mm is a bit thick, which is great for durability but not so much for compatibility. With a phone and a case, you may need an adapter as it may not fit. 
Specifications 
For the nit-pickers and nerdy ones here, I'm giving the specs and technical sheets. For all the other, you can just go to the next page to see how the IEM performs.
Multi Balanced Armature
The Hidizs x NF-Audio NF-3U is a 3 drivers / 3 way crossover, meaning that each driver is dedicated to one frequencies range : 1x low – 1x medium – 1x highs. This is a standard configuration and you can find various IEMs using this kind of setup, some even go for 1 dynamic and 2 balanced.
From what I could translate on NF-Audio website, low and mid drivers are made by Sonion/Knowles, the brand specially produced their own balanced driver for the highs. We'll see if this makes a real difference, compared to classic Knowles combo.
Full specs
Type : IEM
Style : Balanced drivers x3
Crossover : 3 way 
Drivers : Knowles drivers
Socket : 2 pins (detachable cables)
Cable : 8 Cores 6N Single crystal copper and silver
Shell : resin with a copper nozzle
Frequency response Range : 10Hz – 22kHz
Sensitivity : 105dB
Impedance : 25 ohms
Price : 499$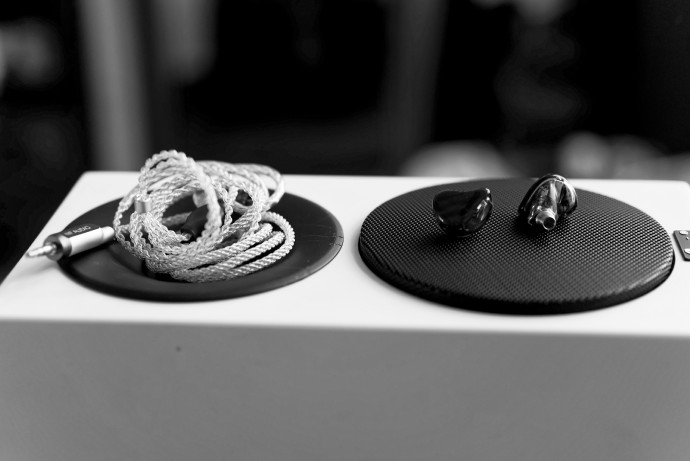 The review continues on Page three, after the click HERE or by using the jump below.