Disclaimer: Linear Tube Audio loaned me the MZ2-S for the purposes of this review. The unit they shipped comes with the Linear Power Supply. The package goes for 1695$ but the micrzoZOTL2 goes for 1100$ by itself. You can find out all about it here: MicroZOTL2.0. 
Update: this review has been edited to reflect current information about the MZ2-S (originally which was called microZOTL2,0 in this review). The literature I received prior to publishing and the labels on the unit itself call it such. Linear Tube Audio contacted me with corrections. This is the MZ2-S. A few words about the MZ2-S from the maker follow this blurb and in the features and spec sections, all applicable changes have been made.
A few words from the maker about the MZ2-S:
Distinguished visually from the MicroZOTL2 by its silver screws and white power LED, the MZ2-S was designed in response to customer feedback and discussions about the amp. We wanted a "pre-rolled" tube amplifier that arrived with NOS tubes selected to match well with the circuit, so that the many people interested in tube rolling and old-stock tubes could get that experience without having to go through the uncertain and involved process of choosing and sourcing their own.  
We've altered the circuit of the amp to take 12SN7 output tubes instead of the more common, and more sought after, 6SN7. Doing this made it feasible to provide a full NOS complement at minimal price increase, and every MZ2-S comes with a pair of RCA 12SN7 and a pair of 6201 tubes, a military-spec version of the 12AT7 that owners of the MicroZOTL2 have favored. Developing the MZ2-S also led us to look at our linear power supply again, and we've significantly upgraded the regulator. The MZ2-S is our offering for a sub-$2000, end-game headphone amp, preamp, or low-power stereo amp that doesn't ask for any upgrades. 
Relevant links:
Review: ALO Continental Dual Mono (CDM) – Back On Top – Part One
Review: LinnenberG Maestro – Insane
ohmage to the ALO Studio Six
Goldmund Telos HDA Headphone Amplifier – Almost Clockwork
Review: MyST OrtoPhones – Uplifting
Centrance DACmini PX Audiophile Desktop System in Review
There simply isn't enough space on my Ikea desk for a 27" iMac, a Hilo Lynx, and the MZ2-S. Come to think of it, there's not enough room in my editing room for my camera stand, my Ikea desk, and the stability ball upon which I pretend to work my core. I need a bigger room.
When I discovered the MZ2-S's speaker terminals, I began measuring my low-riding TV stand. Yes, I know that stuffing a radiating valve amp under a TV stand isn't a good thing. And I understand the room acoustics I've developed are poor. Both my home, and my 2,0 system are a work in progress. And despite this being its fifth year, my 2,0 project is hardly off the ground. I'm still using the same circa-2000 Acoustic Energy Aegis Model 2 floor standing speakers I've used for years. I'm still using the same integrated amp/DAC, the same cables, and power supply. None of it is great. Some of it is bad. Believe it or not, those small-budget speakers are the only bit worth holding onto. And, they are sensitive enough for MZ2-S's 1 watt power amp.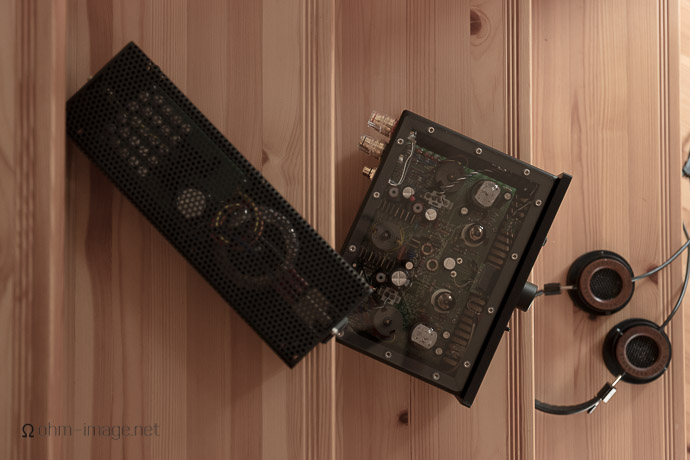 Not sound
What came in the review box is the MZ2-S and the aftermarket Linear Power Supply, whose penchant for cheese-grater aesthetics made me take an early lunch. After lunch, I had a drink and a small, sugary snack: wine and Ikea liquorice. Fitting combo.
Despite its height and wide footprint, the MZ2-S is light. It sits on tough rubber feet. It won't damage any but the worst-build stuff under it. Its feet are well-fastened and user-replaceable. Both the amp's face and its arse are legibly labelled and well laid out. Inputs scale the right backside, outputs the left backside. Fat fingers? No worry. Linear Tube Audio designed this thing for you. Its attenuator sits roughly three centimetres from the next control, and about four from the headphone output. To be fair, haptically screwing up as ample facial real estate would be difficult. Still, I applaud Linear Tube Audio for keeping thing simple.
I have four gripes:
1. despite the review unit having only two inputs, the label for a third made the cut.
2. there's no need to label the attenuator with both peripheral eyelashes and below it a grin-and-bear-it grimace. (Of course, thanks to the attenuator knob bearing a small, rotating eye, the combination is straight out of Monsters Inc. And I think that will have some fans.)
3. when powered on, the mains button depresses so far inward that, lacking a pencil rubber or other prodding instrument, rough-fingered men likely won't be able to power it off again. – NOTE: Linear Tube Audio suggest that retail lunits have a much better power button that doesn't exhibit the same behaviour.
4. the input selection switch's rubber sheath breaks the metal vibe. It also rotates too easily.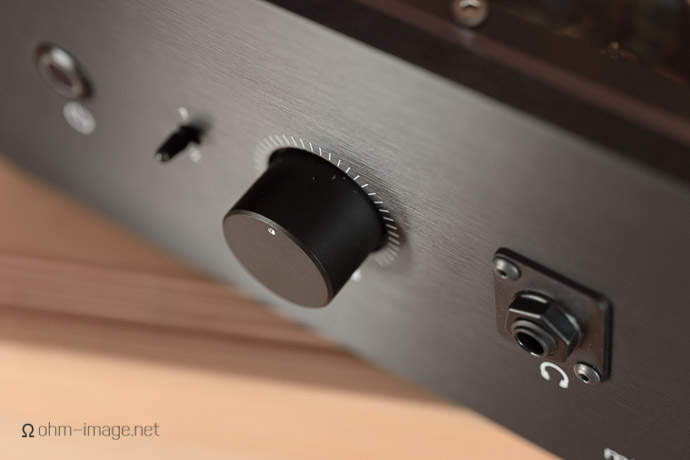 Those gripes aside, I've little about which to complain. Both fastening and connection hardware are securely anchored to the chassis. And while MZ2-S certainly gets warm, Its super-open chassis side vents the worst air out. Despite being solid state, the Lynx HILO gets even warmer. Half the fun of valves is turning off room lights and basking on the glow. And Linear Tube Audio's literature strongly urge you to keep the top on whilst listening to your music. Both its clear top and ample radiator gaps ensure that you get to see all the goings on inside the MZ2-S. It sits in a well-machined, but not pristine chassis.
Sound and more after the jump: