Disclaimer: It's been a while but I'm back with my first article that covers a full size headphone on Headfonia and I think you'll see me covering more variety of gear soon. I borrowed the AKG K7XX Red Edition from a good friend for this article. I thank him for making this review possible. 
BACKGROUND
As you know, Massdrop creates nice opportunities to get wide selection of gear with really nice prices. It has become really popular as we see every type of equipment in several price levels, from Lo-Fi to Hi-Fi. The only drawback is the waiting time but I suppose for those prices it's worth the wait.
AKG K7XX is a Massdrop exclusive headphone. This one is more exclusive though, as it's colored red instead of the full black one. K7XX is a reconfigured version of AKG's 65th Anniversary model; K702 and the main purpose was to improve low frequencies and making a more flexible sound overall. If you've seen my UM Martian review, I've talked about how great it is to see high performing equipment with competitive price levels. In this case the price is 200$ which is very affordable. This headphone is a real steal at this price range, so let's look upon it in detail.
SPECS
Configured by Massdrop
Manufactured by AKG
Open-back construction
Ruby Red (RAL 3003) colorway
Frequency response: 10-39,800 Hz
Sensitivity: 105 dB/V
Rated impedance: 62 ohm
Genuine leather headband
Memory foam earpads with velour covering
Weight: 8.3 oz (235 g)
PACKAGING
It is a classic AKG package with the cool K7XX and Massdrop logos on it and it's in black all around. Non-red version comes with a white box. It's not a premium type of box to say the least, which is expected of course. There's nothing special about the package or the contents inside. You open the box and you meet the headphones with a ¼ inch adapter supplied, nothing else. Quite straightforward, but I guess it's enough.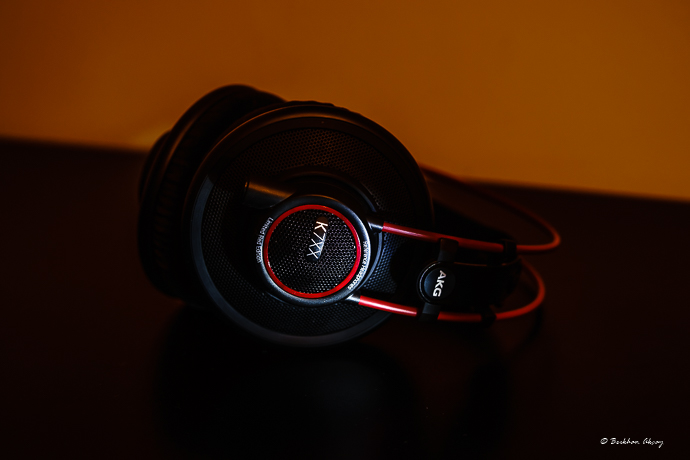 DESIGN, BUILD and COMFORT
Design wise, I can say I loved this red color touch. Compared to full black version it brings an exciting look to the table. The full black variant is also very cool and classy, but kind of boring compared to this one. Other than that the design of K7XX is still old fashioned, like the former AKG headphones, maybe except it looks a little more modern because of the color scheme. Anyway it's what we've accustomed to from the likes of K601 and K701, the classics.
Build is fairly good for the price: it's plastic overall but doesn't give a cheap feeling. Although it's not a premium build, plastic structure helps to keep the weight very low and through my time with the headphone, I didn't face any problems. The cable is very long with a 3 meters length so be aware of that. General quality of the stock cable is pretty fair, just like the headphones; not premium but not cheap.
K7XX is a very comfortable headphone like the other AKG's that were released before it. The lightweight and comfy feel is here again. The pads are big enough to cover your ears all around and clamping force is minimal. Perhaps it's a little too minimal for my liking because I prefer a tighter sitting. Sometimes I think it sits too shallow on my head as it moves around easily. But that's my thought; your experience might be different. The headband is real leather and that's a nice material to have, it gives the headphone a classic and old school type of quality look and it's also quite comfy.
There's no sliding mechanism to adjust the headphone to your head, instead the leather headband adjusts itself to the wearer by moving up and down as a whole. So you don't need to adjust the headband time and time again to find the sweet spot. Another benefit of this design is that it helps to distribute the weight across your head. The pads are very nice and thick enough to make your ears comfortable. They're made of velour, and there is memory foam inside them.
Overall the K7XX is very comfortable and you can easily sit down with it for about 1 hour. My only complaint is the shallowness, which is just my preference. Isolation is basically non-existent as it's an open-back and it leaks plenty of sound to the outside too. You may want to be alone to crank up the volume or to listen to your favorite music in a quiet environment.
SOUND
We know AKG's Open Back Headphones as flatter and thinner sounding. They are mostly suitable for classic and jazz oriented types of music. Well, not this time, because we now have different things to talk about.
K7XX shifts to a more all-rounder type with its self-evident differences from the old K701, K702, K601 and so on… Now it's not limited to specific genres; it's more versatile, musical and forgiving. In general, it's a nice change in presentation which I found pleasing.
The star of the show is probably the bass response here. From the claims by Massdrop, we know that there's 3 decibels of increase in bass department which is quite a substantial difference. I can confirm this input with my listening sessions as well, it's definitely more bassy than the original model, in a good way. It's of course not the best bass response out there because you know, there are some great planars and also fellow dynamics around, but when we consider the price this is going for, we can agree about this being pretty darn close to the best price/performance ratio in an open back dynamic. Especially considering the old AKG's, this is a great addition to the bass section. It's not only a "bass boost" by the way, it's not about just the quantity, it's also about the texture and extension.
The prominence is on mid-bass but for this kind of an headphone, I can't say sub-bass is lacking. In fact, it's surprisingly good, it has good extension and punch, also can go fairly deep which are surprising things to hear from an open-back manufactured by AKG. While the midbass is somewhat the more elevated part of the lows; it retains a good level of control and there's no excessive mid-bass hump. It doesn't bleed to other parts of the spectrum so the headphone doesn't give a muddy sound overall. These things aside, you still shouldn't expect a flagship type of texture, extension or speed. It doesn't have neither the speed like some pricier headphones, nor the control, but it's probably one of the best around 200$.
More on sound on page two