This is the review of the Meze Audio Empyrean. One of the most talked about headphones ever since the news got out. And now it's time to review it!
Disclaimer: The Meze Empyrean was bought from Meze Audio and sent to me by Dune Blue in the Netherlands. Meze Audio for the moment is an advertiser on Headfonia.com.
Meze Audio
The Romanian company no longer really needs an introduction. Meze Audio has become famous and big over the last few years, their recipe for success? Top quality sound, perfect build quality and budget friendly gear. If you haven't heard about them then you really have to read up on or "old" reviews or you can just read their "About us" on their website, right here.
The Meze Audio units have won awards all over the world and that really doesn't come as any surprise, as everyone seems to love the Meze creations. I've had the pleasure to listen to many of their units and there really isn't a single one I really don't like. On top of that the Meze team is incredible. They are always friendly, they know what they're talking about and they're just really nice people to hang out with during and after the shows. To me it's one of the nicest companies in audio and I'm sure many will agree with me.
If you look at he Meze product line-up you'll find that all of their gear up to now was budget friendly. Prices in the Meze shop range from €59 for the Meze 11 Neo Iridium IEM to €309 Euro for the 99Classics full size headphone, so basically we're looking at the entry and mid-fi levels in the market. And then Meze announced the Empyrean…
Empyrean
It came quite as a surprise to me to see Meze enter the high-end level like this. The jump up from the $309 USD 99Classics to the $2990 Empyrean is huge and your product simply has to be extremely good to justify such a mark-up. So what was Meze thinking? Antonio Meze (Lead designer and Founder) explains:
The Empyrean was born from passion, curiosity and innovation. As a business, we have allowed ourselves the freedom to experiment and take risks in search of the perfect sound. To generate something truly remarkable, one must dare to explore, and that's what we did with Empyrean. We pushed and refined industry' standards and achieved a true game changer for audiophiles.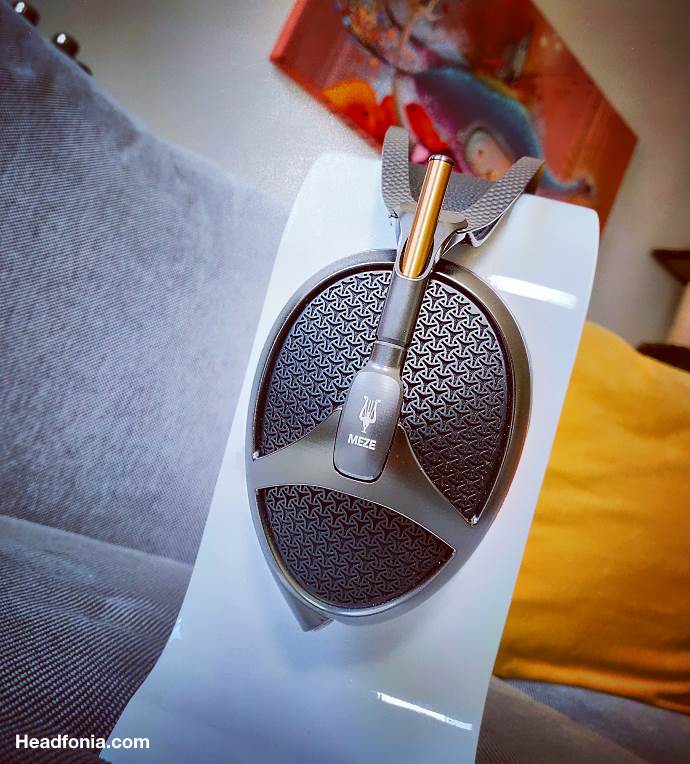 Meze likes going to local and international shows and as such I've had the opportunity and pleasure to listen to different development versions of the Empyrean. Even from the first proto types it was clear that Meze was creating something special, an absolute top of the range headphone. And to get to get to that level they are using Rinaro drivers.
"A blend of premium materials, exquisite craftsmanship and detailing that's unmistakably  Meze, Empyrean is one of the most technologically innovative planar magnetic headphones in the world."
Rinaro
The Meze Audio Empyrean is the product of two passionate companies coming together to explore what is possible beyond their individual capabilities. The result is a no-compromise headphone embodying Meze's daring aesthetic and user-centred design approach and Rinaro's experience in research and development within the field of planar magnetics.
The Empyrean is using a new technology/driver which is called an Isodynamic Hybrid Array driver and it really is an incredible piece of engineering. Some even might call it art just by looking how it is designed, though there is a reasoning behind the typical look. Actually, even the pads are part of the driver design and it's called the Isomagnetic® earcup to earpad coupling. This attachment which utilizes the demagnetizing field generated by the driver to hold the ear cup in place whilst also redirecting the magnetic field back into the driver and improving driver efficiency.
It has taken about 30 years to develop this Isodynamic Hybrid Array driver and that results into it being one of the lightest and most advanced planar magnetic drivers on the market. Its total harmonic distortion (THD) measures under 0.1% in the whole frequency range and the Upper-frequency limit of audio reproduction is 110,000 Hz. The Empyrean/Rinaro driver is also ULTRA EFFICIENT with its 100db@1mw/1kHz. That means a high performance without needing amplification, but more on that later.
The technology used isn't simple to explain and not everyone is an engineer, so I would just be copy/pasting everything from Meze's website to this review. So if you're interested to finding out a whole lot more about the driver development and technology used, I really advise you to read all about it on Meze's website right here: https://www.mezeaudio.com/products/meze-empyrean
As you will see on the site and the pics, the driver is different on top and on the bottom. The top part excels in the low frequencies where the part right in front of your ear canal is designed in such a way the mid and higher frequency sound waves will go straight to your eardrum without bouncing around in your ear "chamber". It's quite an interesting read if that's your kind of thing.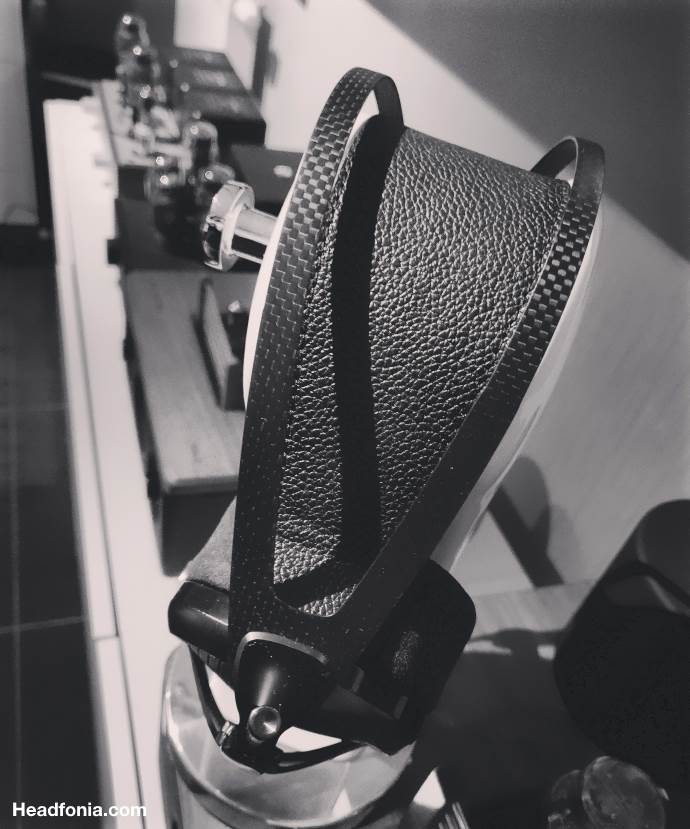 Technical Specs
Driver Type: Rinaro Isodynamic Hybrid Array
Operating Principle: Open
Ear Coupling: Circumaural
Frequency response: 4 – 110,000 Hz
Impedance: 31,6 Ω
Nominal SPL: 100 dB (1 mW/1kHz)
Maximum SPL: >130 dB
Total Harmonic Distortion (THD): <0.1%
Weight: ≈ 430 g
The Box, Accessories & Price
The Meze Empyrean comes in a high-strength aluminium suitcase with a foam cut-out, which reminds me of the Audeze ones, but bigger. Unfortunately my version came without the case but who knows I might score one at a later stage.
Accessory-wise you get the choice between two sets of cables. You won't get both and the reason is to keep the sale price at the fixed $3K point:
a 3m OFC cable. Terminated in 4pin mini XLR plugs ending with 6.3 jack
a 1.3m OFC cable. Terminated in 4pin mini XLR plugs ending with 3.5 jack
My unit came with two sets of pads as well, a micro-fibre/suede set and a leather set. I myself prefer the micro-suede pads more for comfort but also for sound but we'll get back to that later. But it's confirmed you'll get a double set.
The official price is $2990 or €2990 which doesn't really make it fair to Europeans, but that's life. Also, other cable accessories are available from Meze, just not included in the box.
Design, Build Quality & Comfort
This of course is a very personal thing and all in all I really like the design of the Empyrean. The carbon and leather headband system has a very comfy feel and perfect distribution of weight but I am not very fond of the design. It's like the Hifiman design in the way it sticks out on top and it's just not my thing. But then there is the aluminium chassis/skeleton and grill which are CNC sculpted from a single piece of solid aluminium and these are incredibly beautiful. The grill – as you can see in the pictures – is a piece of art and it almost makes me forget about that weird, yet perfectly working, headband. If you've been keeping track of the Empyrean you might have spotted different color "grills". My version is the dark one, and from what I understood from talking to Mircea and Antonio in Munich, there would be different "version" for each batch produced.
Do you know that it takes up to 20 hours to mill on single aluminium skeleton? The CNC milled grill isn't only a piece of art, it also ensures a natural sound transparency. It's all just very impressive. You can find out all about the CNC process in this video:
The Empyrean's headband is made out of carbon fibre and sports distribution wings, the headrest itself is in leather. So while the looks aren't for me I can only say that the Empyrean because of the design has great comfort. The headphone's 430gr weight disappears and it feels light and very comfortable. The only thing that worries me a little is that small head listeners might have an issue with getting a perfect fit. I myself (normal sized head) use the Empyrean on the smallest setting and it fits just right for me, but anything smaller would probably create fit issues. On the other hand, Meze has confirmed to me it's possible to bend the band for smaller heads: "The metal spring steel in the leather headrests can be adjusted by bending it hard. Even if it's spring steel, it does have a bit of memory, so it can be adjusted. So we will make a video showing how to bend that spring steel suspension for those who really want it adjusted even more.". Bigger heads will have no problems with the Empyrean. The headband and yokes are very flexible as well, so getting the perfect fit is easy.
Build quality wise my unit is as good as it gets, but at this price and knowing Meze, I didn't expect anything else really. Each unit actually is carefully hand assembled in their facilities in Baia Mare, Romania. A core belief of Meze is to create products that last and that's no different for the Empyrean. From the replaceable earpads to the high-performance materials used, every part on the headphone chassis is available to be serviced and disassembled by the Meze team. Buying from Meze means buying quality, especially for the Empyrean.
The article on the Empyrean continues on Page Two of this review. Just click HERE or use the jump below