Sound and music playback

For reference:
RMAA: Astell & Kern AK70 Kai (Ryuzoh mod) 24-bit
RMAA: Astell&Kern AK70 24-bit — ohm image
Note: I experienced unrelated hardware problems in both Windows and OSX that caused this review to be delayed by a few hours. RMAA measurements for the DP-S1 should be published tonight or tomorrow.
There are myriad things you can do affect the DP-S1's sound. You can choose from sharp, slow, and short digital low-pass filters, the latter being my favorite. You can upsample. You can turn Hi-Bit 32 ON or OFF, ostensibly smoothing out the digital wave form. To be honest, I don't hear a difference, though at first I thought I did. Then my wife randomly switched settings and I couldn't reliably tell the difference. Maybe this is cause to question my audiophile street cred. My oscillator is broken, so I can't put them real time through a test and compare. I did the next best thing I could think of: record the DP-S1 playing back a 200Hz sine wave with every setting. Unfortunately I can't zoom into the waveform any farther. But the shapes should give you an idea of how little, if at all, the settings change the waveforms. The same effect is shown in RMAA tests and square waves. Still, prior to my wife randomly putting placebo to test, I reckoned that with Hi-Bit ON music sounded smoother. As with all things audio, whatever floats your boat is great.
What makes a big difference is the six-step Bass Enhancer, however, is awesome. It outputs clean, powerful, and smoothly gradiented bass which rises about 13dB. It falls shouldery back to 0dB before 200Hz, which means that boosted bass won't rough up too much of the mids. For your reference: Vorzüge DUO II's boost targets lows even better, with a smoother gradient drop to high bass, and remains my personal bass boost benchmark.
I like my music. I don't care about other people's music. Ergo, +tuneIn should have been nothing but a short diversion. But there are some cool programs out there, and even some podcasts I'd not heard before, from all over the globe. For a lad like me that needs to work his Japanese, +tunein came in handy. But both it and Radiko.jp (the only other installed app) are slow buggers to use. Search is useless because of the flip-phone interface, and frustrating. But the DP-S1 receives the signals nice and clear. Another thing that comes through loud and clear is Bluetooth. My favorite, Sony's MUC-M2BT1 connects swiftly and stays connected as well through the Onkyo DP-S1 as it does through an iPhone SE. That is, stable up to about 18 meters, facing away from the player and up to 40 meters facing the player. In AK70 language, that is eighteen or forty times the distance respectively.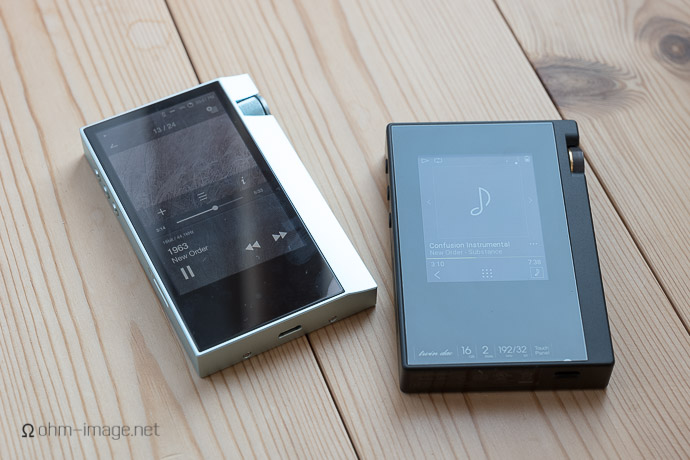 DSP or not, the Onkyo DP-S1 is the best-sounding small-footprint DAP's I've tried to date. Firstly, hit barely hisses. More specifically, its hiss, which is barely detectable through the likes of a Grado GR8e, is less than half as loud as the AK70's. Second, that hiss is less grainy. Third, the DP-S1 keeps up a fine, wide, and textured separation of stereo elements at most volume settings and under a wide range of loads. Single-ended and loaded, it can't hold a candle to Ryuzoh's AK70 Kai (the mod mod), but for an unmodded player it is good. Driving an Earsonics SM2, Ryuzoh's mod does about 20dB better in keeping stereo channels separate, or about as good as the DP-S1 does when balanced. It does that as little THD and IMD as an unloaded DP-S1. That mod blows my mind.
Still, that is like 400$. But it saves expensive balanced cables. If only it hissed as little as the Onkyo DP-S1.
At high gain and full volume, the DP-S1 reaches dynamic range of over 120dB and keeps noise to less than -120dB. Single ended, stereo crosstalk also bottoms out at ~ -120dB, and depending on the load will rise to around -65dB. Balanced is another story – and one where Rubato's dual Sabre ES9018C2Ms may come handy. -94dB driving an Earsonics SM2. Insane for the price. Loaded, frequency response is a bit stabler than an unmodded AK70; which, considering the price differential, is notable.
Update: Unlike the DP-X1, the DP-S1's balanced output isn't notably more powerful than its single-ended output. Also, it can't hold a candle to the DP-X1's balanced out, loaded or unloaded.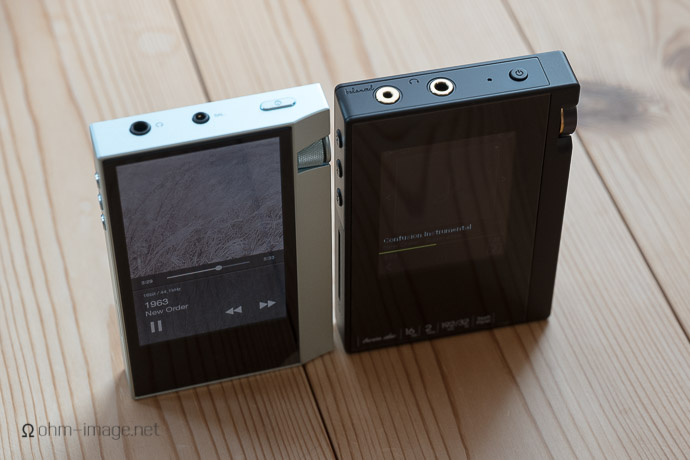 The DP-S1's top end isn't quite as grainy as the AK70, and with the slow low-pass filter enabled, is gentle. It's the sort of sound that sits between and AK380 and an AK240. It is smooth and extended but not as nicely hard-edged as it could be where it comes to stereo detail.
When I met Ryuzoh at Fujiya, I asked him if he'd considered modding the DP-S1. He said no. Why? According to him, with its current hardware, it is about as good as it can get. Of course, he modded my Plenue D, telling me that it wasn't worth the investment- partly because the D is cheap, partly because there are few improvements to be made to its hardware.
If he changes his tune, I'll be the first to send in my Onkyo DP-S1. I'd love AK70 Kai level of stereo performance and far lower THD and IMD.
End words
This is a good player with an ugly interface, sometimes horrible UI haptics, and an ugly case. It was obviously put together in a Chinese factory to save cost. Its guts are good to great. Its DSP engine is wonderful. It sounds great, and gets decent battery life. While I haven't got the fifteen advertised, it plays back for more than ten no matter what I do.
I love the Onkyo DP-S1. I hate its nickname. And I can't shake the feeling that its many UI and haptic uglies are shaped by aggressive cost-cutting measures. Each cheapens the experience.
I'm a fan. I'm not a fan. I'd love to say 'well done', but I can't.
Domo arigatou Mr. Rubato, thank you very much Mr. Rubato, but your problems are plain to see.