The HD599 has good left/right balance and sounds spacious and airy but it's never "too much". The sound stage for an open design is good but it's not as good as the HD6XX series. Depth and layering also are good but not like its bigger brothers. 3-Dimensionality could be better but at this price there is no complaining either. Speed and attack are pretty good but compared to the HD600 they're a tad slower of course. I'll be comparing them to the 6XX series more in detail in the next chapter but I personally do feel this is a baby mix of the HD600 and HD650, and I mean that in the most positive way possible. If you already happily own a Sennheiser 6-model you probably won't ever get the new  HD599, but for those  – for who the HD599 is their first "better" headphone – it will impress a whole lot.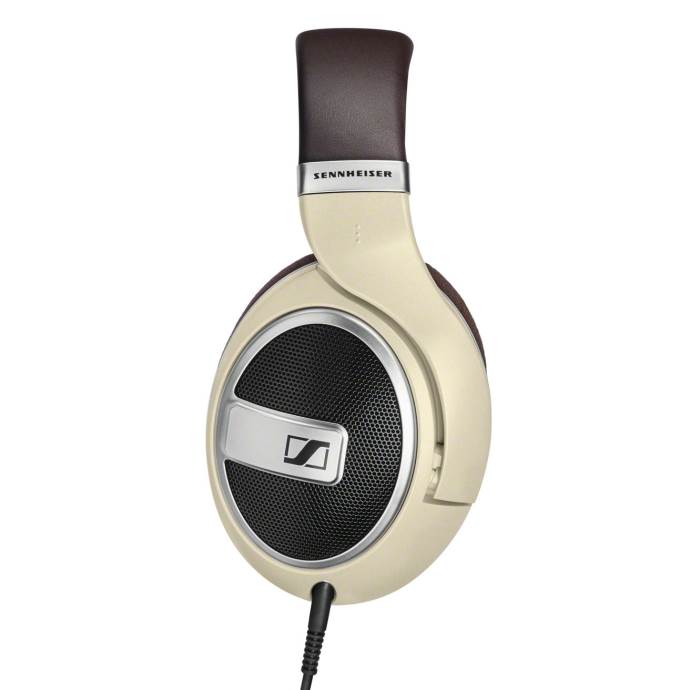 Bass body is good and the HD599 certainly isn't bass light. It's not bass heavy either though and if you want more bass that simply can be done by using a more bass-minded DAP or amplifier (like the Cayin HA-1A MKII. Bass goes reasonably deep, even to sub levels, and it is punchy at the same time. It's not always the tightest bass especially when you're using a more on bass focused source/amp. All in all I really like the bass level on the HD599 and I'm pretty sure 95% of all users will too. It's perfect for listening to music to and to watch movies and when needed bass will step up and be there. The HD599's mids also have to same good body and they never sound exaggerated or too thick. The mids are extremely musical, rich and engaging and they have good spaciousness, separation and depth. Voices are also really great and just like with the bass will sound a little more upfront or in the back depending on the amplifier/source used. Mid bass is excellent as well. Treble is smooth and energetic at the same time. It might not be the most detailed or furthest extended but it's musical and dynamic and has enough counterweight for the bass and low mids.
The HD599 has a very coherent sound signature and beside those who don't like a smooth and warmer sound, I don't see who wouldn't like this headphone. Not only as a first headphone or entry in to audiophile sound, but I can see this headphone please a whole lot of experienced listeners as well. It's fun, easy to listen to, musical and very addictive. If I have to say one less good thing about it, it would be its speed but only because I'm used to higher end headphones.
Quick Comparisons
The AKG K7XX sounds thinner especially in the mids sector and the bass doesn't have the same amplitude as the HD599, treble is slightly livelier and further extended. The HD600 sounds faster and goes deeper and wider. It's a more neutrally tuned headphone that wins in technicalities, speed, attack, detail and basically everything. The HD599 is warmer and smoother, more relaxed. The HifiMan Edition S in open position seems to have more bass and it isn't as tight as on the HD599. The mids in both headphones are rich but the voices are more forward in the Hifiman where the treble also is "sharper sounding". The Fidelio L2 is brighter sounding in the mids and treble section while the bass isn't as tight as on the HD599. Voices also are more forward and a bit more aggressive sounding. Its big brother the Fidelio X2 is a lot closer to the HD599 but it is more expensive. The X2 wins on clarity and cleanness but they share the same warmth/darkness. This is the one closes sounding to the HD599. The Hifiman HE-400S's bass seems to be a little lighter and it also is brighter sounding than the Sennheiser HD599. The upper mids and treble are clearer and have less body, treble is a little livelier. Unfortunately I don't have the iconic HD598 with me at the moment but going from memory the new HD599 is sounding a little more to the HD600, losing a bit of warmth and smoothness and maybe bass but winning in clarity, detail retrieval and cleanness. Imho I do consider the HD599 an upgrade of its older brother, but they're both still great headphones.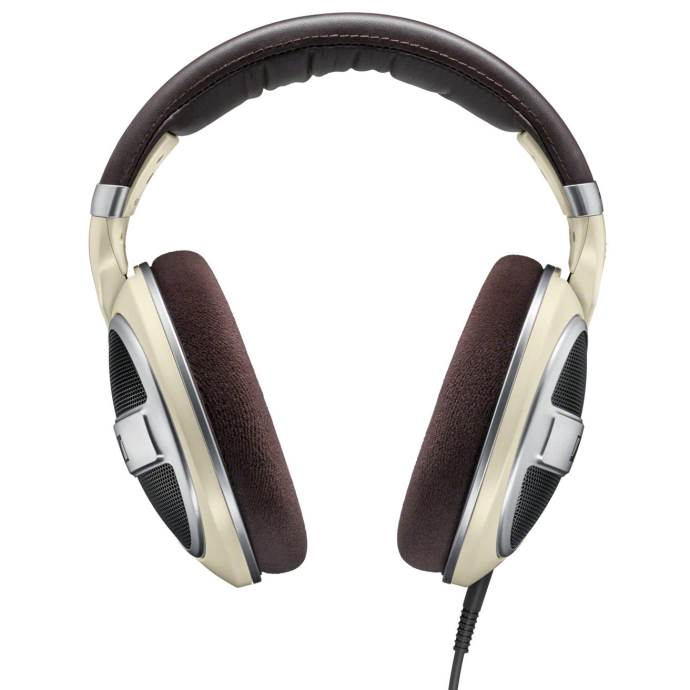 Driveability & Sources
The Sennheiser HD599 is easy to drive and it doesn't really need an amplifier but when using one, it definitely impacts the sounds immediately. The ALO CV5 and HD599 combination is magical, the light tube smoothness of the Continental V5 perfectly matches the HD599's characteristics resulting in a smooth and engaging sound signature with great bass, sublimely rich mids and sexy voices. On the desktop sized Erzetich Perfidus you get a very musical sound but bass body is too exaggerated for me. Straight out of the Cayin i5 (USB DAC is now activated) the HD599 sounds powerful with great left/right balance, and again very rich mids. Sound isn't as refined as with the ALO CV5 but it's still incredibly good. Basically the same goes for the AK70, it's just a shame we can't test the HD599 with the balanced output of the sublime AK70. Straight out of my non-exploding Samsung S4 smartphone, the HD599 also performs brilliantly: good bass (yet a little less tight), gorgeous mids and energetic treble. Sound stage width isn't the best but it's a 4 year old phone as well. I could perfectly listen to the HD599 using the S4 as a source though.
It's safe to say that the HD599 performs great with all sources and amplifiers, it simply is an easy to drive headphone that always sounds good (unlike its big brothers that all need good amps to shine)
End Words
What a great headphone. The new HD599 has moved a little closer to the HD600 but it's kept its warm and smooth relaxing vibe. The HD599 is easy to enjoy no matter how you're using it and what you're using it for. It isn't the clearest or most neutral headphone so if that's what you look for in a headphone, this one isn't for you. I'm pretty sure though the vast majority of people will absolutely love its tuning, whether you're a complete newbie or experienced listener.
The only downside I can see is that the faster, more neutral and more audiophile tuned sublime HD600 is only about 50€ more expensive. It is harder to love and to drive but it technically is a better headphone. The HD650, being even more expensive, isn't really a competitor to me. So your choice will depend on what you want to hear and what gear you already have at home. At the same time I can see people who like a warm and smooth sound prefer the HD599 over the technically better HD600. If you're sure you want a warmer and more relaxed sound, the HD650 is always an option as well, but that headphone – which still is one of my favorites – still is quite a bit more expensive. Unless you got the HD6XX one on Massdrop for $199 like I did.
Anyhow, great job Sennheiser!