In this review we look at the Lofelt Basslet, selling for €199 Euro.
Disclaimer: The Lofelt Basslet was sent to us free of charge in exchange for this review. I asked for the unit and it doesn't need to be returned to Lofelt after this review.
Lofelt
The German based Lofelt creates high-quality tech products for people who are passionate about sound and music. All their products are developed in-house from initial idea to final design and technology. In 2016, they debuted the Basslet, a wearable sub woofer for your body.
To get the needed funds for developing their idea, Lofelt hooked up with Kickstarter and they raised an impressive 600,000€. The Basslet project ranks in the top 5 of the most successful German Kickstarter projects of all time, and that obviously means a lot of people want a portable bass – euh – player.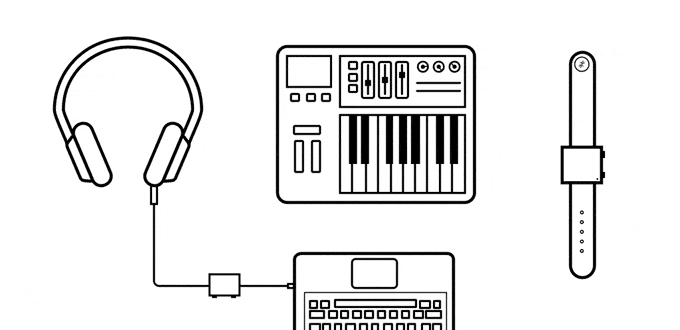 Basslet
So what is the Basslet exactly? For those of of you that still haven't figured out the names, it's a simple composition of "Bass" and "Bracelet". The Basslet basically is a watch-size portable sub woofer which doesn't make sound. Using a whole new technology for sound, it delivers the beats and bass-lines of your music directly to you – so you can literally feel the music. The result is a powerful sound experience that headphones alone cannot provide.
It is completely silent to the outside world – and despite the size, it makes you feel like you are surrounded by sound.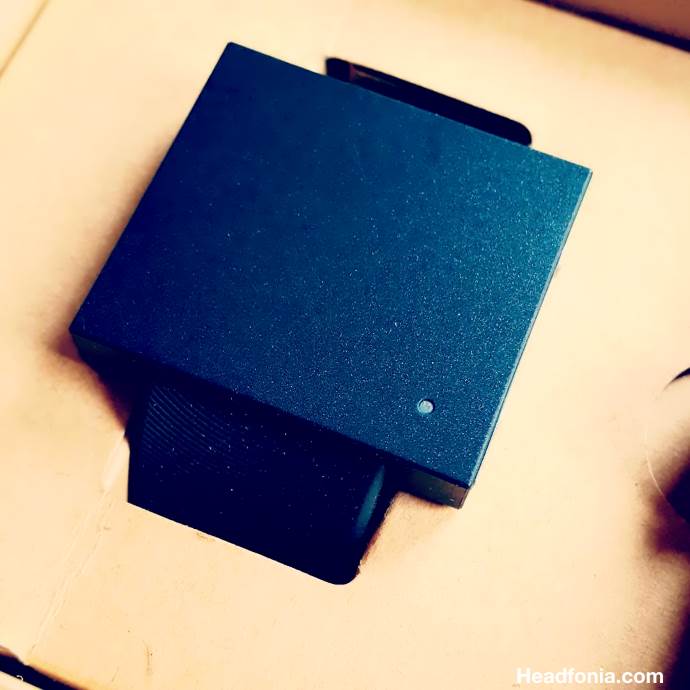 So how does it work?
First of all the system consists out of two different units: the "Sender" and the "Receiver". The receiver has the size of a watch and it has two buttons for powering it on and for setting the level of "bass". The buttons actually are little magnets allowing you to click your sender and receiver together. The magnetic buttons/contact points actually also connect both units for charging, so you only charge one device with a micro-USB cable. You can charge the Basslet in under one hour and it will give you around 6 hours play time in return.
Logically, you just plug the sender (3.5mm termination) to your source and you plug your ear- or headphone to the sender. Sound quality is very important to Lofelt, so the sender has a straight-through audio path designed not to alter the headphone audio signal in any way. The receiver is worn like a watch and I recommend wearing it as tight as you can stand for an optimal result. Once everything is hooked up correctly, just start playing music and enjoy portable bass.
The mechanism
The Basslet works for anything that has sound: connect it to your smartphone, laptop, gaming console, VR headset – even with your old Walkman. No app needed.
Basslet deepens our connection to music and offers an augmented sound experience – anywhere you go.
The Basslet is packed with innovative technology, the LoSound engine (patent-pending) effortlessly recreates bass frequencies down to 10 Hz. The high precision of the LoSound engine results in a deep sound experience – creating the illusion of standing next to a subwoofer. The tech is based on an innovative voice-coil design with highly optimized magnetic flows which allows it to be extremely powerful yet remarkably compact. Haptic technology uses motion and vibration to create different sensations which are detected by our sense of touch. It provides a natural way to interact with digital devices and user interfaces.
Design
The Basslet has a clean and timeless design that reflects the high standards in terms of quality, usability and comfort. Lofelt wanted a design that supports a single purpose – feeling the music – without any distractions. Everything you see on the Basslet follows that purpose.
In order to meet their high standards, Lofelt partnered with the award-winning design studio WertelOberfell to create a product that looks and feels instantly familiar. The materials were carefully chosen to make the Basslet comfortable, light, and fit for your everyday activities. The Basslet is engineered as a single system optimized to deliver maximum vibrations to your body – built to make you smile.
And if you want to create your own look, the Basslet strap can be easily replaced with any 24mm watch strap.
Price & Accessories
The price of a single Lofelt Basslet is set at €199. For that money the Basslet comes delivered in a very nice little square box. Every box includes:
1 Basslet (Black Edition)
1 sender (that also works as a charger)
1 charging cable (Micro USB to USB)
1 additional strap that fits larger wrists
1 quick start guide
TL;DR
It's a watch sized unit that vibrates corresponding to the bass in your music. By passing the vibrations to your body/bones, your mind gets tricked that it's standing in front of a speaker. Even shorter: Feel bass when playing music.
How we feel about the Lofelt Basslet? Click HERE or use the jump below to go to the next page and find out