Disclaimer: The Violectric V850 DAC was loaned to me by Violectric Germany directly. It is supposed to be returned after this way overdue review. Pictures in this review, unless watermarked are property of Violectric.
Violectric
March 2016 – We all know Violectric and LakePeople by now and their gear has been covered on this very site on several occasions. For those not familiar with these brands, I'll quote Violectric themselves: Violectric is a trademark and product line of Lake People electronic GmbH. Lake People electronic GmbH develops, manufactures and distributes products in the professional range, for broadcast, television, airports, exhibition halls, festival venues, theatres, large-scale installations, private studios and more. In the private sector as well, Lake People products become increasingly popular due to their outstanding quality.  Devices are exclusively developed in Germany by the engineers of Lake People electronic GmbH. In doing so, the team of developers can draw on twenty years of experience and countless products for the pro-audio domain.             
These last few years the Head-Fi community has been using the V100, V200, V281 amplifiers and the V800 DAC in their home setup and then we're not even talking about the LakePeople gear yet. Violectric nowadays is a well-established and well-known brand in personal audio and the V281 is a lot of people's reference solid state amplifier. The V800 in fact is the only unit I haven't bought from Violectric after the review, mainly because I had Rein's X-DAC with me at that time.
The Violectric V850 DAC is Fried's (Violectric's CEO) latest creation and I have the pleasure of it being part of my living room setup combined with the V281 amplifier and the EGD/EGA system from Stoner Acoustics. In fact I've had this unit since last September when I took it home with me after the Canjam show in Essen and it's been my reference DAC since. I'll try not making this review too technical as there's an excellent Head-Fi thread on the V850 where technical questions are being answered by Fried himself. Whiz kids should go there.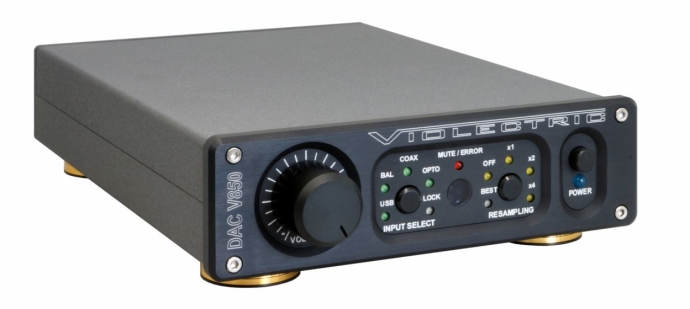 V850
The new V850 DAC is an evolution of Violectric's V800 DAC which I reviewed back in July 2013 on this very site. Fried says: "For the V850 we´ve taken more care on the analog circuitry, the power supply, the clock generation and many other things inside the new gear. And there are the double-mono converters and the remote control. In my opinion all our efforts result in a better sound whilst maintaining our basic sound "philosophy"."
The Violectric V850 pretty much looks like the V800 and they both have the typical look, style, size and feel of the V100 and V200 units. The case as well as the panels are made of solid aluminum and are Nextel coated while the 8mm front panel is milled, sand-blasted and anodized. The labeling is laser engraved. The V850 measures 170 x 49 x 226 mm (B x H x D) and looks sweet in combination with the same size V100/200 amps. In combination with the larger/deeper V281, the V850 still looks good but it's not as sexy anymore when seen from the side (the DAC is not as deep). Build quality as we are used to is the very best: Made in Germany.
According to Violectric, the V850 DAC is a top-range D/A converter, distinguished by its resampling unit, its 32-bit double mono converters and very particular analog output stages. By means of their specially designed, variable low-noise and low-distortion circuitry, the DAC V850 fulfils even highest demands. As an option, the volume control, input selection and the resampling functionality may be remote controlled. Violectric stands behinds its products and offers an impressive 5 year warranty.
Lay-out
The V850 has four digital inputs on the unit's rear panel: balanced, coaxial (unbalanced), optical and USB. The electrical inputs (balanced and coax) accept PCM-encoded digital audio data with a word length of 16 … 24 bit and 28 … 210 kHz sample rate, so does the optical input. The USB 24/192 circuitry uses the X-Mos chip set and accepts 32, 44.1, 48, 88.2, 96, 176.4 and 192 kHz sample rate. In order to avoid any interference caused from the host, the USB input is fully insulated, with the signal coupled via transformer. In the beginning I had some issues with getting the V850 to work via USB on my Windows machine until I found out I had to connect it to a USB 2.0 port. Windows does require the installation of drivers and after installation a Violectric Control Panel will be available via your taskbar. The V850 has a digital coaxial and both a balanced and non-balanced analog out. Both outputs can and may be used simultaneously.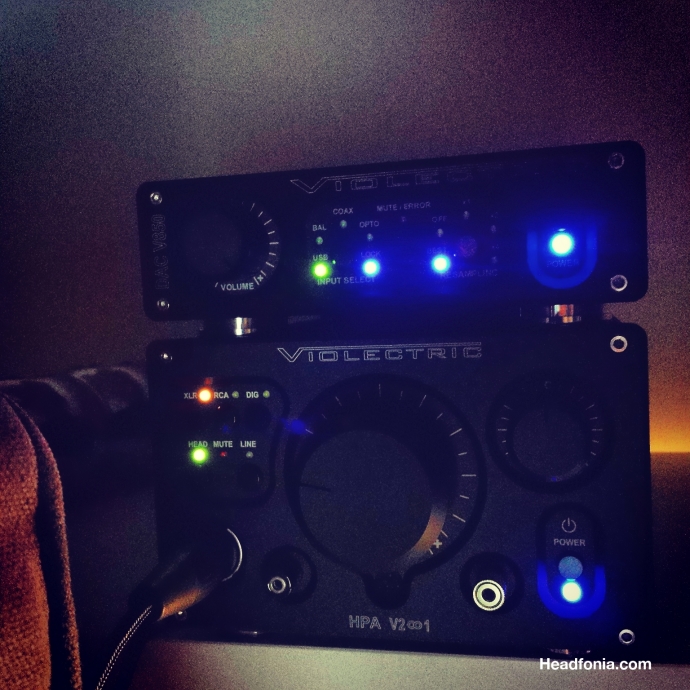 On the front of the unit you'll find the power button, volume control, the input selector, the resample rate and the remote control receiver (you can share it with the V281). Like I mentioned in my V281 review, I never use the remote as the amp is right behind me when I'm in my couch. It also seems my Panasonic TV-remote is similar to the Violectric one as some keys make it switch inputs, etc. Whenever an input signal is found the "lock" light will light up. There are a number of people who find the V800/V850 to have too many LEDs on the front panel – one guy even described it as a Christmas tree – but I'm not one of them as each LED has a specific function. In a dark room or on your nightstand those LEDs could lighten up your room though, that's a fact.
It continues on Page 2, right after the click HERE or below