In this article we review the Westone ES80 Custom IEM.
Disclaimer: The Westone ES80 custom inear monitor was sent to us free of charge in exchange for this review. Westone is not related to Headfonia in any way.
Westone
I'm convinced everyone knows the Colorado based company from something. Westone isn't only well known for their earphones, they actually also are famous for their hearing protection, hearing healthcare and military products and all that since 1959. Westone probably among audiophiles is most known for their W-series of universal IEMS, with the W80 as the flagship.
Did you know that Westone already back in 1985 introduced the first custom-fit earpiece for the Sony Walkman style earbuds? Check out this page to learn more of Westone's history: https://www.westone.com/store/music/index.php/about-westone
Established in 1959, Westone Laboratories has more than 55 years of experience delivering premium in-ear solutions for critical listening applications. Westone is the largest manufacturer of custom ear pieces in the world and was the first to design and manufacture a balanced armature driver earphone. With hearing healthcare and music specialists on our research and production teams, Westone invented the most ergonomic monitor design which provides the most comfortable, best fitting and quietest earphones on the market. The largest names in music turn to Westone in-ear monitors for on-stage use, just as U.S. Air Force fighter pilots depend on Westone's ACCES® in-ear communications system for mission-critical noise isolation, hearing protection and two-way communication. It is our experience, our products, and our people that make Westone The In-Ear Experts®.
Months ago I originally contacted Westone to get an ES80 sample for review, but they in exchange asked me to review the W60 model, which I did here. Then after that review was published, Westone came back to me myself to get their ES80 custom IEM flagship reviewed. I happily accepted.
The ES80
The ES80 is Westone's new flagship in the "Elite Series" line of custom-fit, in-ear musicians' monitors.
The ES80 features eight masterfully-tuned, balanced-armature drivers that are crossed over to perfection.
The ES80 features the same, yet differently tuned, drivers the universal W80 model does. According to Westone, their BA-drivers provide enhanced sonic detail and frequency range that extends well beyond typical in-ear solutions. But more on their sound later.
With the flagship CIEM you also get a free optional ALO MMCX Ref 8-cable, which sells for $299 in the ALO store. Again, I'll get back to that later as it pleasantly surprised me. With a sensitivity of 111db these in theory are easy to drive but they at the same time have an 80Ω impedance, and that might change things somewhat.
Technical Specs:
Sensitivity: 111 dB @ 1 mW
Frequency Response: 5 Hz – 22 kHz
Impedance: 80 ohms
Passive Noise Attenuation: Over 25dB
Driver: Eight, Balanced-Armature Drivers, with a 3-way Crossover
Cable: Replaceable MMCX Audio ™ Cable, 52"/128 cm
Breakdown
In contrary to a normal review I will use the same breakdown as I always do for my Custom Inear reviews:
Build quality & Comfort
Personalization
Cable
Price & Accessories
Customer Service
Sound
Competitors/Comparisons
Driveability & Sources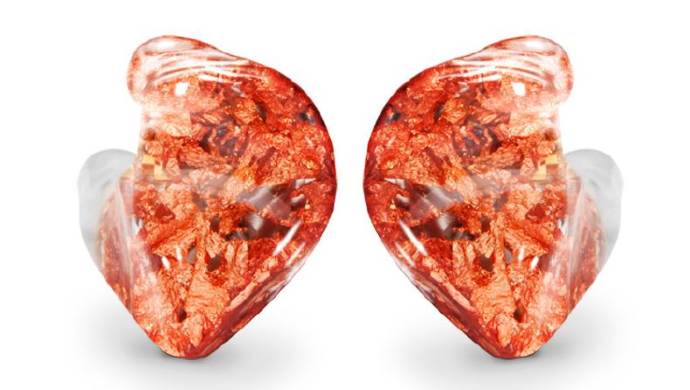 1. Build quality & Comfort
Westone uses acryl to build the monitors and they have plenty of experience doing so, the result is a perfectly finished reference ciem without any bubbles, sharp edges or irregularities. The face plate closing is perfect and almost invisible, the MMCX connectors are nicely integrated and the copper which I chose is nicely spread all over the monitor. The left and right earpiece responses are matched to an extraordinarily tight +/-2 dB tolerance and that's very impressive.
Something unique about the Westone monitor is that they use body temperature reactive material that provides increased comfort and an even better acoustic seal. They call it the Flex Canal, and I have to say I like this "technology". It's my first monitor with this kind of canals, and once they have your ears' temperature, they just sit very comfortable. I have easy CIEM-ears and the Westone ES80 fits them perfectly. A good CIEM disappears in your ears and you should be able to wear them for hours without any discomfort, and that's exactly what these do.  For an 8-driver these also are very small and they don't stick out of my ears like some of my other monitors.
The fully custom earpieces are cast, sculpted, and polished by hand in Colorado Springs, USA. The earpiece shells are cold-poured in acrylic for a thicker, more robust acoustic enclosure. This process increases durability and provides a more luxurious appearance. The Deep Open Bore design provides a smoother transition between the monitor mix and the ambient sound and also increases comfort and acoustic seal. The seal from these is very good and it's impossible to break, the flex canals are doing their job really well and I actually use these while sleeping.
Everything about this monitor screams "reference". With the experience and reputation they have, I didn't expect anything different from Westone to be honest.
Click HERE or use the jump below to go to the next page of the review