UI & Usage
Everyday carry
Long and thick, the Shanling H7 isn't easy to carry on a daily basis, but not impossible either.
If using the Q7 as my daily drive was nearly impossible, the Shanling H7 feels (a little) more usable, thanks to its smaller footprint and reduced weight. Still, paired with my iPhone 13 Pro Max, the dual combo made me reconsider my life's choice more than once. Thankfully, in an era where many people also carry a massive portable battery with their phone, I almost went unnoticed.
Obviously, it won't fit in your trousers' pocket, will hinder your every move if you put it in your jacket, and create a considerable bulge in your bag. My salvation this time came from ddHiFi's C2022 audiophile carrying case, which fitted the whole setup quite easily to my surprise.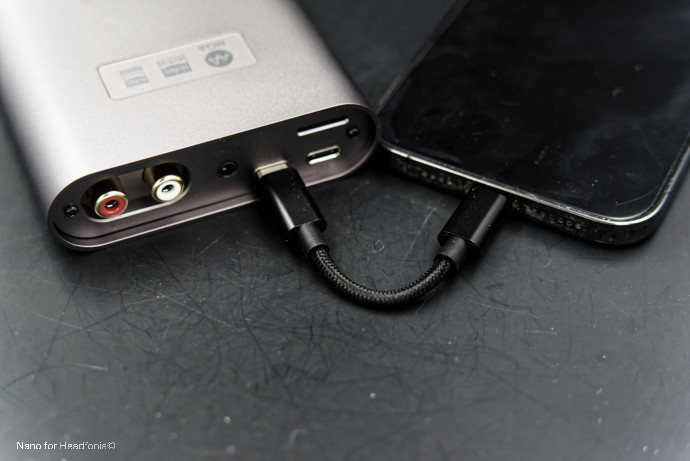 On the other hand, once settled, there is a lot to love about this new DAC/AMP. The digital volume control is perfectly sized and with perfectly matched digital volume steps, finding the right volume was always simple and easy. I know that ALPS potentiometers can sometimes be overlooked, but even to this day, they still remain king in their domain, in my opinion.
Top that with a really cool screen that indicates volume, gain level, and balance – plus many other features – plus a second knob to access all those settings, and you might find the H7 quite handy to use. Menus are fast and simple to navigate into, and if a wired connection isn't to your taste, Bluetooth is there to save your day.
Desktop mode
If the Shanling H7 remains a portable DAC/AMP at core, it also comes with many desktop features, that make it an ideal desktop audiophile bridge.
While the USB-C port remains the almighty solution today, thanks to its versatility and the ability to be used with almost any digital source, the H7 also comes with a mini-Toslink input that doubles as a coaxial one. And, while the 3.5mm Coaxial format isn't quite popular, Shanling thankfully bundles the DAC with a Jack-to-Cinch adapter that will allow you to plug your old CD Transport, or even your old computer, as a source.
But, the big feats here remain the RCA line-out, something that no other portable DAC offers in this price range. And while you'll have to sacrifice your headphone jack to connect another amp with the FiiO Q7, on the H7 you get a fully dedicated line-out port on the back and three dedicated headphones upfront.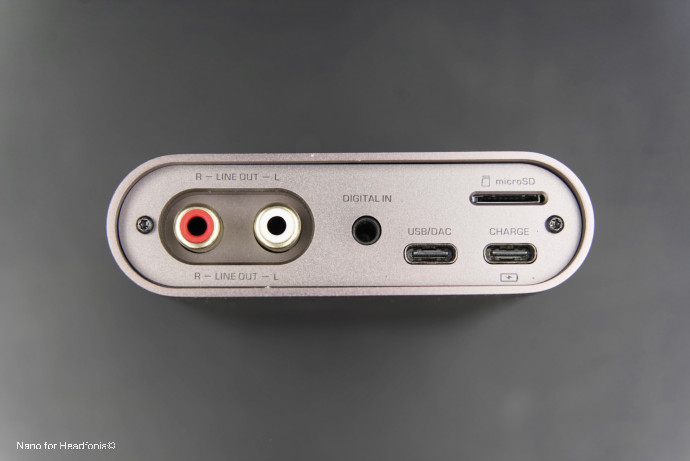 In my case, that allowed me to connect my speakers on one side, and my headphones on the other, without the hassle of getting another adapter or plug/unplug all my devices every time. Moreover, the fact that the line-out and headphones out sit on opposite sides is simply great in terms of ergonomics.
Plugged into my computer, all I had to do was select USB on the Q7 and it was immediately recognized by my MacBook, or even my PS4/Xbox after switching back to the legacy UAC1 USB Mode. Then, just plug a headphone/IEM into one of the TRS/TRRS jack, and you're good.
Battery Life and Charging
Paaaaaawer!
The new Shanling H7 embarks high-capacity 18650 batteries, offering no less than 6800mAh of capacity. That's still 3000mAh less than the FiiO Q7 but that also explains why the DAC is twice as light
To my surprise, Shanling didn't give the DAC/AMP any USB-PD compliance and stuck to Qualcomm QC3.0 Fast-Charge, which remains faster than your usual 10W charge. That said, the DAC/AMP will still need up to 2.5h to completely charge!
Meanwhile, Shanling advertises 10 hours of continuous playback in single-ended mode and 8h in balanced – conservative numbers that I successfully reached during my test.
The article continues on Page Three, after the click here
Page 1: about Shanling, casing, construction
Page 2: UI & Usage, Bundle
Page 3: Specifications
Page 4: sound & conclusion