AMP Performance
The signature is flat. No coloration, no added warmth. It offers perfectly balanced frequency response across the spectrum and wonderfully reflects the source you hook it up to. Pairing it with the SMSL M300mkII  results in a warmer sounding couple while the SU-9 offers a more linear approach to sound. Although the level of detail offered by the MK300ii is good, the SU-9 & SH-9 combo manages to offer much better resolving capability, especially thanks to the perfect synergy between them.
As I told you before, the SH-9 is an impressive, very capable AMP. It is just as technically impressive as the SU-9 and they both offer competitive performance in their price ranges. The SH-9 has a very clear tonality, every detail and every nuance is there for you to notice. It doesn't clinically put them in front of you, rather serves them on a plate. I don't specifically like clinical sounding amps as they tend to be very picky about the headphone pairings and they are not very exciting to listen to. The SH-9 is not one of them. PRaT-wise the AMP is very fast, quick, and agile. Overall performance is really good and for the price, it should not be overlooked.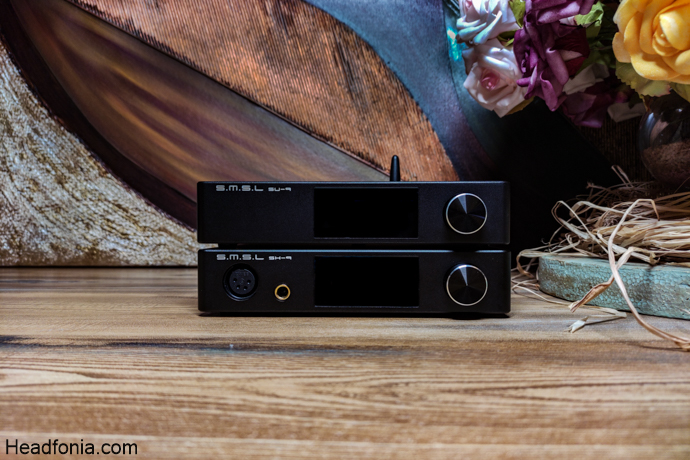 SMSL SU-9 & SMSL SH-9 Stack Performance
Naturally, SMSL designed these two as a stack and they did one hell of a job with both of the units. The SH-9 will soon be reviewed on Headfonia.com so stay tuned in. Before that, let me give you a little what-to-expect paragraph. The SH-9 is a flat, colorless THX AAA-888 amplifier with a very impressive spec sheet. It is powerful, it is capable and it is the perfect match to the SU-9. Not only physically but sound-wise as well. It does a great job of polishing what is already great about the SU-9. Together, they make a coherent, articulate, and resolving couple. Clarity is top-notch.
They should be used in fully balanced for maximized potential. I really did enjoy this stack with Sennheiser's 660S. The presentation was very spacious, exciting, and dynamic. The resolving signature of the SU-9 is enhanced and complemented by the SH-9 very well. Tight, fast, and agile bass response with a sweet midrange and a clear treble, that's the recipe. Combine this with a spacious staging and you're golden.
vs. Geshelli Archel 2.5 Pro
Just like the SH-9, Archel 2.5 Pro is one my favourite amps. They have quite a few similarities. They both sound transparent, they both have a detailed presentation and clear imaging. Archel's soundstage is slightly compressed compared to the SH-9. PRaT-wise SH-9 feels slightly faster in attack-decay but both of them has an impressive dynamism. The most obvious difference between them in my opinion is the low end behaviour. Archel's low end is more authoritative compared to the SH-9 whereas SH-9's bass response feels quicker, faster. Both of them are very competent in the midrange but Archel takes the upper hand here in my opinion, thanks to its textured, tad smoother sounding midrange flavour. There is a big difference between the two though and that is power. Archel can dish out 1W into 16Ω load whereas SH-9 can dish out whopping 6W into 16Ω load. That's a huge leap and you should be thinking about pairing you're going to be using before getting either one.
Last Words
Amazing amplifier. The SH-9 is competitive in its price-range, it is very well built and it has unique features such as a screen and a remote. The THX AAA-888 technology (888 represents the pinnacle of THX's AAA lineup) really helps the numbers and overall performance as the SNR of the device is whopping 137dB. The sound matches the numbers on the paper, it is perfectly flat, immersively detailed and colorless, just like all AMPs should be. At $289 USD, it offers killer price to performance ratio when you include the feature set into the equation. It is built to last and just get a SU-9 to have a really good desktop stack. This one too, is a performer and once again SMSL did not disappoint. I highly recommend you to try it yourself.