EQ ADJUSTMENTS
I have experimented a lot with EQ adjustments everywhere I can (phone, tablet, itunes, Foobar and JRiver) and it certainly sounds better as a result, but I just can't seem to bring the sound to a particularly enjoyable place.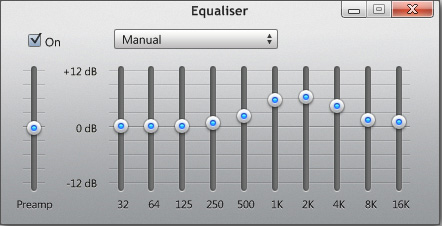 This iTunes modification had the (relative) effect of reducing the bass and bringing the mid-tones closer to a more neutral sounding pair of headphones, but it easily made the highs over powering and I had to keep changing it depending on the music. Most of the enjoyable bass was lost when the nasty upper emphasis disappeared and it made the presentation feel on the thin and brittle side.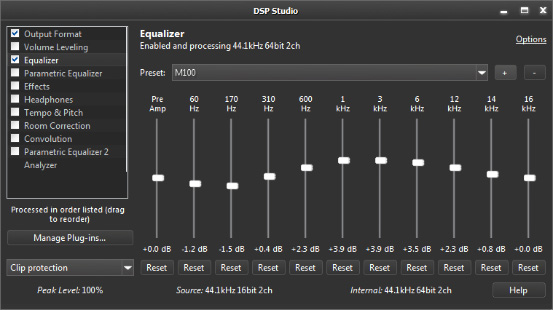 This EQ adjustment from JRiver, while connected to the Audiolab M-DAC, is probably my most successful so far. A little more of a subtle push of the mid-tones, with a careful reduction of the bass as well. This made the sound almost as enjoyable as the M-80 (without EQ adjustment). It brought out more detail, mostly suppressed the muddy feeling and really made it possible to enjoy that rather awesome soundstage, but it didn't turn them into a great hifi/audiophile headphone. These EQ adjustments are all well and good, but I don't like feeling that I have to do them, especially as much as this.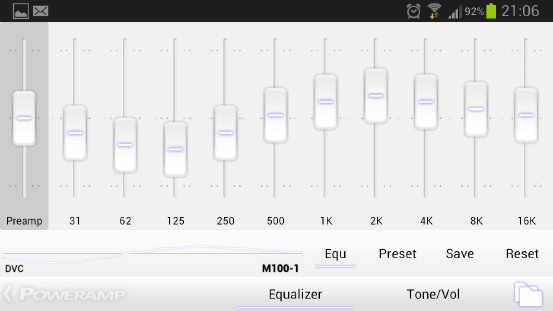 The EQ adjustments available with Android applications such as 'Power Amp' (above) are pretty great (and I'm sure IOS has similar goodies). Spotify wasn't quite so accommodating however and I'm sure that other software and/or equipment also lacks in this area. Even if you have the option available changing it for every application and switching settings for different headphones / different music illustrates my issues with EQ as a solution.
AMPLIFICATION
The M-100 behaves well with portable players like phones and MP3 players directly, both in terms of volume and general audio quality (respective of the above statements). In this regard it's pretty similar to it's smaller sibling, the M-80  Connecting the M-100's to some cheaper USB DAC/amps from the likes of Fiio and Audinst did offer audio quality improvements, but not quite to the levels that I was hoping for. Stepping up to things like the Yulong D100 mkII or the Fostex HP-A3 (apox. £300/$400) saw much better improvements, but still not as promising compared to other headphones.
The Audiolab M-DAC gave a larger boost to the M-100. It's audio quality reaching levels similar to the M-80  although still requiring EQ adjustment. Perhaps the most impressive presentation that I managed to squeeze out of the M-100 was with the Fostex HP-A8, considering this machine is nearly ten times the price of the headphones I'm certainly not suggesting that this is a reasonable option. Again I found good reason to EQ the sound, but less so here.
COMPARISONS
V-Moda M-80: On music without much high frequency detail the M-100's sound almost dark because the bass is so overpowering. In reality the response is pushed at both ends (more 'v-shaped' than the M-80). The upper mid-range of the M-100 seems to have more punch to it, perhaps this is how it's trying to be more 'hifi'? If so I'm not convinced because the highs sound on the edge of fatiguing at times (just like the bass can be). With so little emphasis in the mid-range compared to everything else there is a strong feeling of colouration with the M-100. This is somewhat confusing considering a 'DJ' model already exists in the V-Moda range, that and the rather massive hype behind the M100's as an 'audiophile' headphone that follows the M-80 led to a big shock when I first heard them.
The M-100's isolation is improved a little over the M-80  perhaps due to the padding sitting around, rather than on, the ear and the seal being better and more reliable. Sound leakage is about the same, but the soundstage does feel better and this is quite an achievement considering the improvement in the isolation.
Comfort is a tricky one, it does sit around the ear so the initial feeling is much better, but the padding touches the outer edge of the ears. The lack of depth to the driver spacing means they are continuously pressing in on the ears in all directions and combined with the increased clamping force they get painful for me in less than an hour!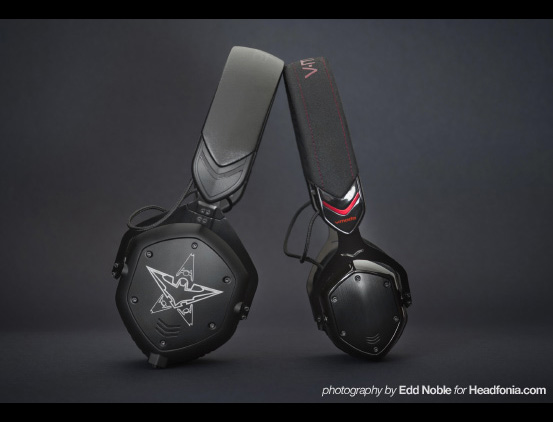 MUSIC
Here are some music tracks and how I felt the M-100 coped with them. These are tested in lossless format (where possible). During computer use these were played through JRiver's MC17 player, using WASAPI event style to output to different DAC/amps via a generic USB cable. Phone's and other portables were also tested.
Dvorak: "Violin Concerto in A Minor, Op. 53" – I'm pretty sure that the violin is supposed to be the main attraction here, I mean it says so in the title right. Well without adjustment it sounded almost like a background instrument it was so recessed. With EQ however (see above) and connecting the M-100's to the M-DAC this sounded very enjoyable indeed!
Natalie Imbuglia: "Left Of The Middle" – Pop music and female vocals can sound pretty great here with EQ, without it I get the sensation of a heavily recessed and muddied mid-range compared to a nice, neutral pair of headphones. I pushed the 2Khz range up by 4-6dB with good results for most music, but especially here it was needed.
Butch Clancy: "Diamonds Are Forever" – Fast dynamic and bright music like this sound pretty great, even without much/any EQ adjustment. With monstrously powerful thumping bass like this I was expecting it to be unbearable without EQ'ing (bass down, or the mid-range up) but this sound starts to make more sense with music like this.
System Of A Down (Toxicity): "Science" – Vocals with this band are presented extremely forward so only sound slightly recessed here, but sounds like guitar sound almost like they are playing underwater without any kind of EQ adjustment and that's even on a fast amp like the M-DAC.
Alan Silvestri (Beowulf): "Beowulf Slays The Best" – Almost as much as with Classical this music required a good offset of EQ. Without it the drums became loose and boomy, the wind instruments have very little bite to them
Rodrigo Y Gabriela (11:11): "Santo Domingo" – Straight out of the Audiolab M-DAC and without EQ applied this track felt very muffled and like it's echoing through a concert hall, which is insane. With EQ on the guitar really comes alive and with what bass is left over I would say that this sounds really neutral, detailed and engaging.
TV, MEDIA & GAMING USE
General TV, Media and Gaming qualities are average.  I cannot use the M-100 for more than an hour without feeling some pain due to a fair amount of clamp.  I am spoiled by my Sony MA-900, which to me is by far the most comfortable Headphone ever made.  I can wear that MA-900 indefinitely.  They are that good.  I find the V-Moda M-100 to be lacking and unresponsive when it comes to pinpoint accuracy.  Watching movies and general Internet Browsing are a bit of a chore compared to some other Headphones I own, but generally it is perfectly acceptable as an all purpose Media set.  It is neither great nor bad in this area.  It is just average.  Normal consumers won't have any problems with it, but I fear Audiophiles who know more about Headphones will quickly realize the M-100 was not designed to be used for extended periods of time. 
I also have to lightly touch base on it's Gaming Qualities.  Due to it's powerful low end, general gaming is very enjoyable so long as you are not playing a First Person Shooter where your survival is heavily dependent on locating sounds around you.  The M-100 fails miserably at this.  Pick up a $70 Audio Technica AD-700 if you want pinpoint accuracy, as the V-Moda Headphones all fair poorly for this type of experience.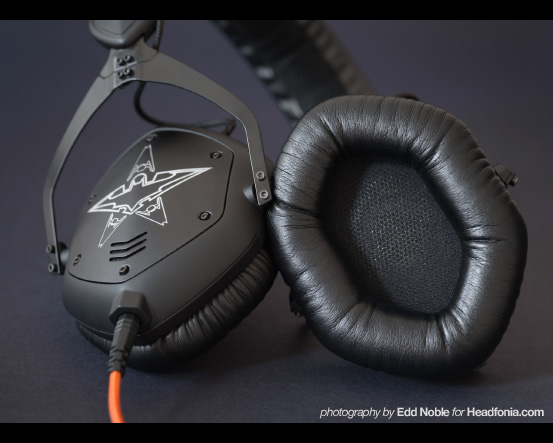 Edd and Julius talks about the build and features on the next page…