In this review, we're taking a look at the new $479 USD xDuoo XA-10 DAC & AMP.
Disclaimer: xDuoo sent us the XA-10 for this review, free of charge. All thoughts and experiences with the product are naturally my own. You can find more about it HERE.
xDuoo
Shenzhen xDuoo Tech. Co., Ltd. is a professional company specializing in the development, design, and sales of audio products. Their main focus is on DACs & AMPs. I have known them since around 2011. They are based in Guangdong, China and they have been gaining a lot of attention with great devices. They have designed and manufactured more than 100 models, and they have several patented technologies that are unique to the company.
Their new DAC & AMP combo device, the XA-10 is with us today. Let's see how it is!,
xDuoo XA-10 DAC & Headphone Amplifier with MQA & Bluetooth
Highlights & Technical Specifications
DAC Config: 2x AKM 4493
THD: 0.0008%
SNR: Balanced – 120dB | SE – 115dB
Crosstalk:Balanced – 108dB | SE – 73dB
Output Power: Balanced – 4000mW(32Ω@1KHz) | SE – 3000mW(32Ω@1KHz)
Sampling Rate Support: USB PCM 16-32 Bit/44.1K-768KHz | DSD64-512 – DXD 24-32 Bit/352.8K-384KHz | MQA 16-32 Bit/44.1K-384KHz | Optical/Coaxial – PCM 16-24Bit/44.1-192KHz,DSD64
Bluetooth 5.0 Codec Support: SBC, AAC, aptX, aptX HD,aptX LL,LDAC
Dimensions: 22 x 7 x 10 cm
Weight: 0.9 kg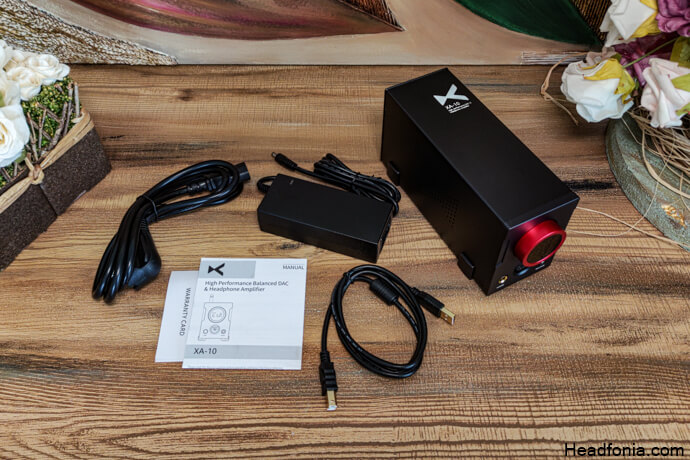 Accessories & Build Quality
The xDuoo XA-10 arrives in a white rectangle cardboard box. The box is simple and clean, design-wise. Inside, we have the unit and its accessories. You get a power cable, a good quality USB-B to USB-A cable, a power adapter, a 3.5mm to 6.3mm adapter, a Bluetooth antenna, and of course, a manual along with a warranty card. Let's talk about the device design for a bit.
The XA-10 has a long, rectangular aluminum chassis and I think it has a unique design. I liked it very much. It is similar but thinner compared to the SMSL M300mkII DAC we reviewed a couple of months back. I like the grey and red metallic finish on the device. I must also say that the chassis looks quite durable. As for the layout, the majority of I/O options are located on the rear while the headphone outputs, including balanced 4.4mm and XLR, are located on the front. There is also a quite interesting design cue there. xDuoo placed a single-color OLED screen inside the rotary volume wheel. The screen shows information such as the decoding type, volume, input, gain setting, and more. I really like when companies try different design approaches. Kudos to xDuoo for this, I love it.
The form factor of the xDuoo XA-10 is really nice. It doesn't occupy much space thanks to its shape. I believe the aluminum chassis is CNC machined and I can't find any imperfection on it. xDuoo has put several holes on the device to keep it call. Blue LEDs on the board inside the chassis can be spotted at night through these holes. It looks nice but I'd prefer red LEDs. There are 3 buttons on the right side of the device. Input, menu, and Bluetooth. You can control the device and navigate through the menu using these buttons and the volume wheel. It is not very practical but it's okay since they tried something new and I can trade ease-of-use with aesthetics. The plugs, sockets, and buttons feel durable and firm. I am satisfied with the overall build quality of this device and I think you will be too.
Technology Inside
xDuoo XA-10 utilizes dual AKM 4493 DACs. My experience with 4493 is quite positive, JDS Labs EL DAC II had a 4493 and it is a really good DAC that I use regularly. As for the amplification stage, xDuoo went with the OPA1612s. It is also a well-known and used OPAMP in the industry. Of course, without proper implementation, these chips do not mean anything. The measurements of the device are not bad on paper, we'll go into more detail about the sound, soon.
The device also uses a CPLD chip to improve & regulate signal stability for a better signal to noise ratio. I see a couple of good-quality caps on the board as well. Moving on to the USB side, xDuoo went with the XMOS's xCORE-200 series 16 core XU216 processor, which offers native MQA decoding. If you don't know what that is, let me explain. In a nutshell, Master Quality Authenticated (MQA) is an audio codec that lets you stream songs in Master/HiFi quality. After capturing and recording the performance, MQA folds the file to make it small enough to stream or download. They call this "Music Origami". Products with a full MQA decoder, like the XA-10, unfold and decode the file to deliver the highest rate for the user. Overall, the board of the device looks good.
Features
The xDuoo XA-10 has Qualcomm's flagship-tier CSR8675. It supports LDAC and aptX HD. LDAC is currently one of the best Bluetooth codecs, in terms of performance. It is good to see that the XA-10 supports this codec. You can hook this DAC & AMP directly to your active speakers and control the playback through your phone, over-the-air. Bluetooth is always nice to have on these devices. Bluetooth range is also quite good, I had no drop-outs or any stability issues during my time with it. I want to say a couple of bits about controlling the device here. You already know that I can trade sluggish navigation for aesthetics but I wonder why xDuoo did not implement remote support to this beautiful-looking DAC. It would make things easier for us. In the menu, there are two subcategories only. Filter and gain setting. Upon spending around 2 hours fiddling with the filters, I can say that I haven't heard any difference at all. Note that I am using the balanced output and streaming MQA files. There is no auto-standby setting either. 
The review continues on Page Two, after the click HERE or by using the jump below.
Page 2: Sound Analysis