On this page you'll find our recommendations for all your Wireless needs. This is an ever-evolving list. (You can find our TWS IEM recommendations here)
Fiio UTWS3 [Added 06/03/2021]
Review: https://www.headfonia.com/fiio-UTWS3-review/
First of all, these have great build quality despite being an all-plastic devices. The LEDs, buttons, hinges all feel high quality, and the new chipset did wonders to the performance, especially output-wise. It does exactly what it was designed for.
The battery life is satisfactory and it has a water-resistant design so you can enjoy good music while running or doing sports. FiiO's app support means upgradeable firmware for increased lifespan of the unit and smoother operation. Overall, in my opinion, this is a very good device and the price to performance ratio is, as always with FiiO, great.
The only negative I could find was the fact that it does not support AptX-HD. However, AptX-HD enabled true wireless adapters to have yet to hit the market. For $79 USD, this may be the best true wireless IEM adapter available right now to liberate you from cables. Give it a try!
Fiio BTA30 [Added 07/02/2021]
Review: https://www.headfonia.com/fiio-bta30-review/
The BTA30 transceiver packs a punch with its multi-functional use and you can pretty much use it in every setup seamlessly. You can use it as a dedicated wired DAC in a DAC-AMP configuration, you can use it to bless Bluetooth capability to your favorite DACs or you can connect it to your wired active speakers and use it as a Bluetooth DAC. The possibilities are unlimited, hook it up to your TV, hook it up to your Playstation or Xbox, and so on.
It has excellent technical capability and it has very good tuning. Sound quality is well above the asking price and the fact that it supports audiophile-oriented codecs such as the LDAC & AptX HD is just brilliant. It practically does not take space on your desk and the build quality is amazing. It looks modern, chic, and very handsome. The BTA30 served me with fantastic connection stability during my time with it, which is a whole month. I never experienced a drop or a stutter.
Shanling UP4
To sum things up, I honestly think that both the UP2 and UP4 are capable devices and if you pair your favorite head and earphones phones with either, you will not experience much of a bottleneck here. You don't often hear these words about Bluetooth DAC/AMPs very often, so I'd definitely give them a try as they won't break the bank. In conclusion, I can still easily recommend these devices to people who want to set themselves free of hefty DAPs, and just have a good time running around with 40g of pure Bluetooth bliss.
Review: https://www.headfonia.com/shanling_up2-vs-up4_review/
iBasso CF01 [Added 05/10/2020]
I really like the iBasso CF01. It does exactly what it is supposed to do, without any major issues. It has a battery life that can be classified as good, it has a roomy charging case in which you can store the IEM of your choosing, it has Qi Wireless charging and USB-C support. Oh, and it is IPX5 rated. It has a great silvery-black modern-looking design and sits comfortably behind your ear. The only criticism I can think of is that it does not support AptX HD or any of the higher-end codecs.
For $149 USD, this may be one of the best adapters available right now to liberate you from cables. Give it a try!
Review: https://www.headfonia.com/ibasso-cf01-review/
Shanling MW200 [Added 20/09/2020]
Shanling, in my opinion, hit the golden ratio of price & performance with this adapter. It is a well-made, well-tuned wireless solution for your high-end needs.
The Shanling MW200 successfully reflects the IEM you combine it with therefore leaving you alone with your favourite signature, without any coloration or saturation. Additionally, with its 340mAh battery, you have more than enough juice for a few days without charging.
It features the highest available codecs as well as an integrated Knowles SiSonic microphone for clear calls. It is a great device and that is exactly why we are awarding it with a spot on the HFN Recommendation List!
Review: https://www.headfonia.com/shanling-mw200-review/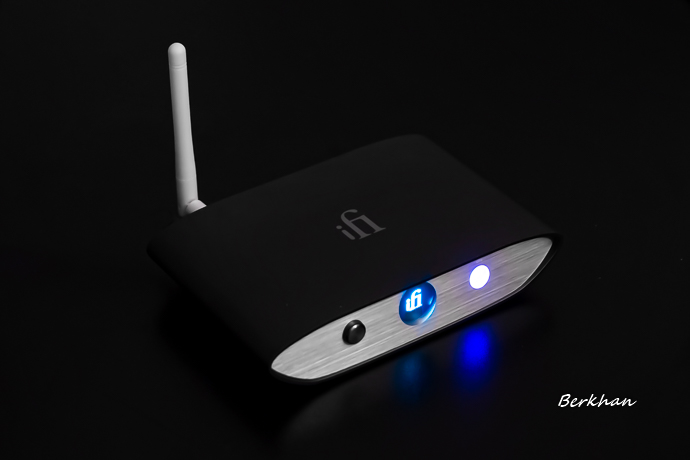 iFi ZEN BLUE [Added 04/06/2020]
You might have special CD players or DACs already, but you can still be surprised by the BT sound quality of the ZEN Blue. And it gives you the comfort to switch your music wirelessly. To me, the ZEN Blue proves that it is a very good home audio device.  Considering the competitive price and the clean output, I think this is one of the best solutions from iFi.
You might be a bit cold when people talk about Bluetooth audio. But devices like this allows you to have great sound over the air. Sure, you're not going to get a performance as a HiFi DAC gives. There's always a trade-off between comfort and sound quality. But if you're ready to make a slight compromise in sound, then iFi ZEN Blue is the perfect solution.
Review: https://www.headfonia.com/ifi-zen-blue-review/
1MORE Dual Driver ANC PRO [Added 14/06/2020]
Review: https://www.headfonia.com/1more-dual-driver-anc-pro-review/
1MORE has come up with a feature-packed, killer neckband IEM. The design looks great, feels great, sounds great. ANC works like a charm and perhaps it is one of the best in the industry. Call quality is also very good and I know this is critical for some of you. Additionally while offering many features it still has a good battery life and it has a fast-charging capability. It is comfortable to wear, it has an IPX5 water-resistance certification and it features a durable, sturdy build.  Sound-wise it offers a clear, balanced sound signature. And if that's not competitive enough for you, 1MORE offers all of this for only $149 USD. In my opinion, 1MORE offers the best neckband wireless solution at the time of this review and if you're in the market for a neckband type wireless IEM, these are your best bet.
Hifiman Deva [Added 09/04/2020]
The new Hifiman Deva to me is an excellent headphone. I wouldn't have minded a bit better-staging performance but rest assured, for the price and for a wireless headphone, everything else is very impressive. The design, the build, and the comfort are all fabulous, and Hifiman once again nailed it in the sound department. Wireless sound has started to become believable to me after those two Hifiman headphones. Also, the versatility of the Deva should be praised for what it is.
Review: https://www.headfonia.com/hifiman-deva-review/
Hifiman Ananda BT
To be honest with you, I was never a fan of Bluetooth earphones/headphones. This Hifiman Ananda BT, however, changed my perception of wireless sound. This easily is the best wireless headphone I've ever listened to and it's not even close. Together with the sound, the general user experience is very pleasing and simple.