On this page, you'll find the best amplifiers and our recommendations of this moment. Looking for the best amplifier on the market? This ever-evolving list is your answer.
Portable Amplifiers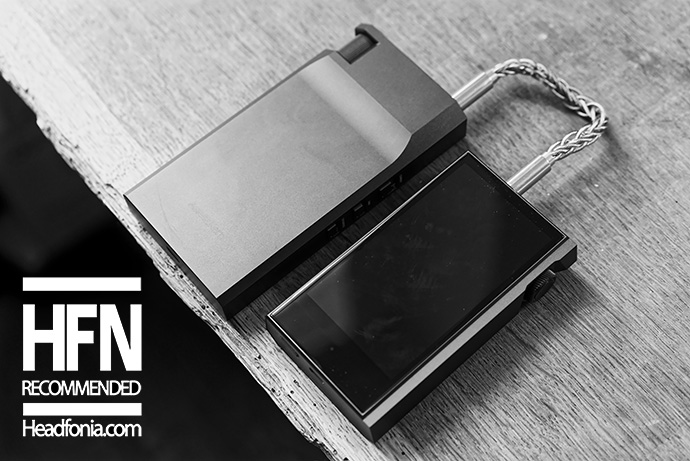 Astell&Kern PA10 [Added 13/04/2023]
Is there still a place for a portable headphone amplifier in 2023? For A&K it seems to be, and the PA10 is a clear statement from the brand. And if I was sceptical at first – I'm more of a DAC/Amp guy than a DAC+Amp one – I must admit that the brand has succeeded in the feat of convincing me otherwise. Sure, it's more transportable than really nomad. Sure it's a complete hindrance with a smartphone and a DAC, even more than a fat DAC/Amp like the Q7 or the H7, but, once you've plugged your ears/headphone, and paired your DAP/DAC, everything becomes insignificant, erased by the sound's prowess of the amp. A no-brainer, outperforming many, if not every, amp available at the time of writing – in a sub-$1500 budget. Add to that A&K's renowned built quality, excellent ergonomics, and some nice features like the crossfeed selection, and yes, this amp goes directly into my recommendation list, and if you're out for a TOTL on the cheap, you should definitely try this one first, or at least add it to your list.
Review: https://www.headfonia.com/astell-kern-pa10-review/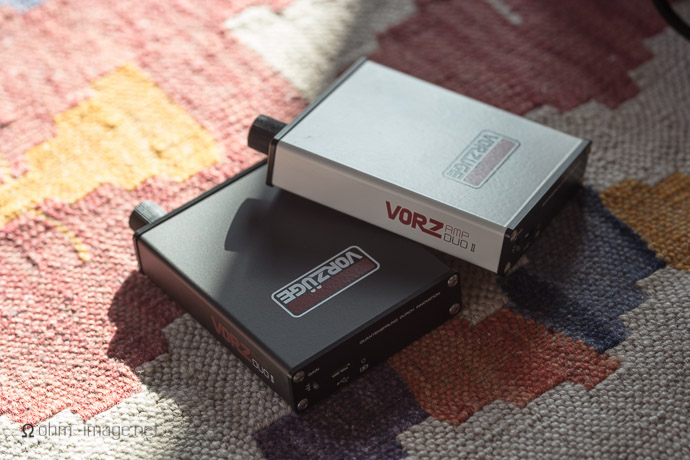 Vorzuge Vorzamp Duo II
This amplifier is in the same high-end category as the Duet is. They're very comparable but the Vorzuge doesn't have the full balanced circuit the Duet has. On the other hand it does have an EQ system. Nathan stated: "no amp I've reviewed, and no amp I've tested, packages the DUO II's performance with such a badass EQ system. And no amp company I've dealt with is so demonstrably dedicated to a platform."
Review: https://www.headfonia.com/review-vorzuge-vorzamp-duoii-basses-loaded/
Desktop Amplifiers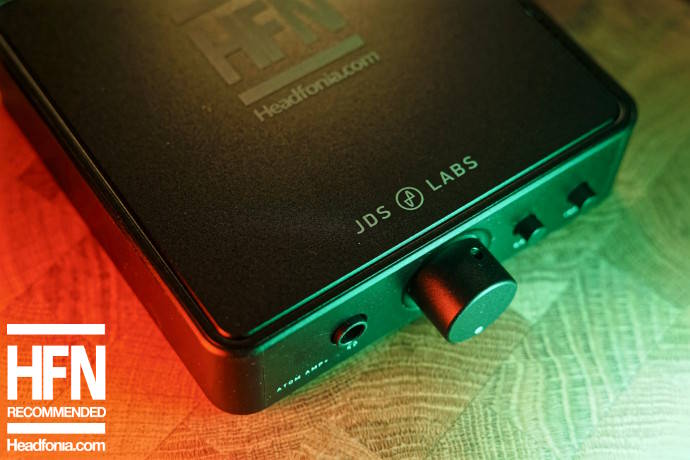 JDSLabs Atom Amp+ Hevi [Added 08/06/2023]
Once more, the Atom Amp+ (Hevi) earns my full recommendation as THE best headphone amplifier for anyone seeking a sub-$200 model. A no-brainer, outperforming many, if not every, amp available in this category at the time of writing.
Sure, the Hevi version is just a cosmetic revamp of the regular one, but for anyone sensible to that, the various additions like the aluminium top-case, or the sturdier volume control, will definitely be a worthwhile $15 invest.
Add to that JDS Labs renowned built quality and after-sales service, some nice features like the auto-mute headphone out, and yes, this amp goes directly into my recommendation list. A sure choice!
Review: https://www.headfonia.com/jds-labs-atom-hevi-review/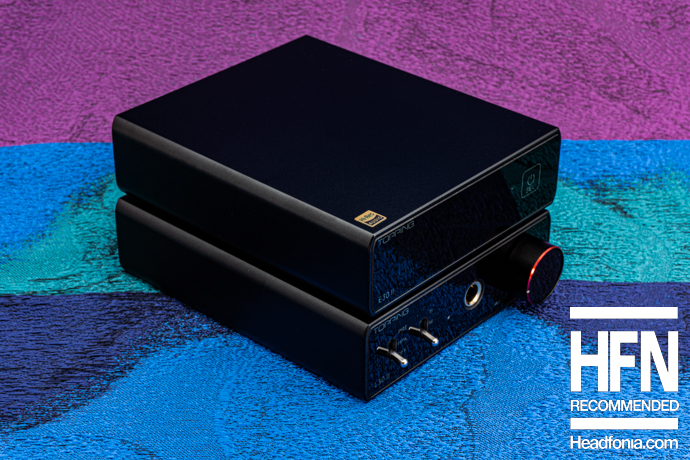 Topping L30 II DAC [Added 18/10/2022]
Topping has done an incredible job yet again and we are faced with a pair of products that perform well above their price tags. The sonic performance and technical capabilities of the products are truly impressive. From 8 ohms to 600 ohms, I got excellent results with all the headphones and headphones I tried.
The build quality of the device is also very good and feels solid, as we are used to from Topping. The optical and coaxial inputs and the RCA output support are also nice little details.
If you need a DAC and an amplifier, I definitely recommend that you give the Topping II and Topping L30 II a chance. Moreover, we thought it is only fair to award the E30 and L30 II stack with the HFN recommended award.
Review: https://www.headfonia.com/topping-e30-ii-l30-ii-review/

Bottlehead Crack
The little Crack doesn't need the fancy tubes to sound good. It – for a low amount of money – makes your high impedance headphones such as the 300Ohm Sennheiser HD650, HD800 and 250Ohm Beyerdynamic units sound very good. For the money it's still going for today, the Crack probably still is the best value tube amp on the market. And not only do you get a wonderful amplifier, you get to learn about audio, DIY and soldering all in one. If you're into higher impedance headphones, the Bottlehead crack still is THE recommended amplifier to get. In fact I don't think you can find an amp with a better technicality than the Crack for less than $500. If you build one yourself, that means only $299, and the Crack is a steal for that price. We ordered the amp before the price increase, but even today you're practically robbing Bottlehead for the sound you get for that little money.
Review: https://www.headfonia.com/wayback-wednesday-bottlehead-crack/ & https://www.headfonia.com/bottlehead-crack-otl-addiction/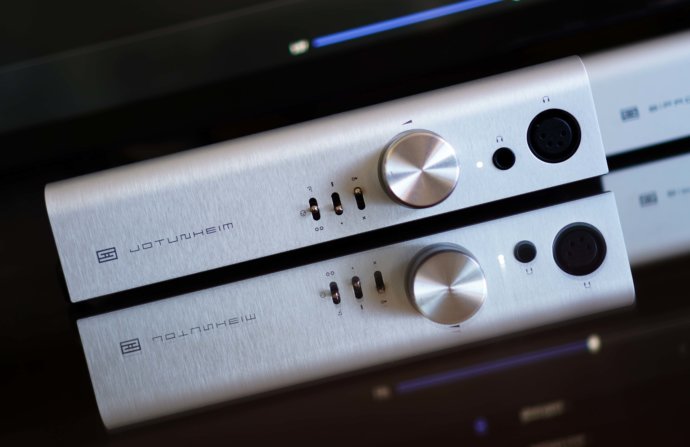 Schiit Audio Jottunheim 2 [Added 17/10/2021]
The original Jotunheim re-wrote the rules when it came to making balanced headphone amplifiers both available and affordable, and Schiit has made an even stronger case with their latest incarnation of the Jotunheim which not only sounds better, but is also easier to live with. I'd unreservedly say that the Jotunheim 2 is a knock-out product, even if you're looking at it solely as a headphone amplifier. But it's much, much more than simply that – the Jotunheim 2 can work as the analogue 'heartbeat' of your musical chain, managing far more than simply headphone playback. The fact that you can add a DAC or phono stage in the form of a $100-200 module makes for an even more enticing proposition. I'll go one step further here than simply recommending the Jotunheim 2 as a headphone amplifier – I'll go ahead and say that stacking the phono-equipped Jotunheim 2 with Schiit's Bifrost 2 to create an all-in-one preamp control system is just about the best way you could spend $1,198 USD in audio. In terms of flexibility, convenience and outright sound quality, it's an absolute winner for the format-agnostic audiophile.
Review: https://www.headfonia.com/schiit-audio-jotunheim-2-review/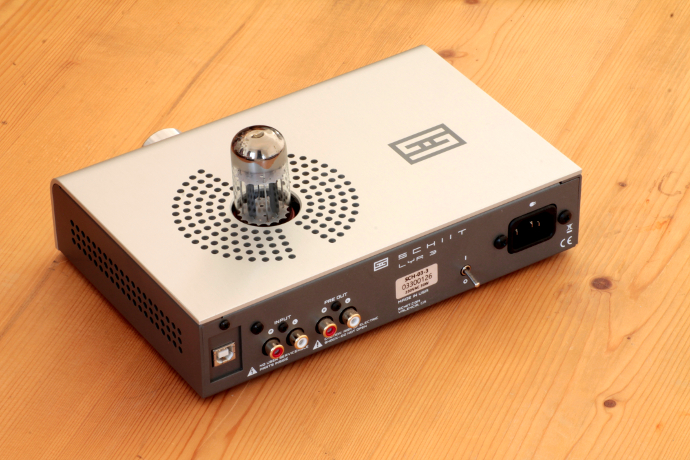 Schiit Audio Lyr 3
The Lyr 3 to me is a highly musical-sounding device that really gets you into the music again, where you lose all sight of critical listening and just enjoy what is in front of you. Sure, the DAC could be more resolved or create a bigger venue, but in the end it doesn't really matter. What matters is that you enjoy the music you like, and the Lyr 3 gets you as close as possible for that price.
Take into account the immense elasticity of the product, letting you configure it to your needs, and the extreme output power you will be faced with one tough decision not to get the Lyr 3 when you're looking for a new affordable desktop amplifier.
Review: https://www.headfonia.com/review-schiit-audio-lyr-3/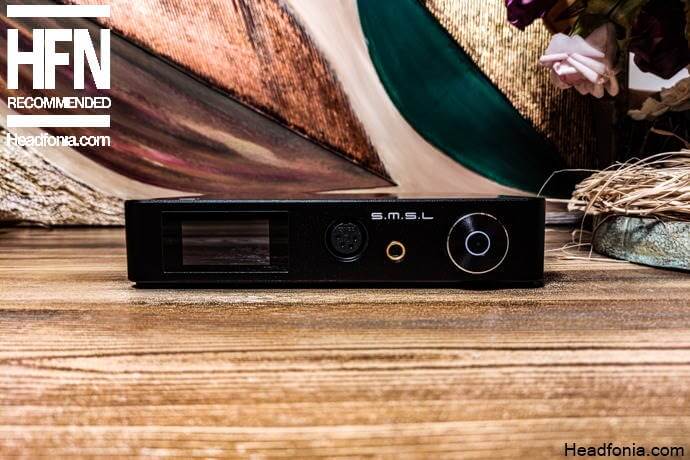 SMSL SP400 [Added 11/06/2021]
The SP400 is an excellent amp and therefore we are rewarding it with the HFN recommendation award. It may be the best THX amp out there with this much amount of power to play with. It can drive nearly anything on the market at the time of this writing and it offers an excellent, hiss-free experience even with sensitive IEMs. It can easily be controlled by the included remote and it offers a pretty straightforward operation. Sound-wise it is very, very good and it reflects the source as it is. It is a technically advanced unit with a very clean and clear background. On another note, it has an excellent build quality and the new glossy top cover looks amazing. Like all SMSL devices, it is built to last. I highly recommend this amplifier, try it and hear it yourself.
Review: https://www.headfonia.com/smsl-sp400-review/
Burson Audio Funk [Added 31/08/2021]
It's clear that Burson Audio has learned from their experience creating their earlier 'Fun' and 'Bang' models, and have managed to create a pretty special little device in their new Funk. As well as being both a terrific headphone and nearfield speaker amplifier, it somehow manages to be greater than the sum of its parts – it really does make a solid claim for itself as the only analogue device that deserves a seat at your desktop. I have tried finding a similar style of device to use in the past, and they're either too large and prohibitively expensive like the Schiit Ragnarok, or have compromised headphone performance, such as the Emotiva BasX A-100 which is only really well suited to super low-sensitivity planars.
You are going to need to BYO source device with the Funk, but the fact that you can mix/match source gear does add to the Funk's flexibility and does future proof it in that sense. And the Funk does make a solid 'future proof' proposition in terms of its performance as it happens to be a terrific-sounding device that pairs well with a wide range of both headphones and speakers. Throw in the fact that it looks great and is a delight to use, and it's an absolute knock-out device in every regard. Sure, a remote and a couple of extra inputs/outputs would be nice, but at this size and price, it's hard to complain. The Burson Audio Funk is an unreserved recommendation from us here for those of you looking to get the best out of your headphones and speakers on your desktop.
Review: https://www.headfonia.com/burson-audio-funk-review/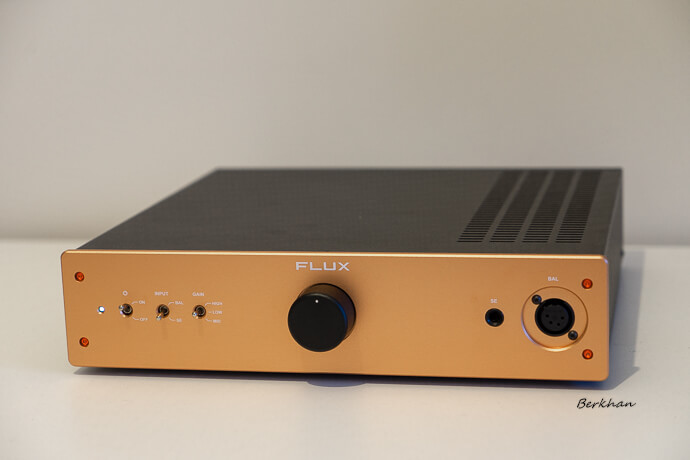 Flux Lab Acoustics FA-22 [Added 07/10/2021]
The Flux Lab Acoustics FA-22 is a great performing full desktop amp with excellent build, user experience and sound. If you're on the lookout for a high level desktop amp, you should definitely check this one out while considering your options.
It's a very coherent, musical yet highly technical performer. There's nothing in its sound that I can criticize. There are also high-end options in the market but aside from those, I think this might be the highest level before up-to-2000$ region. This is my first encounter with with Flux Lab Acoustics, but I must say I'm very impressed.
Review: https://www.headfonia.com/flux-lab-acoustics-fa-22-review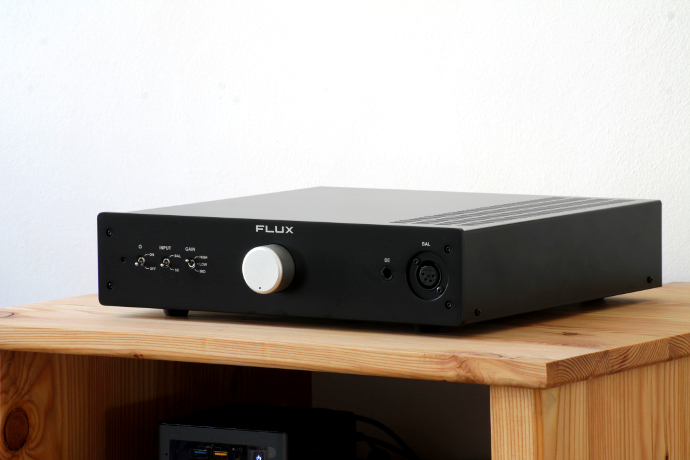 Flux Lab Acoustics FA-10 [added: 21.04.2020]
Honestly, I didn't know what to expect from the FA-10. I knew Lieven is a fan of their very expensive Atlas DAC/Amp. But that didn't mean much to me for this amp. When I took the FA-10 out of its box, I liked what I saw, but once I listened to it, I loved the entire thing.
Its biggest strength is probably the control, the dark background, and the superb imaging. All that paired with a very transparent and full-bodied sound makes the FA-10 a great proposition in today's market and certainly a hard option to pass up in the sub $1,000 USD range.
I can only tip my head to the people behind Flux Lab Acoustics for this marvel. It is well-engineered, robustly made, and sounds bloody wonderful.
To my ears, the FA-10 is a sensational amplifier. It plays well with pretty much any headphones I throw at it and has become one of my absolute favorites.
Review: https://www.headfonia.com/flux-lab-acoustics-fa-10-review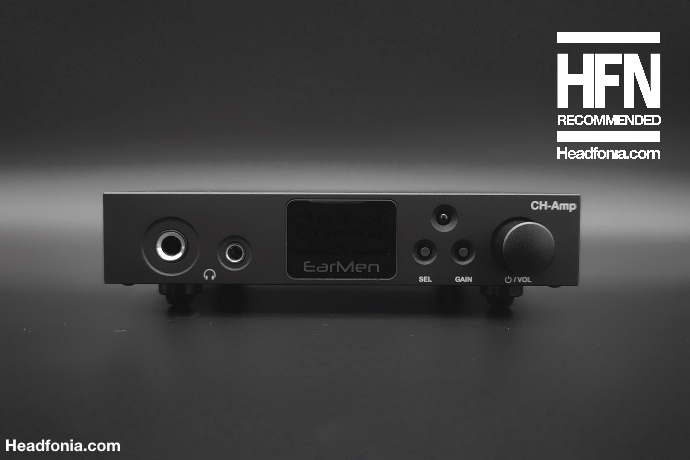 EarMen CH-Amp (+ PSU-3) [added: 31/07/2022]
The more you listen to the CH-Amp the better it gets. It's especially noticeable when you listen to another amp for a while and then go back to it with the same headphone.
The EarMen CH-Amp is precise, clean, fast, transparent, and always musical. It works sublimely in the full EarMen stack, but you can perfectly use it with any DAC or source. The fully balanced CH-Amp comes with the PSU-3 and it sells for $1,480 USD. That might seem expensive, and it's more than I expected it to cost, but the EarMen engineers really did their work on this one. Big sound in a small package is what you get from EarMen's CH-Amp, and as such it's extremely easy for me to give it our Recommended Buy award. It from now on is added to our recommended buy list.
Review: https://www.headfonia.com/earmen-ch-amp-review/
Cayin Audio HA-3A [added: 30/08/2022]
At first, I was a little sad that I didn't get to review the Cayin HA-300MK2 300B tube amp, but the Cayin HA-3A has made up for that in a big way.
The HA-3A is a little amplifier in size but it puts out such a great, big and impressive sound. I also love the HA-3A's design: the tube lay-out, the case work, the glossy finish, the tube cage, etc it's all very impressive.
But the Cayin HA-3A isn't just about the looks, it also is big in performance, even with the stock set of tubes and the lower output power. The HA-3A at this price point sounds very impressive and it far surpassed my expectations. I have quite the number of tube amps in my office, but the HA-3A really stands its ground compared to much more expensive amps.
With a nice design, perfect build quality and a very high price/performance ratio, we have to present the Cayin HA-3A our Recommended Buy Award. It's now featured on our list of Best Desktop Amplifiers, where it is in very good company. Nice job, Cayin!
Review: https://www.headfonia.com/cayin-ha-3a-review/
Ferrum Audio OOR [Added 19/08/2021]
Ever since the Ferrum Audio OOR arrived at the HFN headquarters I have been using it nonstop, together with the Hypsos power supply. The OOR is an addictive amplifier with a high technical level and all the power you'll ever need. Ferrum has managed to make the OOR sound precise yet musical and that's exactly what they were going for.
The Ferrum Audio OOR has an excellent price/performance ratio even though it sets you back €2K, or even €3K with the supplementary Hypsos PSU. It's not cheap but for a high end unit, it's actually fairly affordable and it easily plays along with even more expensive amplifiers. It's also an excellent Pre-Amp! If you have this kind of budget available and you like this type of neutral and technically strong tuning, I wouldn't hesitate to order the Hypsos PSU with it.
Review: https://www.headfonia.com/ferrum-audio-oor-review/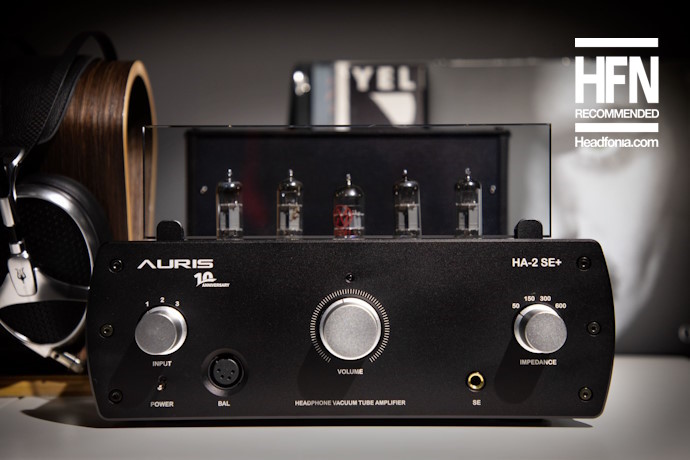 Auris Audio HA2-SE+ [Added 15/08/2023]
The Auris Audio HA2-SE+ is the third version already of the HA2-series, and to my ears it is the best performing and sounding of them all.
The SE+ takes a bit of the tube warmth and smoothness of the HA2-SE and combines that with the technical performance of the SF. Actually, it has an even higher technical level than the SF has. Luckily Auris Audio never forgets that engagement and musicality are very important aspects as well, so you get a beautiful mix of everything.
The HA2-SE+ is an amplifier that works extremely well with dynamic headphones, but you can also plug in your favorite planar headphone as well. The price/quality ratio of the HA2-SE+ amplifier is very good and you will really enjoy the SE+ with most headphones. The new SE+ replaces the SF version on our list of Best Headphone Amplifiers, where all our Recommended Buys are listed.
Review: https://www.headfonia.com/auris-audio-ha2-se-plus-review/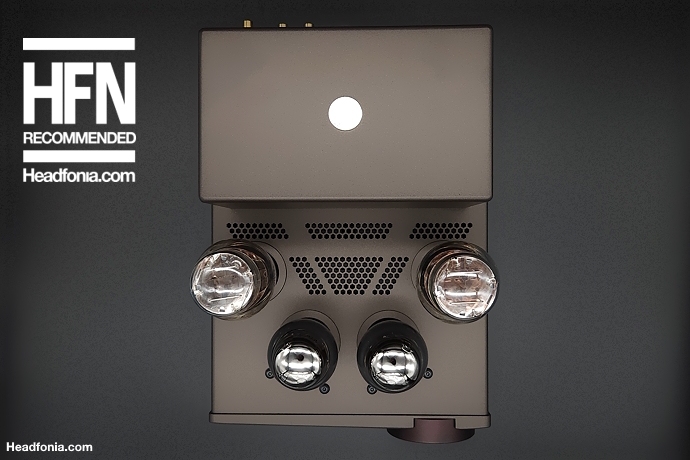 Feliks Audio Euforia evo (Added 27/04/2023)
I like how Feliks Audio keeps updating their product-line. The 3rd version of the Euforia amplifier isn't just another update, it in fact brings a whole new tonal experience to the Euforia product range. The Feliks Audio Euforia evo is simple in design, but it's using top quality components on the in- and outside. Because of the minimal design philosophy, using the amplifier is easy and straightforward and the added XLR connector and larger volume wheel certainly help with this even more. The Euforia evo is not a do-it-all amp if your collections of headphones features a lot of different driver types. The evo will perform best with high impedance dynamic driven headphone types, but it will pleasantly surprise you with some planar and other driver tech headphones as well.
The Euforia evo amplifier's price tag isn't the lightest, but I feel the asking price is fully justified for an OTL headphone amp + pre-amp of this calibre. Sound-wise there's nothing bad to say at all, and the evo beautifully mixes a high technical level, with a good amount of body, dynamics, and musicality. We can easily and fully recommend the Feliks Audio Euforia evo if you're looking for a high performing OTL tube amp, and as such we're giving it our Recommended Buy Award.
Review: https://www.headfonia.com/feliks-audio-euforia-evo-review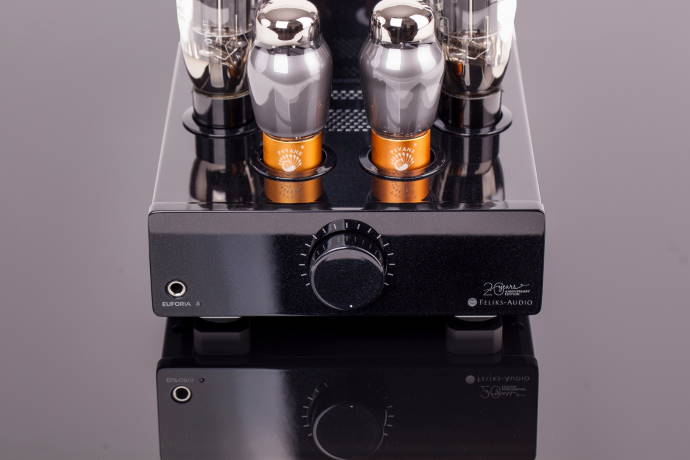 Feliks Audio Euforia Anniversary Edition (Added December 12 2019)
The AE Euforia is an amplifier that is playing with the big boys on the market, and if you're in the market for a high-end tube amp, the AE with its €2900 price, simply is a no-brainer. The AE offers a great sound stage, both in width and depth, combined with excellent layering, timbre, extension, and speed. The detail retrieval is excellent and at the same time, the AE sounds incredibly musical. The Eufoaria AE will immerse you in your music, it's awesome.
The original €1900 Euforia still gives you great value, performance, and musicality and if your budget doesn't extend AE far, this still is a highly recommended amplifier. The AE, however, blows it away on all fronts with improvements everywhere.
Review: https://www.headfonia.com/feliks-audio-euforia-AE-review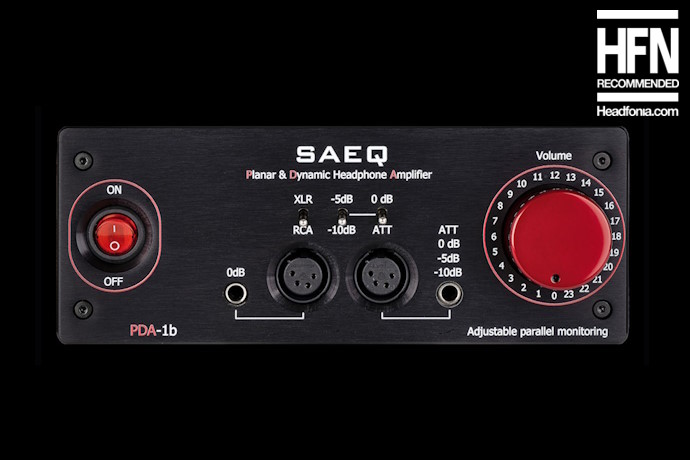 SAEQ Audio PDA-1b [Added 23/10/2023]
When I agreed to review this amplifier from SAEQ, I didn't know what to expect. All I knew was I liked their VM-1a amplifier they built for SAEQ, as well as the Hyperion GE I quickly auditioned at High-End Munich last May. I took a chance but it turned out to be a really good one. Right from the start SAEQ Audio PDA-1b shows you what it is capable of and once you get used to it's typical presentation, it's an amplifier you don't ever want to miss again. The PDA-1b mixes technical excellence with a high musical level and immersiveness of a live concert. It's unique.
On top of that the PDA-1b delivers all the power you will ever need and it lets you connect 4 headphones at the same time without lack of power or diminishing sound quality. It's an ideal amp for reviewers and headphone enthusiasts that own multiple high-end headphones and want one amp to control them all. Even though the price tag is slightly on the higher side, this amplifier for me is an easy recommendation. The SAEQ Audio PDA-1b gets our Recommended Buy award and it joins our list of Best Amplifiers, where it is in good company.
Review: https://www.headfonia.com/saeq-audio-pda-1b-review/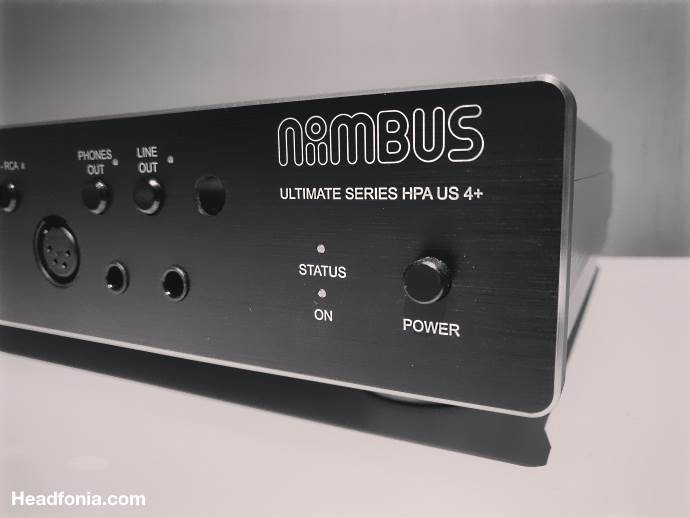 Niimbus Audio US4+
Lake People set out to build a reference level amplifier and with Niimbus Audio and the US4+ unit, they have done exactly that. When you think US4+ you have to think: Cleanness, silence, power, extension, tightness, speed, balance/linearity (SE), and musicality. To me, the balanced output, just like with the V281 is the one to go for. It delivers the most musical, extended, spacious sound, with the best bass impact and body overall.
The Niimbus Audio US4+ is a great amp, with a reference/high-end sound and price. If you're looking for a well-built and excellent sounding high-end amplifier with both single-ended as well as balanced in and outputs, then the US4+ will probably check all your boxes if you have the budget for it.
Review: https://www.headfonia.com/niimbus-us4/
Auris Audio Nirvana
Review: https://www.headfonia.com/review-auris-audio-nirvana/
The Auris Audio Nirvana is one of those amps that performs great with every single headphone you throw at it. It seems to bring out the best of every headphone and especially the balanced output for me is really special. As said, the Auris Nirvana is the perfect mix of Auris' previous models and it combines the best of both amps to bring you to Nirvana, a place of perfect peace and happiness. Apart from the fact that it's maybe too powerful there absolutely isn't a single thing I don't like about the amplifier. It again looks stunning and the separate power supply gives it an extra classy look. It sounds like you're in heaven with a dynamic, wide and very well layered sound with a good amount of warmth and tube smoothness. The Nirvana gets sound (and looks) just right and it simply is impossible not to like.
This is the kind of amplifier that wins awards, and I have no doubt it will get several distinctions in December when the audio world looks back at the units launched in 2018. If you're in the market for a new headphone tube amp in this price range or if you just want one amp that does it all, then the Auris Audio Nirvana should be the first amp on your list to check out.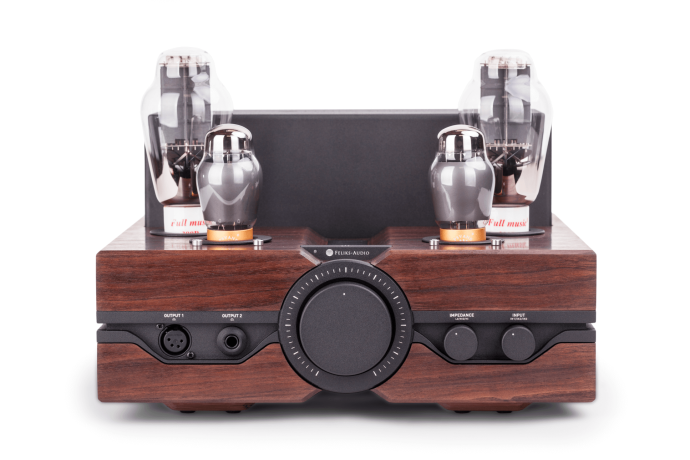 Feliks Audio Envy [Added 12/04.2022]
It's always fun reviewing high end gear. The Feliks Audio Envy 300B tube amplifier is among the best on the market. It's a truly high-end amplifier with an incredible sound. It costs a pretty penny but if you have the budget you will never ever need a different tube headphone amp ever again. The Feliks Audio Envy is a future classic already. If you have the chance listen to it, you absolutely should. And sorry about your wallet, because you'll want one once you've heard what it is capable of.
Review: https://www.headfonia.com/feliks-audio-envy-review/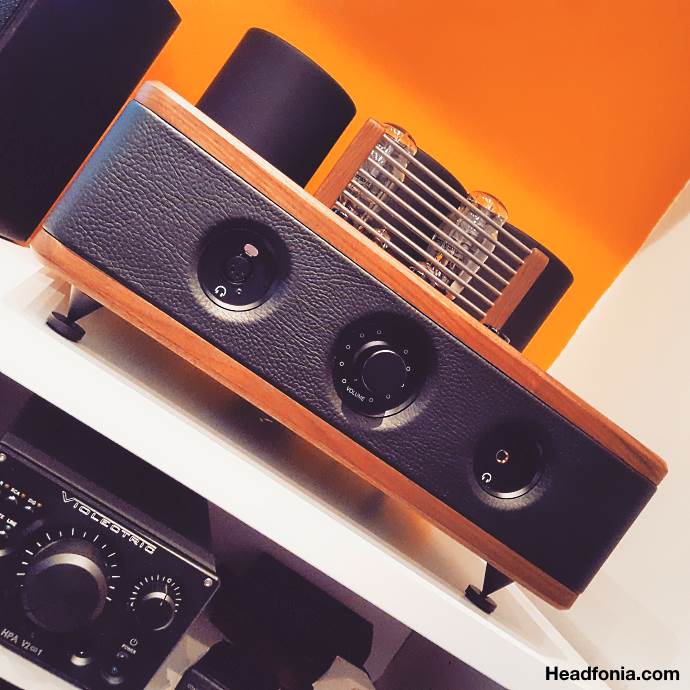 Auris Audio Headonia
The Auris Audio Headonia is exceptionally good and wonderful. It is a top-level, reference tube amp that lets you use both your single-ended as well as your balanced headphones at the same time and it gets the absolute best out of it without any effort. If you're in the market for a high end headphone amplifier that does it all with heaps of control and want the perfect mix of resolution, transparency and musicality with a hint of tube warmth, then this is the amp for you. Yes, it comes with a rather heavy price tag but be warned, once you've seen it and listened to it with your collection of headphones, you'll be putting down your signature on the order form before the first song is finished. The Headonia is the most expensive amp that has been added to our recommended buyers' guide, but it really has a place in our guide.
Review: https://www.headfonia.com/review-auris-audio-headonia/