In today's review we're taking a look at the Schiit Audio Jotunheim 2: a $399 USD balanced headphone amplifier/preamplifier.
The Jotunheim can also be configured with an onboard ES9028 USB DAC or passive phono stage for $499 USD, or with Schiit's own Multibit USB DAC for $599 USD.
Note: Schiit Audio kindly shared a review sample of their Jotunheim 2 with Headfonia for this review. Schiit Audio is not a site sponsor and is not affiliated with Headfonia.com – all thoughts and opinions are naturally our own. Our thanks go out to Denise from Schiit for helping us share our thoughts on the Jotunheim 2 with Headfonia readers.
Bringing 'balance' to the masses
California's Schiit Audio has arguably done more than any other brand to 'democratise' personal audio gear over the past decade. The Valencia-based audio upstarts have churned out a prolific series of ubiquitous silver (and later black) desktop-oriented personal audio gear over the past decade or so that has disrupted the industry status quo in terms of providing a range of affordable, high-performing utilitarian-style products. Schiit's track record has given them a strong claim to the industry 'price-to-performance' mantle, with their name often being one of the first mentioned when recommending products to those starting out in the hobby – especially if the phrase "Made in the USA" means anything to you (disclaimer: as an Australian, this is largely a moot point to me). We've reviewed more than a few pieces of Schiit gear here at Headfonia over the years, which you can check out here. 
Turning the dial back to 2016, Schiit revealed a new device which they called the 'Jotunheim': a  balanced headphone amplifier named after the land of the giants in Norse mythology. As well as offering a fully balanced topology from end-to-end with XLR inputs as well as XLR headphone output and pre-outs, Schiit also gave customers the option to 'trick' out their shiny new headphone amplifier/preamp with an onboard module which could take the form of a Delta-Sigma AK4490 DAC, a shrunk-down version of Schiit's own 'Multibit' USB DAC, or even a passive phono stage for the more analogue-oriented among us. Balanced circuitry in a headphone amplifier (especially at the time when the original Jotunheim was released) is generally found in more expensive and niche equipment, and so the $399 USD price point (add one more $100 bill for the 4490/phono module; or two for the Multibit one) was fairly disruptive for the market – especially given the fully discrete design. 
"Modular desktop control" was what Schiit promised with the original Jotunheim: an all-in-one balanced, analogue box with enough power to tickle the drivers of just about any headphone under the sun, that can also taking care of volume attenuation for downstream active speakers, or a power amplifier. Tick the box at checkout for either flavour of DAC or passive phono stage, and the Jotunheim makes a pretty solid claim for itself as just about the only desktop audio box one might need – depending on your input poison of choice. I vividly recall running into the original Jotunheim at an audio meet in Sydney back in 2017, and I spent a good 15 minutes or so listening to some Queens of the Stone Age over the "Jot" with a pair of Sennheiser HD600. I recall at the time thinking that the Jotunheim had stonking amounts of power, and was able to wring the neck out of the (often amp-picky, occasionally lazy) HD600 for an energetic experience that was anything but "laid back".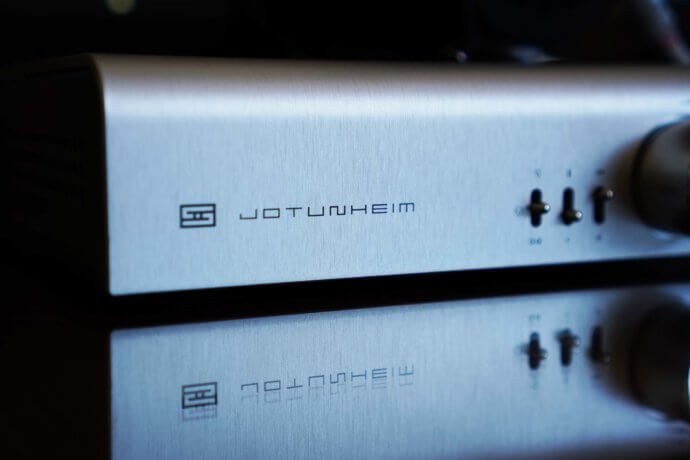 Fast-forward half a decade (man, that has flown by…), and Schiit decided to give the original Jotunheim a nip/tuck by way of completely overhauled internal circuitry, plus some welcome simply functionality tweaks. Nudging the power output up to a full 7.5 Watts into 16 ohms from the balanced XLR output, Schiit has boldly claimed that the newest iteration of the Jotunheim is "…the best $2,400 amp that you can get for $400". In the arms-race world of audiophilia, they might seem like fighting words, but Schiit reckon they can back this up by virtue of the Jotunheim 2 being "…fully discrete, fully differential, and features truly end-game touches like matched parts throughout (including front end JFETs matched to 1%, the tightest matching ever implemented for a production device), an Alps 27mm RK27114 quad-gang volume potentiometer, relay-switched input, gain, and output), you'll realize that Jotunheim 2 has much more in common with a bespoke amplifier than something that's made to a price point.". Schiit has also tweaked the entry-level DAC module option for the Jotunheim 2 following the fire which gutted the AKM factory in Japan, and now offers an ES9028 USB DAC module for $100 USD. 
In a world where measurement-above-all-else chip-based amplifiers seem to be coming the norm, Schiit's decision to stick to their guns by making the Jotunheim a fully discrete offering that still bears the $399 USD price tag (especially while they continue to make their better-measuring Magnius), gives a clear indication that they believe that this approach is worth it. 
Jotunheim 2 build + form-factor overview 
The Jotunheim 2 is essentially indistinguishable from its predecessor, but for a third toggle switch on the front cover which allows the user to switch the pre-out signal on or off. Previously, plugging in headphones would mute the pre-outs, but this is no longer – and is also hugely well-welcome in this reviewer's books. I've always found that headphone-jack muting is kinda clumsy, and it doesn't give you that guilty-pleasure option of being able to listen to headphones with a subwoofer on at the same time (yes, it's a little over the top, but yes, it's rad A.F and you should definitely try it).    
Aside from those eagle-eyed among you that noticed the third switch on the front, the Jotunheim not only looks like the "OG" Jotunheim, but also bears more than a passing resemblance to most of Schiit's medium-sized gear like the Asgard, Bifrost, and Saga among others, occupying the same footprint and using the same basic aluminium chassis. This means that the Jotunheim 2 will happily slide into any sort of 'stack' that tickles your fancy, including Schiit's recently launched Lokius balanced tone control box. 
You can choose the Jotunheim in any colour you like, as long as it's plain brushed aluminium or powder-coated black (as a child of the 80's, it's silver all the way for me). If you've tapped your knuckles on the top of a Schiit product before, well it's no different here. The Jotunheim is rugged, solidly pieced together, and feels built to last – she ain't going to win any beauty contest, but I've always thought that Schiit's products look understated and 'purposeful'. There does seem to be some variance between finishing on the silver brushed aluminium between Schiit's devices, with the Jotunheim having a more visibly 'brushed' pattern compared to the smoother sheen of the review unit of the Bifrost 2 that I have parked here on my desk. It doesn't really bother me.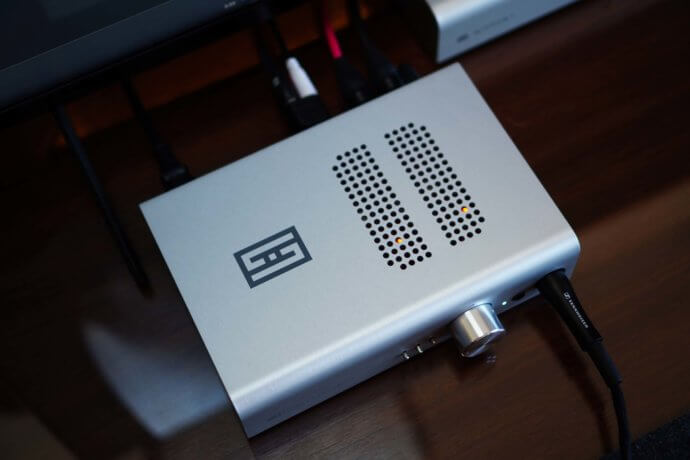 Tipping the scales at 2.7kg and occupying the same space as a hard-back novel, the Jotunheim doesn't take up much desktop real estate at all. Seeing as you can actually forgo an upstream standalone DAC or phono preamp depending on which flavour of Jotunheim you go with, the "Jot" really can help you minimise your desktop audio chain. For a reasonably small unit, the Jotunheim 2 manages to pack quite a few different features into its svelte aluminium enclosure. On the front panel, three toggle switches allow the user to:
Left: switch between RCA, XLR and modular card inputs.
Centre: switch between high and low gain settings.
Right: switch the pre-out signal on or off.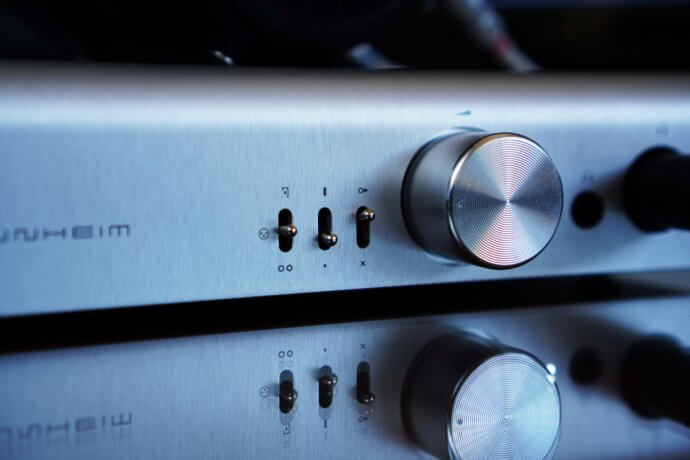 The volume knob is a classically Schiit, chunky affair – in this case, they've made a big deal about using the Alps RK27114 'Blue Velvet' analogue potentiometer. It feels reasonably smooth and precise, and is generally great to interact with when managing volume in headphone or preamp mode. Next door to the volume pot, the Jotunheim 2 gives owners the option to connect headphones via a 6.3mm single-ended, or full-sized 4-pin XLR connector – balanced topology being the key selling feature here, and the main reason why the asking price is $150 USD dearer than Schiit's Asgard 3, which I thought was a knock-out headphone amp when I reviewed it last year.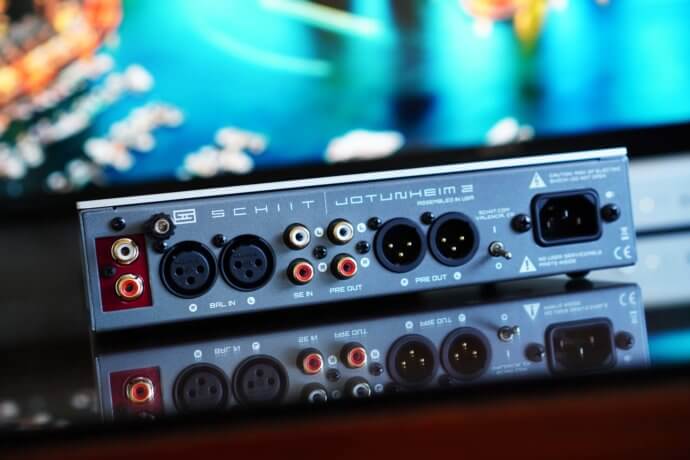 Flipping around to the back, there's a pair of matching single-ended and balanced XLR inputs and outputs, while the panel on the left-hand side can be configured to suit the input requirement of the owner. Because I was able to review the Schiit Asgard 3 with their Multibit DAC input, and because I also have a review unit of Schiit's own Bifrost 2 DAC in the house, I chose to tick the 'phono card' option on this review sample of the Jotunheim 2, which adds 42dB of gain to moving magnet cartridges, and features passive RIAA equalisation. Now I am more than a little bit "into" vinyl listening, but I was also curious to see how Schiit's phono module performed, and how a phono-equipped Jotunheim 2 might pair with the Bifrost 2 to create a Voltron-like uber digital/analogue control hub for one's desktop, or even two-channel hifi setup. 
Rounding out the features on the Jotunheim 2's back panel, we have a standard Schiit Audio rear-mounted power switch (I'm not even bothering to complain about these anymore, I'm sure you can make up your own mind about these) and the usual IEC 'kettle cord' power input. 
The full list of the Jotunheim 2's specs can be checked on the Jotunheim product page on Schiit's website, but I will list its balanced power output here, which I suspect is the key thing that most readers are interested to understand:
​​16 ohms: 7.5W RMS per channel
32 ohms: 6W RMS per channel
50 ohms: 4W RMS per channel
300 ohms: 1.2W RMS per channel
600 ohms: 600mW RMS per channel
The Jotunheim's power does take a dip if you choose to use the 6.3mm output, however:
16 ohms: 2.4W RMS per channel
32 ohms: 2.0W RMS per channel
50 ohms: 1.2W RMS per channel
300 ohms: 330mW RMS per channel
600 ohms: 165mW RMS per channel
Yep, the "Jot" is certainly no slouch when it comes to powering headphones – it certainly has enough under the hood on paper to take care of pretty much every set of cans under the sun. So, with power to boot, and a tonne of seemingly intuitive and useful inputs/outputs up its sleeve, can the Jotunheim 2 work as analogue 'heartbeat' of a desktop headphone system, offering "end-game" performance all from $399? Let's drop the needle, kick back, and find out. 
Click over to page 2 to continue the review.