We are in a time, where working from home is not a special thing anymore. Even when the world is not at a major health crisis many people work from their home offices. Maybe the normal office is too far away, or maybe simply because they are One Person Companies. I know a few people whose office is where they sleep and eat. It's a modern format. But working from home does take a bit to me. Not only does one need extra mental strength to share working and living space under one roof, but also the missing social contact can put a dent into one.
Whenever I work from home, I like to put on my stereo and listen to some good music or the radio. Today I thought, why not put together an ever growing list of albums with my fellow Headfonia writers, which we can listen to when working from home. Music we like or just recently discovered.
It is supposed to be a list of different styles. It doesn't have to be specifically "audiophile" either. Anything that works to keep the productivity or mood up.
You are also very welcome to tell us what you are listening to when you are working at home.
Let's start this installment with something rather experimental. Each week we'll upload a new album, by a different HFN writer.
Week 9: Yagiz -> How strange, Innocence – Explosions in the sky
Hello Headfonians!
I hope you are having a great week! I spent my week tweaking and tampering things around me. I got a good overclock result, I accidentally found a great brownie recipe. Trying to forget about this corona thing for a bit. Past weeks have been quite challenging. Today I am going to share one of my "safe harbor" albums with you.
This album is from a band named "Explosions In The Sky" Catchy, right? The album's name is "How Strange, Innocence". This album has sentimental value for me, I've been listening to it for more than 10 years now. Give it a listen, let it take you away for awhile. Dive in thoughts, surf the waves of existence, explore new horizons perhaps… My favourite track of the album is "Remember Me As A Time Of Day". Sadly, from an audiophile standpoint, many albums are not meticulously mastered so I suggest choosing polite sounding gear.
I am enjoying them through modded Presonus Eris E4.5 and Khadas Tone Board DAC – JDS Labs Atom AMP combo. I wish you happy listening and I hope you like it as much as I do. Stay safe, better days are on its way!
Week 8: Lieven -> Beastie Boys – Licensed to ill
Beastie Boys!! If you were a teenager in the Eighties like me, there's a fat chance that these guys from Brooklyn played a (hopefully) big roll in your musical education. Ok, that might be a fan talking, but it's hard to deny these guys made a huge impact on the music scene.
"Why mention this now?" Easy, since late April the "Beastie Boys Story" went live and it's been massively shared and talked about on social media. It's a "live" documentary about the band, where the remaining two members share with us theirs and the band's story. If you're interested in the documentary you can find out more here, and watch it on Apple TV+ for free. But back to the music.
The Beastie Boys have many great songs and albums, but my all time favorite without any doubt is "Licensed to Ill". This album actually is the debut studio album and it was released on November 15, 1986. My favorite tracks on this album are "Rhymin & Stealin", "No sleep till Brooklyn" and "Slow and low".
The setup I've been using to listen to the Beastie Boys is a portable one and it consists out of the high-end Astell&Kern SP2000 portable player and the brand new Unique Melody MEST. The SP2000 review will be on Headfonia very soon, the UM IEM review might take a bit longer but what I can say already is that the driver configuration with the bone conduction driver is a lot of fun. The synergy between both units is excellent, though an album like this really doesn't need a state of the art setup. Music first in this case. Hope you like it!
Week 7: Linus -> Beardyman and the Dream Team – Live at Electric Brixton
Well, here's something different for you guys. I am sure you have heard of improvised theater before. A bunch of actors create roles right on the spot according to suggestions from the audience. But how would something like that work on stage with musicians?
That's exactly what this album is about. Beardyman, a beatboxer from the UK, has been doing improv shows for many years and I've seen his shows live a couple of times already. He's been constantly improving his system and show. The man even went so far as to create a live production system with software giants Traktor and Ableton. They built a massive system, called the Beardytron 5000, that is only fed by the sounds Beardyman makes with his voice.
This particular album was created with a few freestyle artists from the UK. There are two MC's, a cellist, a DMC (turntableist), drummers, bassists and others. Together they form the band 'Beardyman and the Dream Team'. The album is a live recording of a show they did in Brixton a couple of years ago. The audience gave their suggestions for song titles and put them in a bucket.
It always blows my mind when I think about the fact, that this entire album was made up on the spot. It's so well put together and the lyrics are just brilliant. Albums like that give me a lot of joy to listen to and put a wide smile on my face. It's very refreshing to experience things like that. Hopefully you'll like it too.
This week I listened to this album on different setups:
Chord Hugo2 – XI Audio Broadway S – FiR Audio M4
Chord Qutest – Schiit Ragnarok II – Kef LS50
Lotoo PAW Gold Touch – 64 Audio A18s
Week 6: Yagiz -> Brazzaville – In Istanbul
Hello, My name is Yagiz and I am the newest writer at Headfonia. I wish you all a safe month during these tough times. Let's hold on together and we shall see better days in no time.
Today I am going to share an album with you which I hold dear. It's from Brazzaville. Brazzaville is a band that plays multi-genres, they do alternative rock, indie pop, bossa nova, jazz… The album name is "In Istanbul". It represents both the chaotic and serene side of Istanbul. Such a delightfully disorganized city. It's perplexing to roam its streets without a proper companion. David Brown describes Istanbul as "the city of compossibilities" He can't be more right. My favourite tracks of the album are, "Bosphorus", "Jesse James" and "Foreign Disaster Days".
Much thanks to David Brown and his band for this gem of an album. It is especially delighting to enjoy the musicality to its full extend via audiophile gear.
About the setup: I had a Sennheiser 660S sometime ago. I really liked the signature of it. During black friday week, I bought a Sennheiser 58X. I read some crazy comments about it online and wanted to see for myself. I did not like the stock sound at all. I removed the foam that sits behind the driver, I removed the big foam that sits on the outer layer of the cup. The SQ improved beyond worlds. The resolution, clarity, treble-extension, basically everything. It was a warm sounding headphone, with the mod it is warmish neutral. I really like it and it's my daily driver.
The combo that I am using with my modded 58X is the Khadas + JDS Labs Atom. Khadas is one of the best DACs at a ridiculous price point and JDS Atom could be the best amp for the price bracket that it's in. They're both very "price to performance" oriented gems. They sound neutral and clean. The trio makes a brilliant desk companion, I really recommend you to take a look at them!
Week 5: Berkhan -> Kandace Springs – Soul Eyes
Music is important and essential to all of us. However, I think in these days it's even more a life saver when we're trapped in our homes to wait and wait more. Some of us have work to do from home, some of us need to take care of a family. One thing is for certain; we all need music. Even more so than usual.
If you follow my reviews, you may already have guessed that I'm a Jazz lover. My favorites consist John Coltrane, Miles Davis (of course!), Hank Mobley, Dave Brubeck and some others. However, I'm also a lover of Vocal Jazz. Especially female vocalists give me the escapism and peace that I need.
I've discovered Kandace Springs lately. She has a very interesting and captivating vocal style. At first, it doesn't seem to be very special and doesn't wow you. But after listening to her over and over, you realize that it's indeed something unique. This also happens when I review something. Sometimes you're not amazed by some gear at first, but later on you appreciate it for what it is.
"Soul Eyes" is her first ever studio album. I liked the album because it somewhat represents the old Vocal Jazz style in a modern and sleeker way. My favorite is of course the single that the album is named after. It's a very good example of the classic Vocal Jazz in the modern era, and it's the song that showcases her talent in the album as a vocalist. Also, the way that she finishes that song is exceptional for me.
When you listen to Soul Eyes, it reminds you the likes of Billie Holiday and Ella Fitzgerald. I listen to this track many times in a day among some other songs. The rest of the album is also very good, and she plays the piano herself in some songs such as "Talk to Me" and "Place to Hide". I surely recommend the whole album and her other two albums, if you'd like to taste some good Vocal Jazz.
I'm not using a complex or a very expensive setup in the last couple of weeks. It's nothing but the Hifiman Deva that I reviewed very recently. It's the perfect headphone for me to use around the house. We work from home in these days, so I can write down an e-mail and then go to the kitchen for a cup of coffee, without being attached to any cables or devices. The sound of the Deva is very very good for a wireless headphone, so it's my go-to headphone whenever I need music these days.
Week 4: Nano -> Magic Sword – 'Volume 1 (Deluxe Edition)'
Like most – if not all – of you, music is a primordial part of my life. Music wakes me up, thanks to modern home automation and the same routine applies at night, when a special playlist automatically run-up to warn me that I should go to bed, soon. I basically have music running 24h a day and 7 days a week, literally.
Music rhythm my days. Fast pace electro when I need to get the job done, smooth jazz when I'm cooking, ambient when I'm asleep, and so it goes. And, now that I'm all secluded in my home, music also became the best way to get out, while staying in.
Sure, I could read, watch a movie, or play a video-game (get Control, by the way, AWESOME game), music remains the only medium that doesn't need you to focus your attention. Actually, the less you focus, the more you're taken, the better you "live" your song, in my opinion.
That's why, I've always been a big fan of Magic Sword, a trio born in Boise, Idaho, USA who's been making retro-electro since 2013. The perfect mix of Daft Punk, old 80's synth, Conan's Lore and everloving saturated guitars. Like the famous french bands, The Keeper, the Seer and the Weaver (sic) – the members – always wore cloaks and masks, never to be seen until the "Chosen One" appears.
And that's where Magic Sword overtakes other synthware bands: there is a story behind each song. Like a book of tales, each track slowly, but surely, embarks you into the magic world of "The Magic Sword". Like every good story, there is a hero, a bad guy, a kingdom to save, but never are they named. Because each story is yours to keep, to feel, to live.
Obviously, the fact that each track got titles like "The Way Home", "Battlefield" or "Journey's End" may lead your imagination on a specific track. But, you can also just launch the album and hide the screen, so your ears can take you wherever your mind wants to be.
My fav track? Battlefield. Like every good fight, the tension raises crescendo, guitars becoming more and more saturated as the background got blacker, the chances to win slimmer. And then at 1:50, a break, the famous second breath. A sign of the gods/providence/insert-what-you-want… there might be a chance for you hero!
I know that some of you won't like the genre. It's a 1 hour 19-minute long album, with only one track shorter than the classic 3-minute format, but if you've ever played Dungeon&Dragons, seen a fantasy movie or tried any Role-Playing Game, you will be hooked.
Corollary applies, if you liked this album, go try an RPG!
While I'm home, I mostly listen to my music through speakers, so I can roam from room to room more freely. Most of the time, I simply use a set of Sonos speakers. It took less than an hour to install a dozen of them, and I could mix them with home automation to make alive a childhood dream of mine: music in every room, that I can launch just from the press of one button.
Yet, when I need to work – so I can add more Sonos – I'm using headphones 99% of the time.
My desktop setup those past weeks has been pretty simple: Audeze Mobius and Apple AirPods Pro. The first because it blends, miraculously, audiophile performances with pure Audeze sound, and very geeky quirks like Head-tracking or 7.1 Virtualization. It's one of those headphones that I'll praise, hand down, for anyone who's searching an all-around headset for movie/gaming/music and, obviously, home-work. The latter can't reach the Mobius heights in terms of sound, but with its little footprints and superb microphones, it's the perfect IEM for long conf-call.
Week 3: Matty -> Hiatus Kaiyote – 'Choose Your Weapon'
I don't know about you guys, but I've never listened to more music than I have these past few weeks while I've been working at home. It's given me the opportunity to test-all all kinds of hair-brained gear combinations. For example, yesterday I figured out that by attaching a Sennheiser BT-T100 Bluetooth transmitter to my turntable, I could then listen to vinyl in 3D spatial audio over my Audeze Mobius. Kinda cool, actually. 
But, more importantly, I've been ploughing through a ton of new music as well as re-discovering some past gems. For this week's 'Homeworking Music' I'd like to bring 'Choose Your Weapon' by Hiatus Kaiyote to your attention. This album came out in 2015 – right about the same time that I realised that there's better ways to appreciate music than by plugging-in the earbuds that came with my mobile phone. This album took me by surprise, because genre-wise it's a little different to my usual rock/metal/alternative main-course diet.
Hailing from Melbourne, Australia, Hiatus Kaiyote are both a) extremely talented (they've been nominated for a Grammy, twice), and b) hard to define in terms of landing them in any one genre-bucket. Roon categorises them as 'Alternative R&B' and 'R&B', and Wikipedia will tell you that they're a 'Future Soul Quartet'.
Labels aside, 'Choose Your Weapon' is one of the slickest-produced albums I've ever heard. It's 18 tracks and 70 minutes of some incredible musicianship, killer grooves with crazy time-signature shifts, and a spectacular vocal performance from writer and lead vocalist/keyboardist/guitarist Nai Palm. Hip-Hop/R&B Wunkerkind Anderson .Paak sampled some of the track 'Molasses' in his own track 'Without You' from his 2016 album 'Malibu' to great effect.
'Choose Your Weapon' is an album I love to play end-to-end for absolute enjoyment, but it's also a great test for seeing what your gear can do. The track 'Fingerprints' has an incredibly intimate vocal performance from Nai Palm, and if your headphones or speakers have great tone, and texture in their mid-range it's a real treat.
You know a band cares about production quality when their vinyl pressing sounds great, and this record is a prime example – it gets a lot of time on my Rega Planar 2 turntable, which I've fitted with a Shure M91ED cartridge.
This week, I've been spending a lot of time pairing my ZMF Eikon with the Bottlehead Crack amplifier (with Speedball upgrade) that I assembled myself. This pairing is one of the most natural-sounding, organic and enjoyable combinations out there, and they're also a nice aesthetic match for one another. When I'm able to make a little more noise, I fire-up my vintage NAD 3020e integrated amplifier, which makes my KEF LS50 speakers absolutely sing in my small office/listening-room space.
Week 2: Lieven -> Billie Eilish – When we all fall asleep where do we go?
I'm so not a fan of pop music, but this is something special. I listened to the album to see what all the fuss was about, and I instantly got hooked. Billie and her brother have created an album with a unique style including rhythmic changes, off-beat bass and basically things you don't often hear. My favorite songs are "Xanny" and "Bury a friend", make sure to give these an extra listen.
I also like using the album to test new gear as several tracks are especially good to test bass. If you manage to create a masterpiece so early in your life (she's 18), a lot of people will be watching what you do next. I therefore can't wait to see how her next album will sound, whenever that may come out. In the meantime you can listen to her latest track "No Time To Die". That's right, she got asked to write the sound track of the newest James Bond movie, an honor only very few ever experience.
My setup of the week, which I've been using for home working was this: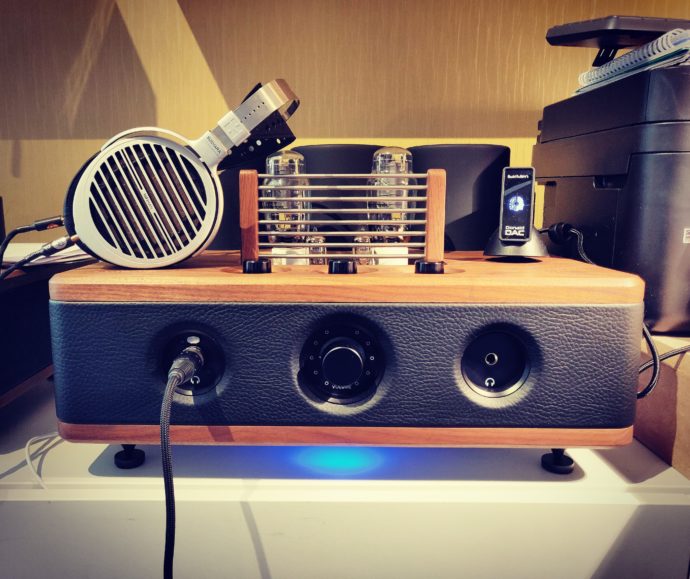 Hifiman Susvara (on a PlusSound Echo+ balanced cable)
Week 1: Linus -> Brandt, Brauer, Frick – Mr. Machine
I have been listening to this album for the better part of eight years now and it hasn't stopped to amaze me with it's great mastering, energy and liveliness.
For those who don't know it, Mr. Machine is an orchestral remake of the group's studio recording called "You make me real". To me "Mr. Machine" is far and beyond though. Alone from a sound quality perspective it is miles better.
Today I have listened with the following gear to this album at home (everything fed by my self built Roon ROCK server. More on that later!):