This is a review of the Bottlehead Crack OTL tube headphone amplifier.
Writing a review after Mike's interesting and complete 2 page impressions on Facebook isn't easy, so don't shoot me if this review turns out short 😉
The Bottlehead Crack amplifiers arrived a little over two months after having ordered them on Bottlehead's website. We ordered a couple of Cracks right before the price increase was announced (more on that later) so that probably explains the long waiting period. As Mike mentioned before in his Facebook notes, it wasn't always easy communicating with Bottlehead, with emails getting lost/unanswered but a couple of phone calls and lots of emails later we got our DIY packages in the mail. Bottlehead did forget to send us the logo badges we paid for and the wood of one of the casings was slightly damaged but we were to excited to complain about that and we decided to build them like that.
The DIY Bottlehead Crack is a fairly easy to build amplifier, anyone having experience with soldering and a multimeter can surely build one himself. Bottlehead also includes a very detailed step-by-step manual making it almost impossible to screw up. If you don't feel like building the amplifier yourself, you can always order a pre-assembled Crack from Bottlehead, at an extra cost of course. Anyway since Mike did the build on both our Cracks, I will let him talk more about the building process later.
Like with every Bottlehead design all in- and outputs are located on top of the amplifier (even the power cable goes in on top). That can be unhandy when you don't have a lot of space or when your interconnects and power cable are rather unflexible. It doesn't really bother me but I've seen a lot of people using L shaped plugs with the Bottlehead designs and other DIY'ers have changed the layout and put the connectors on the back and front. It's a DIY project so if you have the skills you can do pretty much whatever you want. Some people like the look of the Crack and others hate it. While I think its looks are basic and very cool, I have to admit that having all the cables on top will probably never make it win a beauty contest. Looks do matter when buying an amplifier but in the end the sound it produces is more important, and that's where the Crack really shines.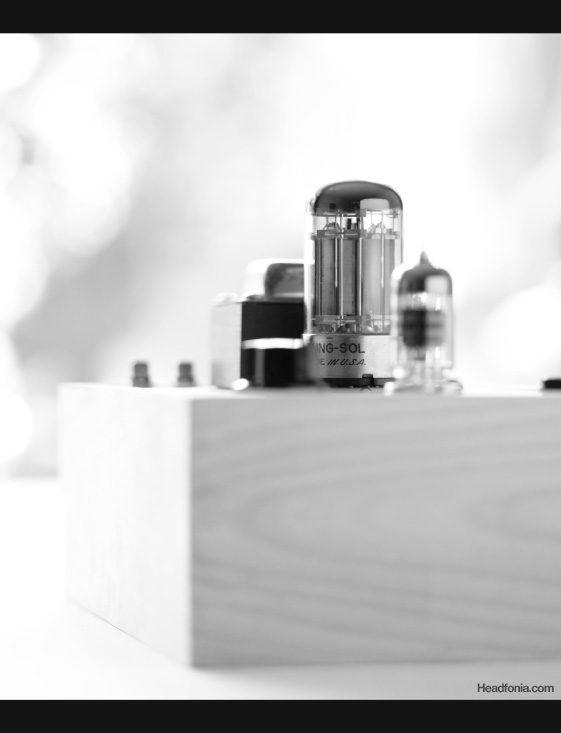 I've only been using my beloved Sennheiser HD650 with the Bottlehead Crack amp. I specifically bought the Crack for this headphone after seeing raving posts about this combination over and over. Most of my other headphones have low impedance or are orthodynamic headphones and the Crack wasn't developed with those in mind. I did try it briefly with the Hifiman HE-400 and while that worked, I didn't really experience any distortion like Mike, it doesn't really need the Crack and it also doesn't do anything special to it. (only normal with the HE-400 not really needing any amping).
I was very happy to notice the Bottlehead Crack was dead quiet with the stock tubes and with my replacement tubes (it doesn't hum at all). The volume button, being a bit bulky, is smooth to turn and I never needed to turn it further as 10 o' clock to get to my preferred listening level, so there is more than enough power left for you to play with. Even without any music playing, turning the volume pot was completely noiseless. I rather quickly replaced the stock Electro Harmonix input tube with one of my RCA clear top tubes. The stock configuration is good but the RCA tube just gives the amplifier a bit more body and weightier bass. Overall the Crack is a very clean sounding amplifier picking up every detail the music has. Bass is deep, well defined and punchy, the mids are very natural and smooth and the treble is nice and sparkling. It is quite a different sound signature as my other OTL amplifier, the Lafigaro 339 (review coming later). This last one is overall warmer sounding, has even smoother mids, more rumble in the bass (but looser) and has less pronounced treble as the Crack. Both sound great and if I would describe the 339 as "lush", the Crack would be "clean". In other words I could say the Crack is more transparent and colors the music less making it very enjoyable but also very non-fatiguing to listen to. I found myself listening for 6 straight hours to the Senn & Crack combo during work without even taking one break, that's how hard it is to get off Crack (I just had to make one lame drug joke).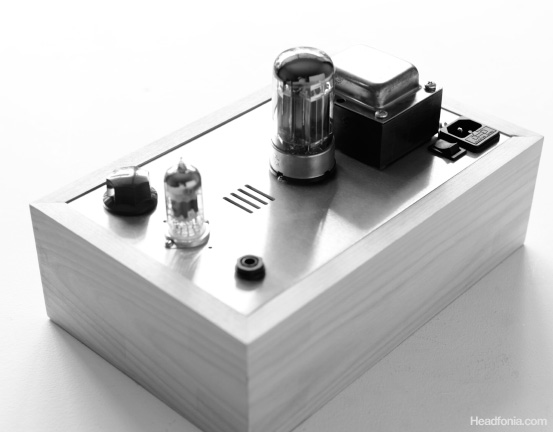 Of course it's easy to modify the sound somehow using different tubes. I tried the very popular Tung-Sol 6AS7G and the rare GEC 6AS7G brown base in combination with the RCA 12AU7 I rolled in earlier but after several listening session I kept going back to the stock Westinghouse branded 6080 Tung-Sol. Only needing one power tube and one input tube, tube rolling is one of the most fun things to do with the Bottlehead Crack, and you can easily tune the sound to your liking.
This basic version of the Bottlehead Crack doesn't have the speedball upgrade and was available for $219 as a DIY kit. Getting this kind of sound for such a low price is simply amazing and an absolute bargain. Nowadays the Crack is available for $279 (+27%) but it still is an extremely good deal if you can build it yourself. Bottlehead also offers a pre-built version of the Crack for a supplementary $150, making it $429 without shipping. Unfortunately for those not having the time or knowledge to build it themselves, the Crack is getting close to the prices of amps like the WooAudio WA3($495) and the LaFigaro 339($550) which have a more professional look and an equal or better sound quality. Something to think about.
In conclusion: if you are DIY'er looking for an OTL amp to power your high impedance headphones and prefer sound quality over looks (or just like the looks of the Crack like me), don't look any further. The under $300 Crack is all you need and it will get you addicted for life.
Next Page: Mike's Impressions