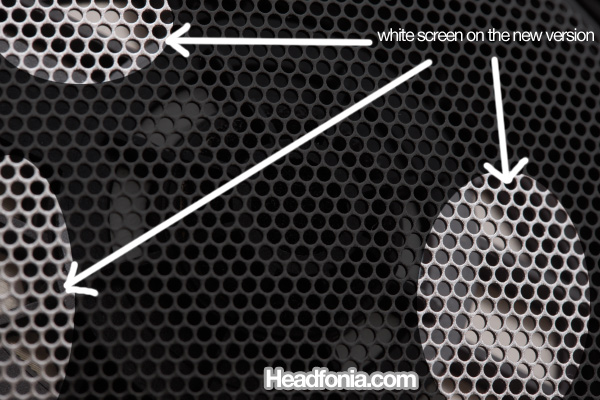 Apparently sometime ago Sennheiser quietly changed the drivers on the HD650, HD600, and HD580 models. While the old ones have black screen, the new ones are white. The material of these screens were changed as well. They may have changed other things inside the drivers as well, but we can't tell for sure.
What we do know, is that now these new Sennheisers have lost their dark and veiled sound. Instead, they are sounding very neutral, nice and detailed, while still retaining their laid-back presentation. No more muddyness, no more veil. It's interesting because this driver change may have happened as early as 2007, and this explains the different impressions from people who have heard the HD650, HD600, or the HD580.
In the beginning of my headphone journey many many years ago, I had a listen to the Sennheiser HD650, but I really couldn't like it, cause I thought the headphone sounded muddy and veiled. However, recently I had a listen to the HD650, and I got hooked on the sound! After owning the HD650 for a few months, I really can't comprehend what happened. How the HD650 that I had no desire for many years ago suddenly became one of my favorites. When my friends heard my HD650, they wondered the same thing as well: How can they hate this beautiful sounding headphone?
Clearly, the driver was changed by Sennheiser. Although this was also confirmed by a few people in the Head-Fi forum, Sennheiser seems to deny this change. After getting together with other owners and comparing our headphones, it becomes clear, that the new driver has a brighter, less veiled sound. A sound that definitely appeals to a lot of people.
The change seems to be universal, covering all three HD580, HD600, and HD650s. As to when the change officially occur, we don't know for sure. What's also interesting is that now the HD650 seems to be much much easier to drive. The new driver works with just about any portable amp that we use, including the Corda 3Move, the RSA SR71a, and the Headamp Pico. Even the headphone out from a Marantz 5001 CD Player drove the HD650 to fairly loud levels at just 10 o'clock in the volume knob. Yes, powerful amplifier like a Balanced Beta22 would be best for the HD650, but what I'm saying is that the new version is actually listenable on any decent portable amps!