Beyerdynamic T1, the flagship model from Beyerdynamic is claimed to be the first headphone with more than 1 Tesla magnet strength. Strong magnet in dynamic design theoretically will improve the efficiency, speed, and control of the driver coil, which contribute to fast, detailed, and accurate sound.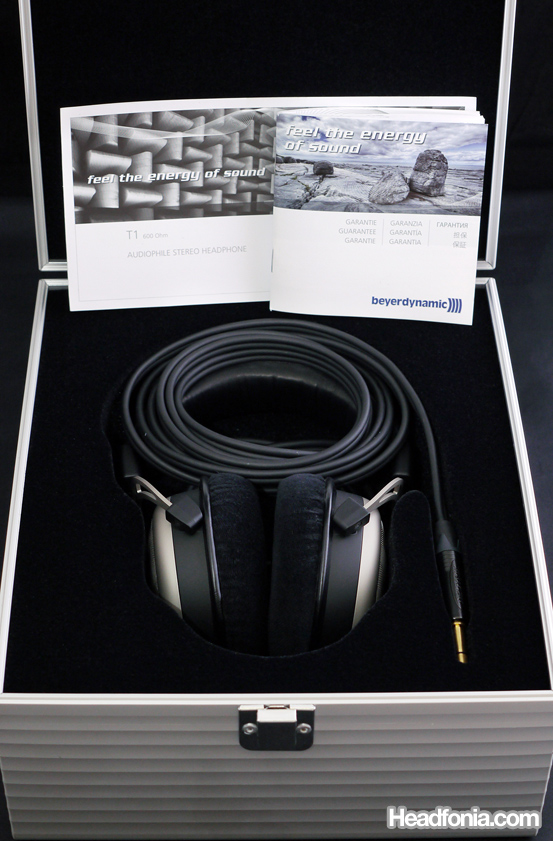 In hand, the T1 feels solid and rather heavy, slightly heavier than Sennheiser HD600 and Shure SRH840 used in this review for comparison.
T1's ear-cups are big and deep. My ears were totally free from the inner side of the headphone ear-cups, and therefore it feels comfortable for long hour listening. The headband pressure is average, I can feel a bit of pressure under my ears, on the upper jaw. I feel the pressure is alright, but my wife said she felt uncomfortable by the velour pad pressure under the ears. Compared to HD600, the HD600 headband pressure feels more comfortable than T1, while T1 has deeper ear-cups.
The cable used for T1 is thick and heavy. On the cable I find the writing:
Peacock MK II – 2x2x0,22mm2 (AWG24) – Audio [aes/ebu] – OFC – by SOMMER CABLE Germany. The cable is terminated in Neutrik's 1/4 connector. A surprise, since Beyers usually makes their own connectors. For my daily use, the 3m cable is too long, and could add weight to the headphones when the cable is hanging down.
The setup for this review is as follows:
Desktop PC with iTunes v9.1.1.12 and Foobar2000 v1.0.3. Firewire connection to the Focusrite Saffire LE (Firewire audio interface for the DAC), then a balanced connection to the SPL Auditor headphone amplifier.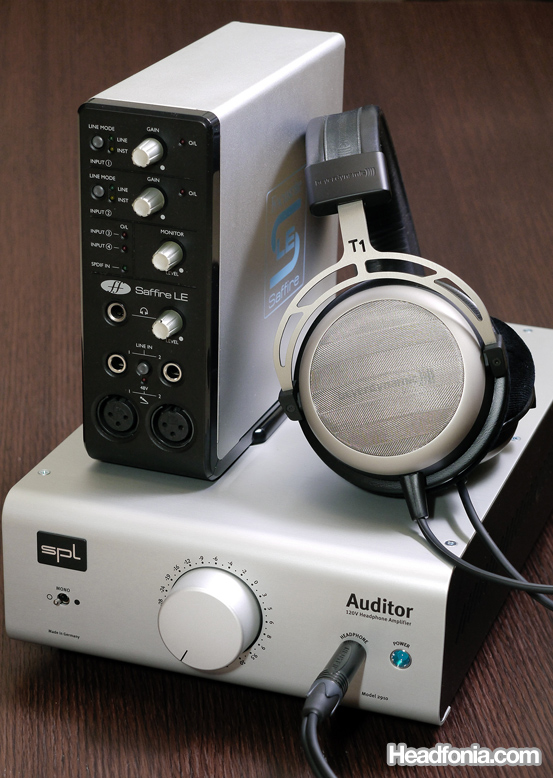 Other headphones available for comparison are Sennheiser HD600 and Shure SRH840. Even though those headphones are in a lower price level than the Beyerdynamic T1, the comparison here is just to give us some idea how the T1 sounds compared to them.
Out of the box, before burn-in, the T1 sounds lively with very good dynamic, tonal balance lean toward the bright side, and reminds me a lot of my Grado RS1 which I had for about more than a year. I was impressed by the spectrum coverage, very wide from extremely deep bass to top octave. Although the T1 is not bass heavy type of headphones, the bass harmonic is very rich, and it extends quite low. The highs sometime a bit prone to sibilant on relatively bright recordings, but bear in mind that this is T1 before burn-in.
After about more than 110 hours of burn in, T1 sounds a bit smoother and more refined, but not much different, overall still leaning toward the bright side. I prefer headphone that doesn't change after burn-in, proving that their electro-mechanical construction is good and stable, as well as assurance of consistent sound in the long run.