On this page you'll find the Portable Audio Player a.k.a. DAP recommendations of this moment. This is an ever evolving list and the units are ranked from cheapest to most expensive.
Hidizs AP60
It's small, looks beautiful and it's very easy to work with as it has a very clear menu structure. It also connects to an external DAC like the Mojo without issues and it can be the DAC for your phone or other sources. The sound quality of the headphone out might not be the very best (think bass, warmer and fun) but it sounds very musical. It offers BT4.0 & apt-X and you can even stream Tidal over BT from your phone. Unlike the N3 it can't control your phone but the menu navigation/screen is clearer. It makes for a good transport and that's probably how a lot of people will be using it.
Review: http:///headfonia.com/review-the-hidizs-ap60-body/
Shanling M0
For its very small price and footprint, very good usage and sound performance altogether, the M0 has made it to our Portable Player Recommendations. It sounds good, performs good and the amount of features were just enough to convince me to make this decision. I can't think of an extremely small player like this which has these features in an all in one package. I recommend the M0 to everyone who has an active lifestyle, who has good IEMs for sport and etc. and wants to have a good sound quality from their sources.
Review: https://headfonia.com/review-shanling-m0/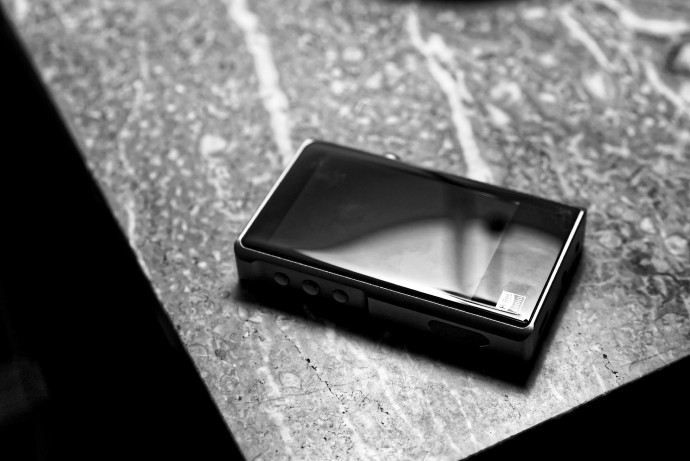 Shanling M2X
Simply put, the Shanling M2X is an M5S in kid clothes. You get the same sound signature – dry, precise, subtle – without the awkward design previously shown by the M5S. I was afraid the M2X might have lost what made the M5S different, in a good way, due to the mono DAC circuit instead of dual mono, but that didn't happen. Sound stage is a bit narrower but honestly, that's the only issue you have compared to the M5S. Sure the UI is still awkward, but if I found the Shanling M5S polarizing, it's a very different story with the M2X : for 219$, it's a very solid choice. Sound quality is top-notch, build quality is astounding and if you're used to AirPlay streaming or Tidal, it's a great alternative to DAP such as the FiiO M9.
Review: https://www.headfonia.com/shanling-m2x-review/

iBasso DX160 [Added 28/07/2020]
Let's make it short: the iBasso DX160 is a real success. The brand finally achieved a mid-range player that sound as good as it looks. And, it's pretty affordable too.
At 399$, the DX160 is definitely a no-brainer, packing excellent sound performances, great versatility in a, surprisingly, neat case. The only drawback being, once again, the noise level when wifi/bluetooth is enabled. Too bad as I think that's the only real issue with this player.
Yes, there are better players like the FiiO M11 Pro or Shanling M6 Pro, but those players are almost twice as expensive. And so, the DX160 goes directly to my recommendation list. Definitely worth it, kudos iBasso.
Review: https://www.headfonia.com/ibasso-dx160-review/

Fiio M11
It's becoming hard to write bad things about FiiO players, even more with models like the M11. The $450 FiiO M11 is well designed, got great specs, sounds superb and… cost less than 500 bucks.
With its latest player, FiiO is pushing the last nail in the coffin, taking the crown as the best DAP in the mid-tier section. At the moment, I can't think of any other player that can compete with the M11 : fluid UI, double micro-SD slot, solid WiFi connection with apk pure and the complete balanced layout. Again, there are better players out there, if you focus on musical performance only. But, if you want a player, that does it all without costing an arm, the FiiO M11 is the one to go for.
Review: https://www.headfonia.com/fiio-m11-review/

iBasso DX150
With the DX150 and DX200, iBasso does a superb comeback on the DAP market, a sheer revival of the DX50 and DX90 combo. The iBasso DX150 sounds great and the wide range of amplifier modules should cover every need for every audiophiles. The best choice being the AMP8, a balanced discrete amplifier module, yup. Design wise, I have mixed feelings. The screen is superb and handling is good, better than the previous generation, despite its mid-fi position. Yet, it's 19.5mm thick, even more with the case which makes the DX150 a pain to carry on. Imagine piling up 3 iPhone and you have an idea of what you'll have to bear. In term of functionality, the iBasso DX150 is a good all-rounder. Android allows audio streaming and third party installation (remember to install the Google play store though), bi-directionnal Bluetooth transform the DAP into a portable DAC and the coax/optical/usb output is perfect for those who just need a source.
Without regard to the price, the DX150 is a sure choice, an alternative to the excellent Cayin N5ii for those who prefer stock android experience and a comprehensive range of amplifiers. If you take the price in count, it's a superb DAP which goes directly in my buyer's guide. If you own a DX90, you can finally switch to a new iBasso DAP, it's just that good.
Review: https://headfonia.com/review-ibasso-dx150/

Luxury & Precision L3PRO
One of the prettiest DAPs on the market. The L&P focus is on design and sound and that's exactly why it is up in this list. Because of their "Sound first" philosophy however, the user interface isn't the best or most modern one though. For a DAP at this price there is no swiping in example, but boy does it sound and look great. If you only care about getting good sound and you don't need all the extra functionalities the other DAPs offer, then stop looking. L&P together with Astell&Kern also has the best build quality and the most silent and best sounding 2.5mm balanced output.
Review: https://headfonia.com/review-luxury-precision-l3pro-dap-mmmmusic/
Dethonray DTR1
The Dethonray DTR1 is easily the DAP of the year in my book, and I will include it in our Best of 2019 selections. If you want a device that can just play your music archive, there's not a better option that I can give you. There's nothing else better for this price tag. It's as simple as that.
Of course, my claims are relevant to you as far as your choices match with this device's targets. Its goal is simple and single; giving the best sound quality possible. So if you're on the lookout for a pure DAP, just get a high capacity MicroSD card, put your archive on it, and hit play. You will not be disappointed.
Review: https://www.headfonia.com/dethonray-dtr1-review/

Sony ZX-300
A world in which Sony does not lead the middle and top end of the DAP market is thankfully a bitter past. Sony's disappointing A-series Walkman are long gone. And so are fiddly controls whose sole capital is size. The ZX300 pulls its weight both stylistically and in use. With the singular proviso of audible hiss when combined with sensitive earphones, it sounds great. It looks great. It works great. Its screen is better than most of the competition at its price. It's killer.
Review: https://headfonia.com/review-sony-zx300/
Fiio M11 Pro
The FiiO M11 Pro is, for now, the best sounding FiiO player you can get up to this day. It's basically a FiiO M11+, but this extra plus is what makes a great player, a fantastic player. For a cost.
This new M11 Pro costs 200$ more than the classic M11 and it ditched the second micro-SD slot. So if you're on a budget or need a vast amount of storage, you may want to stick to the first version. That said, if sound quality is your main concern, all of those changes are of no concern.
All in all, the FiiO M11 Pro is a fantastic player : hassle-free navigation, solid battery life, superb sound. Be it the FiiO M11 or M11 Pro, nothing is a wrong choice, and if I'll stick with my classic M11 (for the cards), I will definitely keep the M11 Pro on my desk. It's that good.
Review: https://www.headfonia.com/fiio-m11-pro-review/
Astell&Kern A&norma SR15
The A&norma SR15 combines all the necessities of a modern audiophile EDC DAP. It is small, light, has a no nonsense User Interface and sounds excellent on top. The build quality is excellent and the attention to detail in the design astonishing, if you're wondering about the tilted screen, hold it in your hands before making a final judgement. The SR15 matches best with easy to drive headphones and in ear monitors. It's a solid recommendation for everyone looking for a companion on the go!
Review: https://headfonia.com/review-astell-kern-sr15/
Shanling M6 Pro (Added 15/06/2020)
It comes at no surprise, the Shanling M6 Pro is an exceptional player. The brand simply took the regular M6, and push everything to the max : more power, various software upgrades, better sound quality, and the same, exquisite build quality.
In one sentence: this is the best player from Shanling, at the moment. But, the real question would be: should you get the M6 Pro or the M11 Pro? To me, the M6 Pro offers better lows while the M11 Pro, exhibits finer mids but a narrower sound stage.
Review: https://www.headfonia.com/shanling-m6-pro-review/
HiBy R6PRO
The HiBy R6PRO, and especially the balanced output, has quickly grown on me. Not only does it sound excellent, it's also a pleasure to just hold and work with. Beautiful design, superb UI, and great versatility. The R6PRO gets good points all over and it's hard to find any flaws. If I could change something it would probably be the SE output. If that SE output had a bit more emotion, the R6PRO would get a perfect score from me but that's something personal. That being said, the R6PRO still scores very high and it without any doubt goes straight to the recommended DAP list. It's a serious contender already for the best of 2019 awards, I kid you not.
Review: https://www.headfonia.com/review-hiby-r6pro/
Lotoo PAW 6000 (1-12-2019)
With the PAW 6000 Lotoo set out to create a machine nearly as good as the PAW Gold Touch. They took out a few hardware bits here and there yet managed to keep the clean reference sound from their flagship. Most companies would try to cut down in sound quality to make a clear ladder of product-hierarchy. Not Lotoo. They want to offer their customers the best sound they can make, even if it means it will rival their own products in some way.
The PAW 6000 has superb build quality, is pocket friendly by today's standards and comes with a very mature user interface. I am still baffled how they managed to pull off a firmware that stable with basically their first try. On top of all that, the Lotoo PAW 6000 lasts longer than almost any other DAP on a single charge.
Review: https://www.headfonia.com/lotoo-paw-6000-review/

Cayin N6ii
I think Cayin made a very wise choice with the Android OS, APK-openness, numerous connection options and the switchable motherboards. They have create a very modern do-it-all, yet still affordable DAP, which on top of it sounds good! Because of the swappable motherboards you can tune the N6ii's sound to your liking and make sure your favorite headphones and earphones sound even better. Sure each motherboard come at a price ($99USD) but if you compare it to the extra options it offers you in regards to synergy, that price is neglectable. The Cayin N6ii on top of all that is well built, easy to use and looks very nice. What's not to like? The only downside I have found is the battery life, which for my sample doesn't impress. But that's it really.
Review: https://www.headfonia.com/cayin-n6ii-review/
Astell&Kern AS700 [Added 30/03/2020]
The SA700 has proven to be a device that I want to keep within a 1-metre radius of me at all times – it's proven to be an incredible musical 'companion' that's capable of replacing many other pieces of source gear. Its industrial design and aesthetics are first-rate and has a user-experience that makes discovering your own musical collection a joy, as well as the music that you don't know that you love yet. But, most importantly, it delivers where it counts in the sound department – in spades. Whether you're a full-size headphone user or an IEM-lover; you're serious about spending more time immersing yourself in some dedicated listening; or if you're stuck inside for the foreseeable future and you simply want to treat yourself, then the SA700 gets a hearty recommendation from me.
Review: https://www.headfonia.com/astell-kern-sa700-review/
HiBy R8 [Added 17/08/2020]
Doing DAP reviews is something I really like, and if the unit is good, it's extra fun for me. Once you're used to a high level of DAPs, it's often difficult to stay motivated doing reviews of lesser sounding gear, but this absolutely wasn't the case for this HiBy R8 (review), and I feel my +4K word review shows it.
I have really enjoyed my time with the R8 and I feel it makes for an excellent TOTL player in this segment. Not only is the HiBy R8 an extremely versatile DAP, it also sounds great. As you can read in the comparison part, I feel the HiBy R8 also is the best performing player in this segment at this moment. If you're looking into a higher end portable player that can do it all (thank you Android & HiBy Music), then the R8 probably is the DAP to put on the number 1 spot of your short list.
Review: https://www.headfonia.com/hiby-r8-review/

Astell&Kern SP1000M
With the SP1000M Astell&Kern has built another great top level portable player. The M sound-wise is different enough from the SP1000 for AK to "have" two flagships in the product line-up. Not many people will own both as you'll normally prefer one signature over the other, but at the same time both of the top DAPs are compatible.The M obviously stands for Musical. And Mini. And maybe also Magestic, cause that's how it sounds. For many the SP1000M will be their end level high end DAP, and that's exactly what it is. The SP1000M is easy to use in the sense that it pairs perfectly with anything you hook up to it in both single ended or balanced mode, though we feel the balanced AK outputs always to be the best of both.
Review: https://www.headfonia.com/review-astell-kern-sp1000m/

Sony WM1Z
Sony produced a masterpiece with this DAP. Sony has their own S-Master amp technology and Pulse With Modulation system, which creates unrivaled battery life time in the market. The biggest criticism was on the S-Master but they seem to have solved its weak points now, with a much better noise floor and power. It's a shame some units still have capped volumes but thankfully it's easy to get around that limitation. This is the very best audio player I've experienced together with the AK SP1000. I personally would choose the Sony, because of its heart-warming sound and long lasting battery.
Review: https://headfonia.com/review-sony-wm1z-splendid/
Lotoo PAW Gold Touch
Lotoo has a very unique approach to digital audio players. With their pro-audio background, it doesn't come as a surprise that they have opted for a super neutral signature for their top of the line music player. At the end of the day, it is the ground for their customers to build their own sound on, and what better signature to have than a reference one?
The PAW Gold Touch brings a few features to the table which we haven't seen in any other portable player, at least none that I know of. If I'm correct, it's the very first player to come with a built-in Sample Rate Converter and enabling this one, makes a noticeable difference in sound.
Hats off to Lotoo for one of the best audio players in the current market. The Touch gets my personal stamp of approval and goes on to the list of recommended DAPs.
Review: https://headfonia.com/review-lotoo-paw-gold-touch

Cayin N8
I have really enjoyed my time with the N8 and want to thank Cayin for letting me be one of the first to review it. I am sad to see the N8 go back to Cayin, unfortunately the unit is on loan and it won't be joining the SP1000, SP1000M and Sony WM1Z as high end DAPs at the HFN HQ. Has Cayin achieved their goal? Oh yes, the N8 is a high end DAP, there's no doubt about it. Does it beat the Sony or AK? No but it doesn't have to either. Sound wise it offers its own approach to high end sound and that puts it on the same level as the other high end DAPs. No, the N8 might not have application loading but it does offer three different sound signatures of which one is tube flavoured, and that makes the N8 very unique.
Review: https://www.headfonia.com/review-cayin-audio-n8/
Astell & Kern SP2000 [Added 12/05/2020]
The Astell&Kern SP2000 is the best sounding portable player the South-Korean brand has built so far. No it doesn't come cheap but you in return get a DAP with an innovative design, extreme usability and most important of all: a top level sound where the technicalities are king.
On top of that you can use it as a portable source with the Line Out, as DAC/AMP or just as digital carrier. And then there's streaming, APK install capability and AK Connect if that wasn't enough already.
In short, the Astell&Kern SP2000 is one of the very best all-round High-end portable players on the market.
Review: https://www.headfonia.com/astell-kern-sp2000-review/
Luxury & Precision LP6 [Added 18/02/2020]
The LP6 and LP6ti DAPs are technical marvels and Luxury & Precision has managed to deliver  sublime sounding, full size headphone powering DAPs. If you have big pockets and you don't care about Android usability, streaming or network play but only want the best possible sound on the market from a DAP, then the LP6 is your ideal match. Priced at $4,399USD, the LP6 is very expensive but the sound quality is extraordinary. The R2R DAC inside the LP6 is of a very high level so you can also use this DAP as dedicated DAC in your home system. Maybe that makes the price a little more acceptable.
$4,399 from Luxury & Precision
Review: https://www.headfonia.com/luxury-precision-lp6-review/