Today we take the HiBy RS2 under our microscope. It is selling for $479 USD.
Disclaimer: I received the HiBy RS2 directly from HiBy Music. We don't have any commercial relations with HiBy, and this review reflects my honest opinion.
HiBy Music
HiBy Music specializes in the research, development, and sales of high-quality portable audio products. They have a professional R&D staff and they also have quite a good history in the portable audio field. They're also pretty famous when it comes to building software to playback music on your phone and dedicated portable audio players.
When they released the original R6 DAP it was quite a big hit. But developing software and putting a complete music playback device are two different things. So of course the first R6 had some small dents like the output impedance, general software, UI stability, and overall sound quality.
After some time, they decided to release the Pro version of the R6 which was also reviewed on Headfonia. The Pro has a 4.4m BAL output, better output impedance, and sound quality upgrades. Lieven has been quite fond of it but last year, HiBy Released the R6 2020 model. It was recommended by Yağız with a very positive review.
And then, there's the High-End HiBy R8 which is one of Lieven's favourite DAPs already and it's another recommendation from the Headfonia team. As you can see, HiBy has made up some ground and they mean business in the market.
Their smaller yet very sexy R3 Pro DAP has also reached good popularity with its great form factor and eye-catching, thoughtful design. Not to mention the luxury to have streaming services on such a small device. The R3 Pro version was certainly an improvement as well. Although I don't like the fast product cycles in terms of DAPs, I think HiBy is making progress in every model they release. That's what counts at the end of the day.
Then came the RS6, the first product from the RS line, which features the "Darwin" architecture with an R2R DAC. It's a rich-sounding warm DAP that makes your feet tap all the time.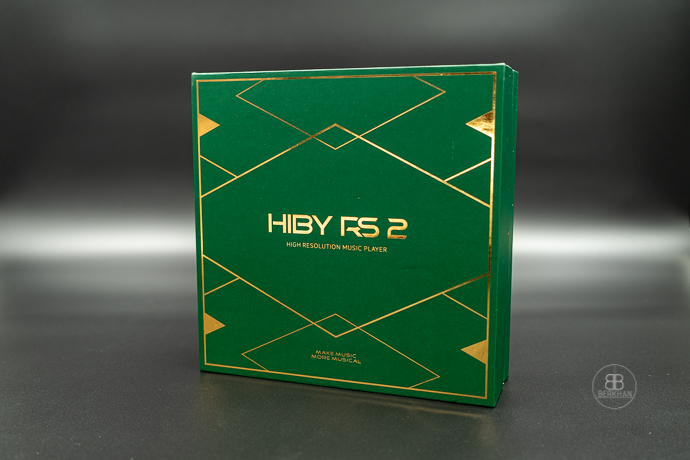 HiBy RS2
The new HiBy RS2 is a precise, pure approach from HiBy as it's a very simple yet ambitious DAP that only plays your songs in your archive. No streaming, no WiFi, no Bluetooth. It's a modern interpretation of a pure DAP, and it has some impressive stuff under the hood.
The new RS2 utilizes what HiBy calls a "Darwin" Architecture with an R2R circuit design. You can see the diagram just below. The RS2 also has a 256-tap adjustable FIR filter. Another feature is the option to switch between NOS/Oversampling modes.
"Utilizing current mode amplification, the output stage amplifies current via an OPA1652 and an LPF consisting of 2x OPA1612, offering high and clean input voltage and current to the output stage for exemplary transient and dynamic response. In conjunction with 2x flagship class OPA1622 amplifier chips, 4 independent channels of current mode headphone amplification, and the professional digital volume controller NJW1195A, the circuit guarantees maximal fidelity of the output to the input and maximal control over the headphone drivers."
Here's what HiBy says about their new technology:
"The Darwin architecture is HiBy's in-house developed all-new hi-res digital signal processing architecture. In a breakthrough evolution of traditional R2R architecture, the system includes resistor ladder linearity compensation, and for the first time includes advanced functions such as linear FIR filter, nonlinear harmonics control, switchable oversampling / NOS, and DSD bypass on portable equipment. The end-to-end flexible architecture is fully configurable, creating endless possibilities for future upgrades and endless evolution."
If you'd like to have some information about resistor ladder circuit design, you can check it out here.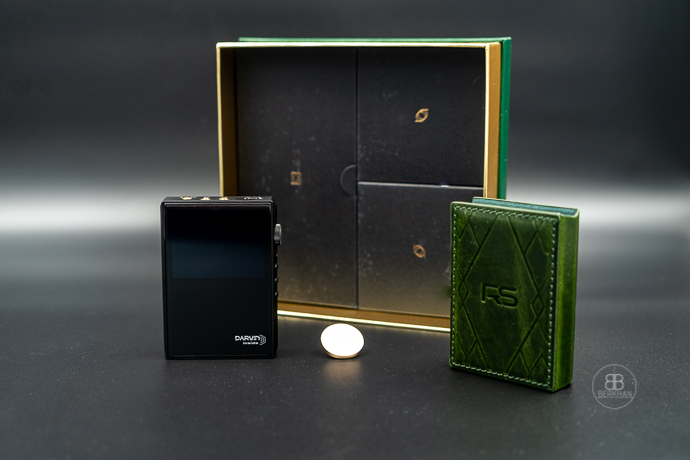 Package Content
The RS2 comes in a luxurious box. The unboxing experience is simply great. You face a green box with very elegant golden accents. Upon opening it, you'll see the player in the middle and a badge that has a golden "Darwin" logo on it. As for accessories, the RS2 comes out of the factory with front and back glass protectors installed. That is something to appreciate because it is not always easy to apply them yourself.
The are three compartments at the bottom of the package. These include the leather case, a USB-C to USB-A cable to charge the device and a USB-C Coaxial Cable. It is nice of HiBy to have this cable as it is a rare one. The RS2 comes with a green, elegant leather case. It's similar to the case of the RS6 so it's quite luxurious to me. It also feels and looks similar to the leather case of the A&K SP2000.